- Posted on Sun, 04/19/2015 - 00:35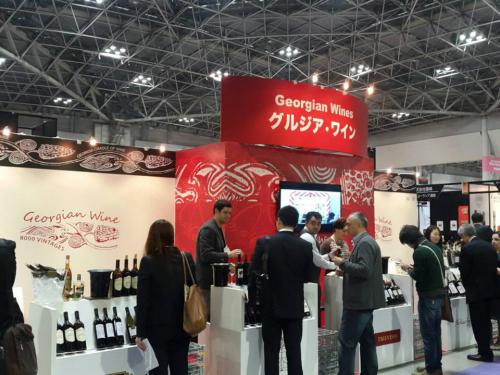 Wine and gourmet food trade exhibition - Wine & Gourmet JAPAN 2015 was closed today on April 17. The exhibition having its sixth edition this year is regarded as the most large-scale wine, beverage and food exhibition in Japan. In 9 pavilions at 32 360 square meters of an exhibition zone was presented production of 899 producing companies. This event was attended by representatives of trade and food industry – importers, distributors, sommeliers, brokers, wine collectors and wine shops representatives. Participants of the exhibition had an opportunity to meet and cooperate with experts of wine, gourmet food, beverage industry and other decision-makers.
This year organizers of the exhibition have arranged a versatile lineup, featuring different tastings and seminars, among these activities should be also noted a tasting, which aimed to pair and match selected wines with Japanese cuisine. In scopes of the exhibition was also held a wine label contest, where nominees were judged in following categories: "Women's choice award" and "Men's choice award", in addition, the best labels of displayed wines were announced at the event. Particularly versatile and awesome was yesterday's evening, called as: "The Night of Wines". A goal of the evening was to put together and make acquaintance with international manufacturers and local wine experts. One of the organizers of this event was an influential Japanese magazine "Wine Kingdom Magazine".
Georgia participated in Wine & Gourmet JAPAN for the first time. The Georgian stand was presented by the National Wine Agency and 6 wine producing companies: Besini, Kakhetian Wine Cellar, Schuchmann Wines Georgia, Tbilvino, KTW and Kindzmarauli Cellar.
One of the first reports of the exhibition seminar program was "Georgia – the cradle of wine", delivered by Giorgi Tevzadze, the advisor to the deputy chairman of the National Wine Agency. A second seminar about Georgia was offered by Ekaterine Javakhia, the international sales executive manager of "Shuchmann Wines Georgia". A title of the seminar was - "Get to know the ultra premium wines from the Schuchmann Winery and get an introduction to the native grapes of Georgia".
During 2014 year and especially in 2015, Japan has become one of the strategic and growing markets for Georgian wines. If only 840 bottles of wines were exported to Japan in January of 2014, this figure has been increased to 23 911 by the end of the year. Japan has moved from the stable fourteenth place of exporting markets among top ten in the beginning of 2015. It is also an interesting fact that January figures increased with 2933 % compared to selling in the same month last year. Japanese market has become one of the remarkable markets with its positive export dynamic during recent years. This tendency was preserved in the first quarter of 2015. Selling statistics show that Georgian wine export to Japan has been increased with 194 %.
It is rather important to participate in such large-scale and important trade events, like Wine & Gourmet JAPAN 2015 and promote an awareness of Georgian wines. This is a great opportunity for Georgian producers to display wine and present great traditions of Georgian wine history to international experts and share their contacts with wine professionals and buying agents.
© Georgian Wine Club, Wine Information Center
Tagged: