- Posted on Wed, 04/12/2023 - 11:00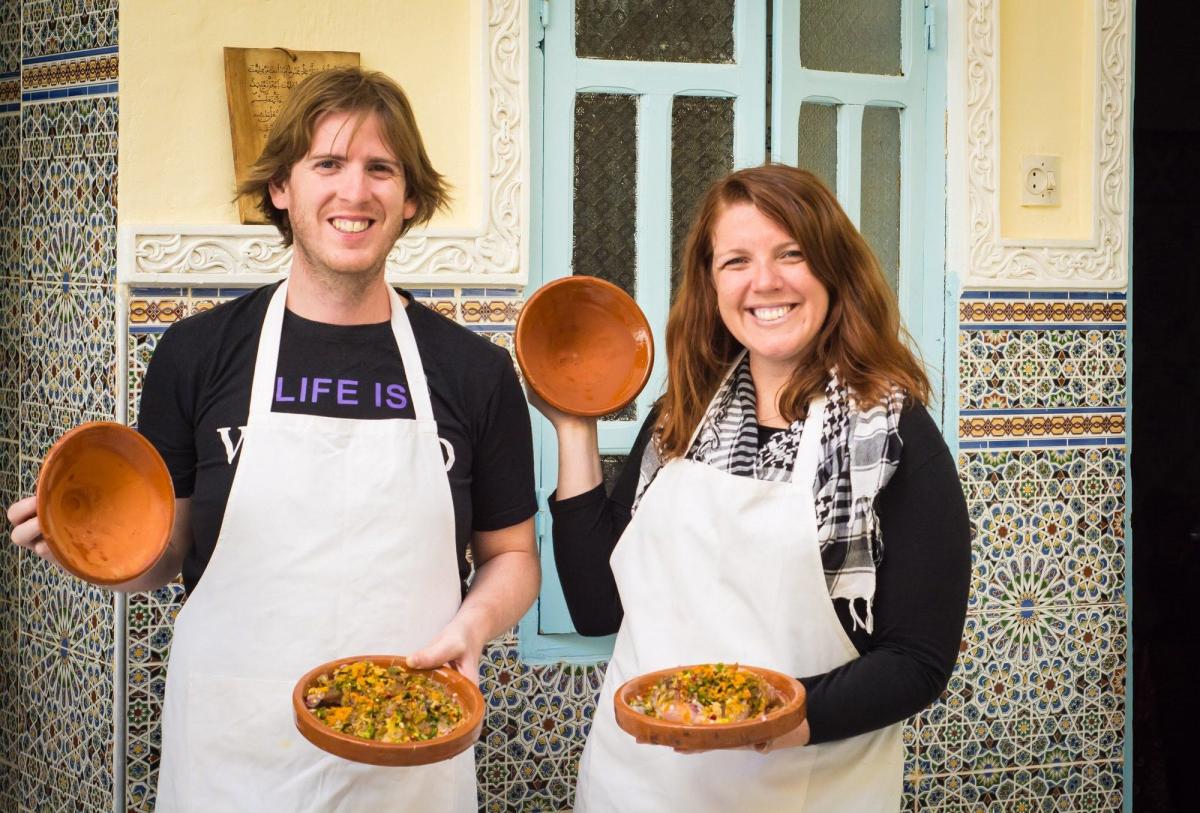 Tommo and Megsy are travelers, and gradually their hobby became their main activity. They created the website Food Fun Travel, where they share their experience of traveling all around the world with readers. In 2018, they decided to live in Georgia, where they also got married. They recently opened Food & Wine tour company Eat This. Tom is a wine lover and enthusiast, having visited over 200 wineries over the years. In our interview, Tom tells us about his experiences and impressions of Georgian wine and cuisine.
- When did you start traveling and when did it become your activity?
- I left England in 2008 to work on cruise ships, all over the world. Then subsequently moved to Australia before becoming a full-time digital nomad in 2013. In total, my wife and I have visited 95+ countries.
In 2014, we decided to focus on culinary tourism (food & wine trips around the world) and make it a full-time business. We visited countries purely to experience and write/podcast about their food & wine history and culture.
- When and how did you get to Georgia for the first time? Tell us about your trip to Georgia, why did you decide to stay here?
- Some fellow travel writers suggested that Georgia was a place we would love for wine and food. Upon doing a little research, and discovering the recent archeological finds relating to Georgia being the oldest wine-producing area on Earth, it seemed like a great fit to visit and write about!
We arrived in the summer of 2016, and our first mission was to document the cuisine of Georgia. We managed to document and photograph 40 different dishes in our first 6 weeks here. The artisan wine industry was still finding its feet at that time, and we agreed to come back and explore more one day! That day came sooner than expected, we came back in 2018, focused more on wine, and we also got married here.
The potential for food and wine tourism in Georgia was starting to become clearer, and in 2019, when trying to decide where we may settle down and start a family, Georgia ended up being the final pick. We came back in early 2019 and have lived here ever since. I accelerated my exploration of wines and wineries around the country, and am still visiting as many as I can!
- What do you like most about being in Georgia?
- Wine. It's the obvious answer ;-) I think it's hard to choose one thing, but wine is very high on the list. I also love Georgian hospitality and the culture of the Supra. This tradition connects the emotions of everyone who attends. It celebrates life, love, wine, food, and the core of what it is to be a human being and to share life with everyone else on Earth. A great supra makes a powerful statement to everyone who shares that experience, and that type of power is sadly missing in other cultures like the UK, where individualism rather than togetherness has become the norm.
I love that Georgians still connect in such a personal way, with each other and with guests.
- As I know, you are a wine connoisseur, Tommo, what do you think about Georgian wine and which is your favorite wine, wine style/category?
- Though I love to appreciate all types of wine, of course, before I began a deep dive into the exploration of Georgian qvevri wines, my go-to wines were almost always red wines.
Since living in Georgia, my number one choice for wine is typically amber qvevri wine. It's hard to pick an exact wine, and even harder to pick an exact winery as a favorite. Having traveled nationwide, though, I'd say I favor the tannic wines of Kakheti. Tsarapi being one of my favorite styles right now. But there is so much diversity, from every region, it's a natural wine lovers paradise to be able to taste so many terroirs and endemic grapes within the space of a few hours drive in every direction. Even greater a thrill to be able to taste very rare grapes and wines, where only a few hundred bottles, or less, were made.
In general, I think Georgian wine has arrived at the beginning of a renaissance, more producers are appearing every month, I can't visit them all! The most important thing is that as well as making wine simply by tradition (skills being passed down through the family) more technical knowledge and understanding of the qvevri with scientific skill, is being learned. This is increasing the quality of Georgian wines rapidly, and the difference since 2016 is very noticeable.
- What can you tell us about Georgian food culture and gastronomy? What do you think about dishes and traditions?
- Georgian cuisine encapsulates local cultural traditions - it is hearty and served family style, for sharing. The cuisine connects diners together. There is a lot of comfort food on the menu, and the fertile nature of Georgia also means the focus on fresh produce lends incredible flavor to any dish, that you don't get with mass-produced ingredients in many Western countries.
The best food experiences are always in the homes, and visiting families at home is something I try to do a lot! Though there are also great chefs creating modern versions of classic dishes, or even new dishes with Georgian ingredients, home dining is the most fun - which brings us back to the supra again, as discussed above.
One thing that is very important for visitors to Georgia, is to explore cuisine outside the tourist menu. Far too many tourist restaurants in Tbilisi focus on the most typical dishes - Khinkali, Khachapuri, Mtsvadi. I love all these dishes, but it's easy for a visitor to think that Georgian cuisine is limited to BBQ meat, bread, cheese, and Georgian salad!
When really, the diversity of local cuisine is far larger - I'm still discovering new dishes! Make sure not to miss some more unique foods, like Veal Kalia, Ghandzili, Imeretian Chicken in Blackberry sauce, Megrelian Kharcho, and Roasted Cauliflower in Bazhe. That is just the start.
- As far as I know, you are planning to become a Georgian wine sommelier, you have visited more than 200 wineries, what is special and interesting for you about Georgian wineries?
- The diversity of the wine. When it comes to artisan production, not only can every winery produce something distinctly different, but even every vintage at every winery. Where mass-produced wines often try to maintain consistency between vintages, the natural method, which allows the wine to express itself each year, rather than to manipulate it, allows us to discover variety endlessly.
It is the infinite variation in the wine that makes it fascinating. The global wine market has invested so much in trying to standardize wines. And though some science is definitely essential, many parts of the Georgian market allow for nature to take a more guiding hand, rather than trying to control everything. This same thing could be said of natural winemaking in any country, now that it has become a trend.But with Georgia, the same natural wine cycle has been followed for 8000 years. Every wine forms part of the living history of Georgia. You are not just drinking wine, you are tasting the heart and soul of a nation, over generations, in every glass.
© Georgian Wine Club/vinoge.com