- Posted on Fri, 04/21/2017 - 12:29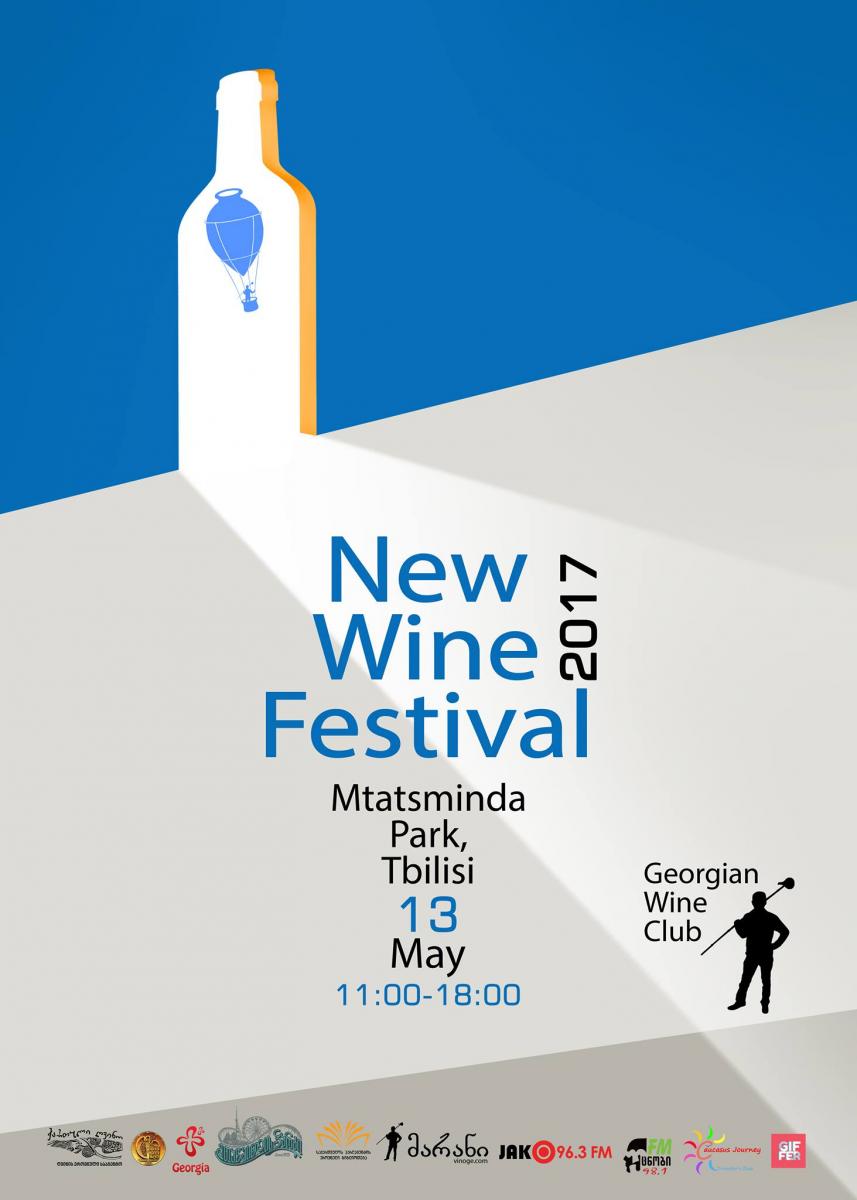 Saturday, May 13; Tbilisi, Georgia - New Wine Festival 2017 Welcomes Participants
Wine Club Georgia proudly hosts its eighth New Wine Festival, held with the goals of promoting Georgian wine internationally, increasing wine awareness in Georgia and helping improve the overall consumption culture.
Venue:
The New Wine Festival will be pleased to open its doors for visitors on Saturday, May 13 in the open space of Mtatsminda Park. Small/family-owned, medium and large wineries from various parts of Georgia will be happy to present their wines of 2016 harvest from 11 AM to 6 PM. Visitors are welcome to enjoy the ambience of the wine gala and taste some of the nation's best wines. Attendance for visitors is free of charge.
Participants:
This year's New Wine Festival gathers 113 wine companies, including large, medium and small wineries, associations, government agencies, wine bars and small business owners.
The 2017 New Wine Festival participants are as follows:
Agricultural University
Akhmeta Wine House
Alapiani's Marani
Alexander Distillery
Amiran Vefkhvadze Wine Cellar
Ancestral Wine Cellar
Archil Guniava Wine Cellar
Askaneli Brothers
Atenuri
Babaneuris Marani
Bina N37
Brothers Winery
Bruale
Chateau Khashmi
Cellar in old district
Charitable Union Temi
Corporation Kindzmarauli
Cradle of Wine
Dasabami
Doremi
Enek Peterson
Ethno
Eristavi
Gaioz Sopromadze Wine Cellar
Georgian Wines
Georgian Wine Heritage
Ghvardzelashvili's Marani
Gotsa Wines
Goderdzishvili Cellar
Giuaani
GUDA WINERY
G.WINE
Iberieli
Imeretian Wine Company
Jakeli Organic Vineyard and Wines
Kakhaber Berishvili Wine Cellar (Artanuli Wine)
Kakhelebi
Kakhuri
Kakhetian Traditional Winemaking
Katchiuri Vineyards
Kidev erti
Kindzmarauli Marani
Kortavebis marani
Kvareli Eden
Kvevri Amoris
Kvibari (Burjanadze-Shanidze's winery)
Lagazi
Lekso's Marani
LEPL Scientific-Research Center of Agriculture
Loladze Family Winery
Lukasi
Makaridze Wine cellar
Managadze Wine Company
Marani Sanavardo
Matiashvili's Cellar
Naotari
Naotrebi
Natural Wine Association
Nikalas Marani
Nika Vacheishvili's Marani
Niki Antadze
NIKA WINERY
Nikoladze Wine Cellar
Nodar Baghashvili Wine Cellar
ODA Family Winery
Okroswine
Okureshi Wine Cellar
Our Wine
Pheasant's Tears
Papari Valley
Royal Khvanchkara
Shalvino
SATSNAKHELI
Simon Chkheidze Cellar
Shumi
Tanini
Tbilvino
Tela
Teliani Valley
The Spirit of Georgia
Tifliski Vini Pogreb
Tibaani
Togonidze Wine
Tsikhelishvili Wine Cellar
VAKHTANG BERUASHVILI FAMILY MARANI " VAKHTANGURI"
Vartsikhe Marani
Vaziani Company
Vino martville
Winery "Misho papa"
Winery Khareba
Wine Thieves
Your Wine
Zekari
Other participating companies:
Tabla Nova
Color pack
Enogrup
Glassgo Georgia
Culinarium Khasheria
Amber Bar
Wine Land
Georgian Wine Club
Tiki
Keiko&Maika
Zanduri
Exhibition of traditional and modern handicrafts at the Festival:
Georgian Blue Tablecloth by Nikoloz Nutsubidze
Traditional Fashion House
Fotia
Nukriani Workshops
Woodson
Nenem Accessories
Lorina Art
IrenDesign Handmade
Gogoladze's clay and wood artworks
Agenda/Special Features:
The New Wine Festival 2017 will traditionally commence with the Qvevri opening ceremony. The Rezo Kiknadze jazz band, the Nali band, the Didgori folklore company along with Khoni People's Orchestra will perform their selected musical pieces.
Added to the overall excitement, the Wine Club will offer 8 10-liter barrels full of the best Saperavi wine for lottery winners. Visitors will be invited to buy wine-tasting glasses, in return for which they will receive the lottery tickets. These will be collected in the Qvevri designated for the lottery. The winners will be randomly revealed by taking the tickets out of the Qvevri at 1, 2 and 3 PM. Elibo, the prize from the Wine Club, will be solemnly delivered to the wine companies.
The Giffer stands will be available for the visitors to take motion photos and share them instantly from the festival location.
The exhibition of the traditional and modern handicrafts will be interactive, with visitors being able to create things from clay with their own hands.
Partners:
The supporters of the New Wine Festival 2017 are the National Wine Agency, the Tbilisi City Hall and the National Tourism Administration. Its media partners include radio stations: Utsnobi, JAKO FM, Marani (vinoge.com) and Wine Information Center. The event appreciates the partnership with the Mtatsminda Park and the National Parliamentary Library of Georgia. Special thanks to Caucasus Journey and Giffer.
© Wine Club Georgia, National Wine Agency, Wine Information Center, 2017
Tagged: