- Posted on Sat, 12/14/2013 - 16:24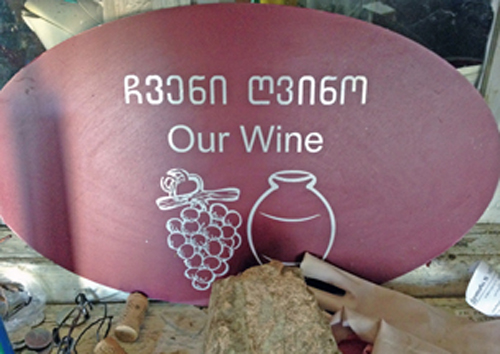 by Terry Sullivan
A small producer who exports wine to several countries, Our Wine winemaker Soliko Tsaishvili crafts natural wines made in qvevri. The grapes express themselves. Biodynamic principles are followed in the vineyard and natural wine practices are adhered to in the winery.
Soliko Tsaishvili, owner and winemaker at Our Wine, has been making wine for three decades. During that time he has accumulated much vineyard experience and winemaking in qvevri. His wine journey into making wine began thirty years ago when Soliko and a few of his friends bought grapes and started making wine. His full time job as a translator and publicist of an art magazine enabled Soliko to spend time in his vineyard. He became crazy about the vineyards and gave up his publishing career to grow grapes and make wine full time.
Soliko is proud of making natural wine. He follows some of the biodynamic principles in his vineyard and follows natural principles in his winery. When you taste his wines, you are tasting the fullest expression of the grape. The 5.5 hectares of vineyards consists mainly of Rkatsiteli, Mtsvane, Saperavi and Khikhvi. Some of the vines are 50 years old.
In 2006 he was visited by an Italian wine buyer who liked Soliko's wine so much he decided to buy some of the wine to distribute it in Italy. This export helped to be an introduction of Georgian natural winemakers to Europe. Currently, Our Wine exports to Italy, France, England and the United States.
Winemaking
Soliko destems his white grapes. He adds the white grapes and juice to a qvevri, and then adds some of the stems to the qvevri. The white juice is fermented and punched down several times daily. After fermentation, he leaves the white wine on its chacha (pomace) for six months.
Red grapes are also destemmed and the juice and chacha added to a qvevri. Soliko does not add the stems though. Fermentation usually takes three weeks. After fermentation, Soliko racks just the wine to another qvevri for aging. Soliko does like to experiment. He has a qvevri of red wine in which he left the wine on its chacha for six months.
During our visit, a television crew was filming. Soliko demonstrated how to punch down the cap. I was asked to punch down the Rkatsiteli cap in the qvevri. This was the tenth day of fermentation and the cap was easy to punch down. Later, Thomas, an intern from Austria, wiped the inside walls of the qvevri near the top. He did this to remove juice and parts of chacha that may have splattered during punch down. If left uncleaned, they would become a potential area for bacteria growth to begin. The task does require one to be careful. You lean over the qvevri where fermentation has released carbon dioxide gas.
Wines
Soliko is a home winemaker who makes enough wine to export. There is no tasting room. We tasted wines at a picnic table under shade trees close to a vineyard. It was a very relaxed tasting. Soliko had two interns, Thomas from Austria and Olga from the Ukraine helped with the translation. They are learning about winemaking techniques and vineyard practices.
Our first wine was a 2006 Rkatsiteli. It was an amber color with an orange hue. Floral and dried fruit notes were on the aroma and taste. The wine had chewy tannins and dried fruit on the aftertaste. We tasted a 2011 blend of Rkatsiteli, Mtsvane and Khikhvi. The wine was a dark amber color. The wine tasted like dried fruits especially golden raisins. The wine had bold tannins and fruit on the finish. The 2011 Saperavi was a dark purple to black color wine. The aroma was earthy and floral. Blackberries and cassis were noted on the taste. The wine had bold, chewy tannins and was fruity.
It may be easier to locate a large production winery that has a tasting room. However, wine enthusiasts should seek out home winemakers who are producing small quantities of excellent natural wines.
Our Wine
© winetrailtraveler.com
Tagged: