- Posted on Thu, 12/12/2013 - 01:27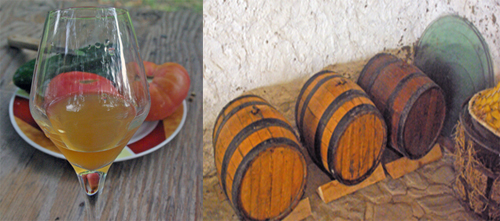 by
Kathy Sullivan
Summary: Visitors are welcome to visit Kakha Berishvili at his home winery in Artana in the Kakheti region of Georgia provided they have an appointment. Kakha appears to have discovered and achieved a comfortable way of life between enjoying wine and winemaking.
The story of Kakha Berishvili's vineyards and winery began in 2000 when four friends from Tbilisi arrived in Artana, a small village. Together the four friends bought vineyards and built a house. They made wine because they enjoyed it. Eventually three of the friends left but Kakha decided to carry on with the vineyards. For a time he commuted to his work in Tbilisi, about a two-hour drive. Due to the distance, in 2009 Kakha decided to permanently leave Tbilisi. Kakha noted, with a hint of satisfaction, that you "can do everything by yourself here."
Vineyards
Two hectares of vineyards are located on the other side of the Lopota River from Kakha's home. Kakha's vineyards cannot be seen from the river although vineyards belonging to other growers follow the river's path. Kakha's vineyards have Rkatsiteli and Saperavi grape varieties. He uses biodynamic principals in the vineyards. At the time of our visit in September the River Lopota was low and rippling past large rocks.
Winemaking
Kakha began bottling wine in 2010. As of 2013 he is bottling 1,800 bottles of Saperavi and 800 bottles of Rkatsiteli. He has several qvevris of various sizes buried under his stone floor marani (cellar). Qvevri sizes include 3,000 liters, 2,400 liters, 1,800 liters 1,400 liters and 300 liters. The walls of the marani are also made of stone and painted white. Wine is separated from the chacha (pomace) by a tall woven basket. Three wood barrels are used for aging Chacha.
Wines
We tasted Kakha's wines in his backyard filled with shady trees and sunny areas. A stone well was closeby and several terra cotta vessels were placed in different locations. Although there is no tasting room, this outdoor space creates an atmosphere for a wine tasting that is memorable. Sitting on a small bench at a rustic table we enjoyed the ambiance of a relaxing wine tasting with views of the country. Kakha provided fresh English cucumbers and tomatoes to enjoy with the wines.
Rkatsiteli 2012 was a gold color and cloudy. The aroma was of spice and floral notes. The taste suggested nutmeg and daisy notes. The finish with bold tannins had hints of floral and spice. Saperavi 2012 was 14 percent alcohol. The color was dark purple to black. The aroma was of dark fruits and spice. The taste reminded one of blackberries and cassis. The fruity finish had very bold tannins. Terry noted that this wine "is a kissing wine;" the tannins cause your lips to pucker up as if you are going to kiss someone.
Chacha
The Chacha was distilled in 2011. It was produced from Saperavi and Rkatsiteli. The Chacha spent one year in oak. The result was a light yellow with warmth on the taste that warms all the way down and hints of vanilla on the aftertaste.
Kakha Berishvili is passionate about his wines and sells some of his wines within Georgia. If planning to visit this small Georgian winery, be sure to contact Kakha in advance.
Kakha Berishvili
Artana, Keheti, Georgia
phone +995 551 60 76 08 or +995 32 2 37 66 76
Email: kakha.berishvili@yahoo.com
© winetrailtraveler.com
Tagged: