- Posted on Wed, 04/09/2014 - 00:53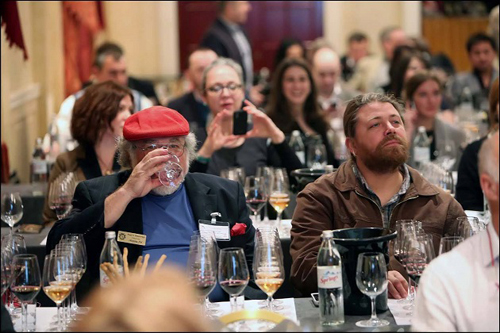 By Tamar Khurtsia

Enjoying Georgian wine, food, tourism and arts – everything that collectivity comprise of wine tourism – were special reasons why many tour operators, sommeliers, wine enthusiasts, winemakers, journalists and bloggers came to Georgia, the cradle of wine, to explore the wine tourism lifestyle that visitors aspire to experience.
Tourism sells wine
For two days, on March 29-30, Georgia became the venue for a grand International Wine Tourism Conference (IWINECT) where authentic Georgian and international wine was represented. What made the event more special was the presence of wine tourism industry insiders from France, Italy, Spain, Canada, USA, GB, Singapore, Russia, Ukraine, Sweden, Czech, Sweden, Poland, Slovakia, Montenegro and Germany.
IWINECT, now in its sixth year, gives experts in the wine industry the possibility to taste wine made in various regions of the host country and form an opinion on the products.
The head of IWINECT, Anthony Swift, believed such events posted the host countries on the "map of world wine tourism".
"There is not much known about Georgia as a wine tourist destination. Most of the tour operators invited to the conference don't offer Georgian wine tour packages. This chance has been designed to make it easier for invited buyers and providers to connect," Swift said.
While speaking about the value of wine to tourism, Shalva Khetsuriani, the President of the Association of Georgian Sommeliers, believed Georgia's wine tourism message should be what Georgia, Georgian wine and the national traditions was.
"Entertainment, education, esthetic and engagement - these are the four things we have to create for the wine tourists otherwise we will not create value for the wine tourists," Khetsuriani said.
The chief Georgian sommelier believed tourism sold the wine.
"When tourists come in Georgia they receive the experience including cuisine, national dances, tourism nfrastructure and when they return home to their native country, they are searching for wine that originated in the country they travelled," he said.
He reinforced the example of Italy when after World War I, the second the Italian-Americans travelled to Italy where they had been served delicious food, and the Italian wines became popular.
"Georgia could not compete with Italy and we aren't eager to, but one of the advantage of Georgian wine is that it matches perfectly with local cuisine," Khetsuriani said.
Qvevri - Uniqueness of Georgian wine
Ancient history of Georgian winemaking, including the Qvevri wine-making method, is the most cherished cultural treasure of Georgia and has recently joined the UNESCO heritage list. The method was named by conference participants as the main advantage of the wine tourism development in Georgia.
Their impressions of Qvevri winemaking was even reflected on participants' Twitter accounts.
Writer, blogger, photographer and publisher for Wine Trail Traveler, Terry Sullivan, described the Qvevri wine tradition during his visit to Twins Wine Cellar in Napareuli, in the winemaking region of Kakheti.
"When we arrived, the surface of the Qvevri was covered. There was a layer of black sand over the covering. Gela Gamtkitsulashvili, one of the twins that owns the winery, helped me clear away the black sand," Sullivan's blog read.
International wine journalist and taster Jochen Erler said, with a smile on his lips, the whole world was copying the Qvevri winemaking method.
"To my surprise, the French winemakers are making Qvevri wine - they are copying from the Georgians," Erler said.
"I am looking for the identity and personality in the wine. Both of them feature in Georgian wines and they are commercially produced.
Agenda.ge talked to Merrill Bonarrigo, the co-founder of Messina Hof, which is one of the fastest growing award-winning wineries and resorts in Texas, US. She called called Georgia a "mystic birthplace of wine."
"Georgian wine does not taste anything like we have tasted before. This is an opportunity to flavor the indigenous, unique wine taste," Bonarrigo said.
"Still Marketing"
Giving consultations to develop a wine tourism strategy in Georgia was the reason why Tim Clarke, chairman of English-based international wine tours operator Arblaster & Clarke, came to Georgia three years ago. But now in the framework of IWINECT, he appreciated the country's unique wine tourism.
"Georgia can be a major wine tourism destination as it is the 'cradle of wine'. This is a message that will attract wine tourists to come here."
During Clarke's first visit to Georgia, this journalist interviewed him and asked him what had been the main challenge for Georgian wine tourism. His answer was "marketing".
When asked the same question now, he answered: "Still marketing."
Clarke believed this was not a matter of money and recommended the villagers living in wine-making region to pay attention and decorate their yards with flowers.
"Marketing is not the thing to spend a lot of money on. A lady from the Austrian wine tourism industry, who took part in the conference, commented that those "wine villages exterior looks smash." You had to create more flowery villages. Great Britain has "Britain in Bloom" campaign that works great," Clarke said.

Wine tasting
The event featured an informational segment, a visit to wine cellars in the regions and a wine tasting ceremony. Through these events, organizers hoped guests would become more competent in the advantages of Georgian wine tourism.
Winery Khareba's marketing manager Nana Maraneli told Agenda.ge the blend of Georgian wine tradition with Western quality standards was a top priority for Winery Khareba.
"Our company presented wines for grand tasting and we are confident that our wines were appreciated," Maraneli said.
Bonarrigo, who was very active on Twitter, tweeted that she liked the Kisi grape.
IWINTEC participants said goodbye to new and old friends and vowed to meet at the next conference in 2015.
© agenda.ge
Photo by moa.gov.ge
Tagged: