- Posted on Tue, 02/02/2010 - 13:55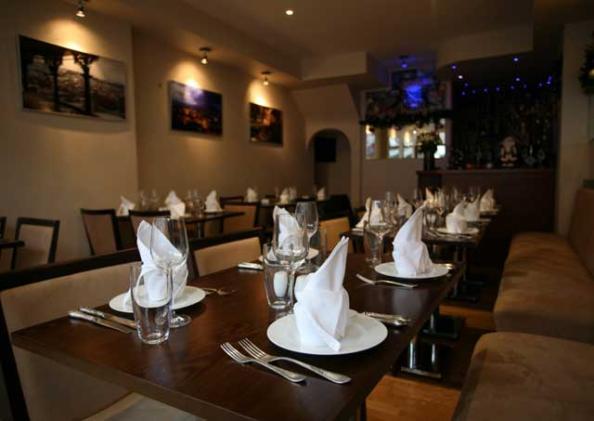 by Tracey MacLeod
Sunday lunchtime can be the loneliest time of the week for the exiled traveller, yearning for the comfort food of their distant homeland. So my guest, the American musician Loudon Wainwright, got excited when I told him I was taking him for lunch in a Georgian restaurant. That was until I explained I meant Georgia the country, not the state. "Oh... great," he lied feebly.
Little did he know that Georgia is celebrated for its distinctive cuisine, based on walnuts, pomegranate seeds, herbs and spices (Nor did I, but we were snowed in, and I needed to review somewhere within walking distance).
So, with very little idea of what to expect, we slid our way to Tamada, a newish Georgian restaurant just off Abbey Road, where St John's Wood meets Kilburn. On an attractive parade of shops, Tamada's blandly modern frontage doesn't leap out and scream "London's best – or certainly nearest – Georgian restaurant."
Nor is there much to betray the restaurant's ethnic origins in the décor of pale wood floor and tables, mushroom-coloured walls and beige upholstery. The only clue lies in the framed photos of downtown Tbilisi and, er, other famous cities in Georgia, like ... ahem, moving on.
Loudon, who like most musicians has almost zero tolerance for any kind of music, slumped when he realised we were sitting under a speaker blaring out a heroic chorus. But the sound system was turned down before we'd asked – the first example of intuitive and sweet-natured service from the tremulously attentive solo waitress.
The weekend lunch option is limited to a bargain-priced set menu, but on overhearing us asking about a dish from the full menu, a beautiful, soignée woman, clearly the owner, sprang over and offered to let us order some of the à la carte options.
As someone who eats out professionally, I found it refreshing to choose between dishes that were almost completely unfamiliar. A Middle Eastern influence is at work, in dishes using aubergines, stuffed peppers, and grilled flatbreads. The star of the show, though, is the walnut. There's steamed spinach with walnuts, aubergines with walnuts, red beans with walnuts, house salad with walnuts – and that's just the starters.
We lunched on a shared selection of dishes, starting with grilled flatbread, filled with molten, unsalty cheese (khachapuri). Then borsht, thinner and less beetroot-dependent than the Polish version. ("Oily" and "watery" were the other adjectives offered by Loudon.)
Many of the starters are vegetarian and those we tried tasted hugely better than they looked. Fried slices of aubergine (badrijani) impastoed with a spiced walnut paste and sprinkled with pomegranate seeds, had a blowsy depth of flavour, while a dish of red beans (citeli lobio), with coriander, and, very possibly, walnuts, revealed a herb-scented subtlety under its unpromisingly mushy appearance.
Loudon was also pleasantly surprised by the experimental dish I forced him to order – fried cubes of pork lungs, liver and heart (kuchmachi). The texture of these smoky morsels was chewy but not unpleasantly so, and the flavour intense, with an offally tang which, we later discovered, would live on long after the plates were cleared.
That Georgian food is all about flavour was born out by the outlandish appearance of the national dish, khinkali, super-sized steamed dumplings like deflated tennis balls, each holding a herb-scented parcel of minced pork and beef in broth. Good, pot-sticking comfort food for a cold day, and I can imagine a homesick Georgian exile falling on them with sobs of gratitude, but unlikely, I would guess, to convert too many London foodies from their regular dim sum.
A casserole of lamb (chakapuli) stewed in wine with green onion and tarragon had an interesting otherness about it, possibly through the use of imported plum sauce. The meat was lean, but not particularly tender – I would have preferred longer cooking using a fattier cut, but maybe this is the Georgian way.
The pudding list is short – just ice cream and, inevitably, walnut cake – but we limited ourselves to dense, sweetened coffees. These, with a couple of glasses of Georgia's most celebrated red wine, Mukuzani, brought our bill to around £40 a head, though we ordered profligately.
The owner is apparently a Georgian businesswoman who has given up her job to follow her dream of opening a restaurant. The food she is serving is fresh, authentic and often really good. But it's hard to capture the spirit of Georgian conviviality in a chilly, empty modern restaurant.
Tamada needs to attract not just Georgians, but non-Georgians and neo-Georgians if it's going to survive. So if you have the slightest curiosity about the culinary properties of the walnut, hurry while stocks last.
Tamada, 122 Boundary Road, London NW8 (020-7372 2882)
Food ***
Ambience **
Service ****
Around £30 a head. Weekend set-lunch menu £12.50 for two courses; £14.95 for three courses
Tipping policy: "No service charge. All tips go to the staff"
Side Orders: Georgian London
Little Georgia Cafe
The dishes at this cheap and cheerful café include delicious meze style stuffed flatbreads, blinis and starters and warming stews such as Chanakhi (made from lamb, aubergine and potato)
87 Goldsmiths Row, E2 (020 7739 8154)
Tbilisi
Try one of the warming wintry stews such as chakhokhbili (a rich chicken and tomato stew flavoured with ajika, a Georgian spice-blend).at this popular local restaurant; the wine list is excellent too.
91 Holloway Road, Holloway, N7 (020 7607 2536 )
Mimino
Ojakhuri – pieces of pork fried in special spices and served with fried potatoes – is one of the specialities at this popular Kensington restaurant. Main courses cost from £12-£15.
197c Kensington High Street, London W8 (020 7937 1551)
©independent.co.uk
Tagged: