- Posted on Fri, 04/03/2015 - 23:04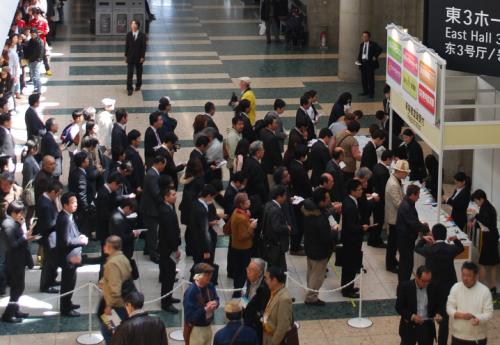 Georgian wine was presented at several international exhibitions in March. The most important large-scale showings from these events were Foodex Japan, ProWein Dusseldorf and China Food & Drink Fair, the last was held just recently in China, in the city of Chengdu. Special seminars and tastings in scopes of the international exhibition were run by partner experts of the marketing campaign of the National Wine Agency – Lisa Granik, Debra Meiburg and others. Georgian wine was recognized at several international competitions, from which particularly should be noted Mundus Vini 2015.
The most noteworthy from upcoming events is the International Wine Tourism Conference (IWINETC), which will take place in the region of Champagne, France on 8-9 April this year. Except this conference, it is also planned to participate in several significant events in countries of East Asia, Japan and South Korea.
The large-scale wine and gourmet food trade exhibition - Wine & Gourmet JAPAN 2015 will be held for the sixth time in Tokyo on 15-17 April. Approximately 75 000 visitors from 22 countries are expected to attend this event. A list of these countries include: Germany, France, Italy, Japan, South Africa and etc. Georgia, Thailand, Udine, Sicily will take part in the exhibition for the first time. In 9 pavilions at 360 square meters will be presented production of 899 manufacturing companies. A number of visitors attending such a large-scale showcase is considerably increasing year by year and since establishing the exhibition - to 2014 it has been enlarged with 80%. This event will be attended by representatives of trade and food industry – importers, distributors, sommeliers, brokers, wine collectors and wine shops representatives. Participants of the exhibition will have an opportunity to meet and cooperate with experts of wine, gourmet food, beverage industry and other decision-makers.
At Wine & Gourmet JAPAN will be presented the Wine National Agency and 6 wine producing companies: Besini, Kakhetian Wine Cellar, Schuchmann Wines Georgia, Tbilvino, KTW and Kindzmarauli Marani.
The 13th Seoul International Wines & Spirits Expo (SWS Expo) is organized by Korea Wines & Spirits Importers Association and Korea International Sommelier Association.
This event with a 12year history will be held on 23-25 April this year and is going to put together 200 companies from 20 countries. 30 000 visitors are expected to attend the exhibition, this number includes 6 000 buyers – importers of wines and spirits as well as representatives of various industries, such as: hotels, restaurants, bars, department stores and supermarkets. Georgia will be represented by the following companies: Shumi, Telavi Wine Cellar, Khareba, Armazi Wines, Kakhetian Wine Cellar, Kakhuri and Sarajishvili.
Asian Countries, especially – Japan is considered to be a strategic market for Georgian wines. A participation in such large-scale and important trade events will increase acknowledgment of Georgian wines on the Asian continent and will promote to achieve the main goal of the marketing strategy - a diversification of exporting market.
© Georgian Wine Club, Wine Information Center
Tagged: