- Posted on Wed, 06/03/2015 - 01:26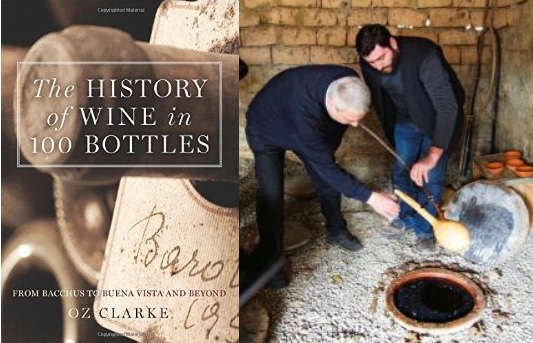 By Keto Ninidze
The British wine critic and the presenter of famous TV projects Oz Clarke has recently offered a new, large-scale volume "The History of Wine in 100 Bottles: From Bacchus to Bordeaux and Beyond" to wine enthusiasts and professionals. In his book the author takes a look at the wine history as an accompanying process of the human evaluation and retells about different experiences (South Caucasus, Antique Greece, Egypt, Rome, monastery practices of the middle ages etc). Clarke offers his considerations about the biggest impacts in the wine history by exploring 100 bottles from different areas and periods of winemaking.
The first chapter of this popular and historical research "6000 BC, Where did it all start?" is dedicated to Georgia, as the homeland of winemaking. As one of the first supporters of the new world winemaking, Clarke is admired with the Georgian Kvevri wine and with his words - it is a discovery of the world's wine world, which might amaze people due to the large experience of interrelation with wine. Kvevri's Kisi of 2011 attracts Clarke with the light amber color, red tones, piquant and rich aromas of orange peel and dried fig. This blend is for him the wine, which dates back to 8000 before the new era and takes us to the history of wine origin and wild vine taming.
Clarke gives a rather comprehensive description of the technology of wine producing in Kvevri. (Should be noted that he writes Kvevri and not Qvevri). The writer deepens into the biblical stories as well and reminds Noah, the first human being from Bible to cultivate vine. In connection with it, Clarke offers his consideration that Noah's story is not a legend, but the truth based on an archeological and scientific evidence, proving that somewhere in this area near the mountain of Ararat, or more northern, on the territory of Georgia was cultivated the wild vine. Apart from it, the critic notes that the majority of European grape varieties origin from the ancient Georgian vine.
The professional actor and singer, Oz Clarke first appeared in the 80-s in Sunday Express and Daily Telegraph as the wine writer and journalist. Soon he became a participant of BBC's well-known project Food and Drink. Today he is the author and the presenter of some awarded books and TV projects, among these shows particularly should be noted BBC's famous project Oz and James's Big Wine Adventure. Based on polls among wine enthusiasts in 2008, Oz Clarke is regarded as the most prominent wine critic of Britain.
© Georgian Wine Club, Wine Informational Center
Tagged: