- Posted on Sun, 07/22/2012 - 02:58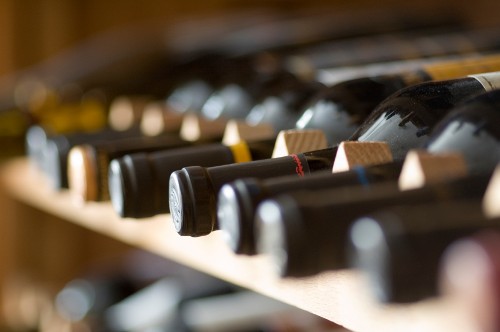 Malkhaz Kharbedia
The past few years have been very important in the history of Georgian wine. The early XXIst century will later no doubt be seen as a crucial stage in the development of Georgian wine, for this was when it rediscovered itself and gained self-confidence. New people, companies and names appeared, thanks to whom the Georgian wine industry has become very diverse. Over the past few years, internal and external factors have caused many problems; ways in which to solve them have, however, been found, and alongside the definition of new principles these will hopefully bring new life to Georgian viticulture and winemaking.
The first decade of Georgia's independence (1990-2000) hit the winemaking sector particularly hard. Despite the establishment of Western-style companies in the country, the arrival of large investors such as Pernod Ricard and the opening of new markets, it was not until the year 2000 that the Georgian wine industry regained a measure of strength. Important changes have been made over the past 10 years, and the demand for grapes – especially red grapes – has increased. New vineyards of Saperavi grapes have been planted, and the price of grapes has stabilized.
The export of wine had already increased by 2005, and whereas Georgia exported around 5,000,000 litres of wine during the 1990s, ten years later this amount had risen to 40,000,000 litres. In 2006, however, neighbouring Russia imposed a trade embargo on Georgian produce for political reasons. This embargo of course dealt a severe blow to the Georgian economy – and particularly the wine industry – because Russia was the largest market for Georgian wine.
But why was Georgian wine so dependent upon a single market? And why have new markets not sought out so as to increase the export of Georgian wine beyond the borders of the former USSR to more interesting and more demanding customers? There is no simple answer to these questions, but we can be certain of the fact that it was very necessary to rid ourselves of nostalgia for the Soviet era and to replace it with new and healthy attitudes combining modern, traditional and ancient methods of winemaking. These problems have by now been solved, but barely five years ago the Georgian wine industry looked very different.
The first two years of Russia's trade embargo were quite difficult, and demand for grapes fell. The huge harvests of 2005 and 2007 revealed the problems the Georgian wine industry would face in the future. In 2007, the Georgian government tried to alleviate the situation with subsidies, which of course had no positive effect whatsoever on the wine industry as a whole.
Despite the fact that the Georgian wine industry began exploring new markets soon after Russia imposed its trade embargo and that the value of exports returned to its 2006 level, the problem of surplus grapes has not been addressed. This problem is due to the fact that only large companies can produce wine in large quantities and smaller producers are unable to develop. A further cause is the absence of co-operatives and the unwillingness of many vineyard owners to bring their produce to market.
The total surface area of vineyards has been divided by three since the early 1980s. Thirty years ago, there were around 120,000ha of vineyards; there are only around 40,000ha nowadays. The greatest reduction took place during the 1990s, but over the past ten years new vineyards have been planted in new areas – especially during the past few years. According to available data, there is a tendency to plant relatively rare and special varieties of grape, which will further increase the diversity of Georgian vineyards.
Area, varieties, produced wine[1]
Around 70% of the vineyards in Georgia are in Kakheti and 20% in Imereti, with the remaining 10% spread over Kartli, Racha-Lechkhumi, Mingrelia and Guria.
Winegrowing regions

1960

1970

1984

2004

Kakheti

31,062

40%

36,076

53%

61,745

70%

32,823

68%

Kartli

16,527

21%

15,096

22%

13,064

15%

4,177

9%

Imereti

20,042

26%

10,527

15%

8,897

10%

8,584

18%

Racha-Lechkhumi

4,013

5%

1,938

3%

992

1%

1,348

3%

Guria

1,021

1%

876

1%

503

1%

268

1%

Mingrelia

3,165

4%

1,869

3%

989

1%

775

2%

Abkhazia

1,386

2%

1,380

2%

1,367

2%

0

0%

Achara

740

1%

562

1%

343

0%

42

0%

Total

77,956

100%

68,324

100%

87,900

100%

84,017

100%
[1]Based upon the data of the Georgian Wine Association.
The most widespread variety of grape in Georgia is Rkatsiteli, occupying around 20,000ha according to the figures for 2004. The second most widespread variety is Tsolikouri, occupying around 6,000-7,000ha, followed by Saperavi, Tsitska, Chinuri, Mtsvane kakhuri, Goruli mtsvane and Aleksandrouli-Mujuretuli.
Varieties of grape grown
| | | | |
| --- | --- | --- | --- |
| Variety | Surface area (1953)(ha) | Surface area (1961)(ha) | Surface area (2004)(ha) |
| Rkatsiteli | 14,680 | 24,319 | 19,741 |
| Saperavi | 2,163 | 3,411 | 3,704 |
| Mtsvane | 1,184 | 1,918 | 249 |
| Kisi | - | - | 20 |
| Khikhvi | 52 | 91 | 5 |
| Cabernet | 384 | 643 | 223 |
| Goruli mtsvane | 1,086 | 1,425 | 224 |
| Chinuri | 1,140 | 1,644 | 955 |
| Aligoté | 549 | 798 | 97 |
| Pinot blanc | 286 | 376 | 171 |
| Tavkveri | 215 | 122 | 29 |
| Tsitska | 5,290 | 6,037 | 2,839 |
| Tsolikouri | 10,181 | 12,556 | 6,161 |
| Krakhuna | 85 | 85 | 36 |
| Rko | 890 | | |
| Dondghlabi | 993 | | |
| Otskhanuri sapere | 97 | 95 | 5 |
| Tsulukidzis tetra | 426 | 482 | 152 |
| Aleksandrouli (Mujuretuli) | 617 | 815 | 219 |
| Usakhelouri | 54 | 59 | 8 |
| Ojaleshi | 157 | 199 | 25 |
| Chkhaveri | 117 | 160 | 20 |
| Aladasturi | | - | 46 |
| Other varieties | 7,656 | 14,107 | 2,490 |
Around 150,000-250,000 tonnes of grapes are harvested in Georgia, of which 50,000t go to large winemaking companies; 15,000t are eaten or used to make other grape products such as grape juice, churchkhela (walnuts strung and thickly coated with a mixture of grape juice and maize flour), etc.; and 100,000t are bought by individuals who make wine at home.
Georgia has registered 18 different appellations of origin, 14 of which are to be found in Kakheti – Manavi, Kardenakhi, Tibaani, Gurjaani, Kotekhi, Vazisubani, Kakheti, Mukuzani, Akhasheni, Tsinandali, Teliani, Napareuli, Kvareli (Kindzmarauli); 1 in Kartli – Ateni; 1 in Imereti – Sviri; 1 in Racha – Khvanchkara; and 1 in Lechkhumi – Tvishi. Among these appellations, Tsinandali, Mukuzani, Kindzmarauli, Tvishi and Khvanchkara are the most exploited and their wines are produced by many different wine companies. The following appellations are relatively little used: Manavi, Akhasheni, Vazisubani, Tibaani, Gurjaani, Teliani, Napareuli and Kvareli. The "Sviri" and "Ateni" appellations are the least used, and are waiting for producers.
The local market
The diversity of the local market for wine in Georgia is constantly increasing. Some companies which a few years ago only exported wine abroad (mainly to Russia) have actively begun to sell their products on the Georgian market. A few years ago, there were around 300 wine producing companies registered in Georgia, but only 15-20 of them were present on the local market. This figure has now increased.
Georgian producers are increasingly aware of the importance of the local market, but still sell relatively little in Georgia. According to the Georgian Wine Association's figures for 2010, 66,000,000 litres of wine were consumed in Georgia of which less than 1% were imported, and about 1,500,000 bottles of wine were sold in Georgia – 2.3% of total sales.
In Georgia, as in other countries, the main competition comes from beer (c.65,000,000 litres a year), vodka (c.13,000,000l) and brandy (c.2,000,000l). The average amount of wine consumed per person in a year in Georgia is 15-20 litres – a relatively low figure. The average Georgian drinks less wine than his European neighbour, but this figure is still the highest among the countries of the former Soviet Union.
Significant quantities of wine are sold to the catering business, where one can find cheap wine produced by large companies as well as the home-made wine which Georgians produce in large quantities (see above).
Unfortunately, the catering business is full of low-quality, diseased and occasionally fake bulk wines. Another problem is Georgia's tradition of ritual feasts. These feasts – held, for example, as part of a funeral (kelekhi), a wedding or other important social events – bring together 400-500 people who are served large quantities of generic wine. Solving these problems, a more effective fight against fake wines and the appearance of cheap yet high-quality bulk wines on the local market will restore the right priorities and should solve the problem of over-production.
The export of Georgian wine
The Georgian wine industry is mostly focused on export. Sales of Georgian wine have been increasing without interruption since the 1990s and reached their peak in early 2006. Several months before Russia imposed its trade embargo, around 100 companies sold their wine abroad. Between 2007 and 2010, the number of exporters dropped to 60-70, and according to recent figures barely 7 different companies represent over half of total sales abroad: Tbilvino, Telavi Wine cellar, Tifliski Vini Pogreb, Teliani Valley, GWS, Wine man and Badagoni.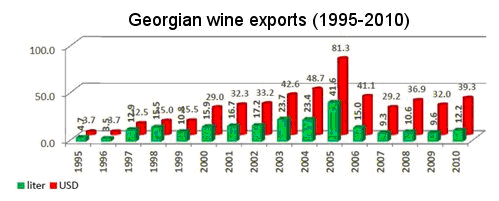 Despite the fact that the Georgian wine industry still does not export the quantities it did in 2005, Georgian wine has become more diverse and shows potential for being of interest to customers seeking new products and new flavours. An increasing number of foreign customers and wine merchants, bored with the same old wines, are now buying special, exclusive wines including Georgian qvevri wine; in today's unified wine market, this niche has become a shelter for many. This mostly concerns qvevri wines made according to traditional methods, but a significant percentage of total sales still represents export to countries of the former Soviet Union of Georgian wines whose names were well-known during the Soviet period.
The sales figures for 2010 indicate that 52% of the wine is exported to Ukraine, followed by 13% to Kazakhstan, 9% to Bielorussia, 5% to Poland, 3.3% to Latvia and Lithuania and 2% to Azerbaijan, with the rest going to the United States, China, Great Britain, Germany and others.
Most (70%) of the wine exported is red and semi-sweet, but demand for exclusive wines is rising (see above). The German demand for Georgian wine is relatively stable and increasing, and Georgian wine producers hope that sales on the American market and on the British and wider European markets will increase.
Georgian wines have certain characteristics which make then attractive for foreign buyers. First of all, unique local varieties of grape which promise new discoveries for modern customers bored with so-called "international" flavours and are searching for something new. Secondly, Georgia justly deserves its reputation as being "the homeland of wine". Many ancient traces of viticulture and winemaking have been found in Georgia, and the country's tradition of making wine is unbroken (as opposed to Asia Minor or the southern Caucasus region, where ancient evidence has also been found but where the tradition was discontinued). This brings us to the third and most important characteristic viz. the fact that the Georgian i.e. the world's oldest method for making wine involves the wine fermenting and ageing in qvevri.
Thanks to these three characteristics, Georgian wine will acquire a well-defined international image which will popularize the Georgian culture of winemaking and bring a new and interesting colour to the modern wine market.
© Malkhaz Kharbedia, Media House Dekom, Wine Club, Georgian Wine Guide - 2012