- Posted on Thu, 06/28/2012 - 17:10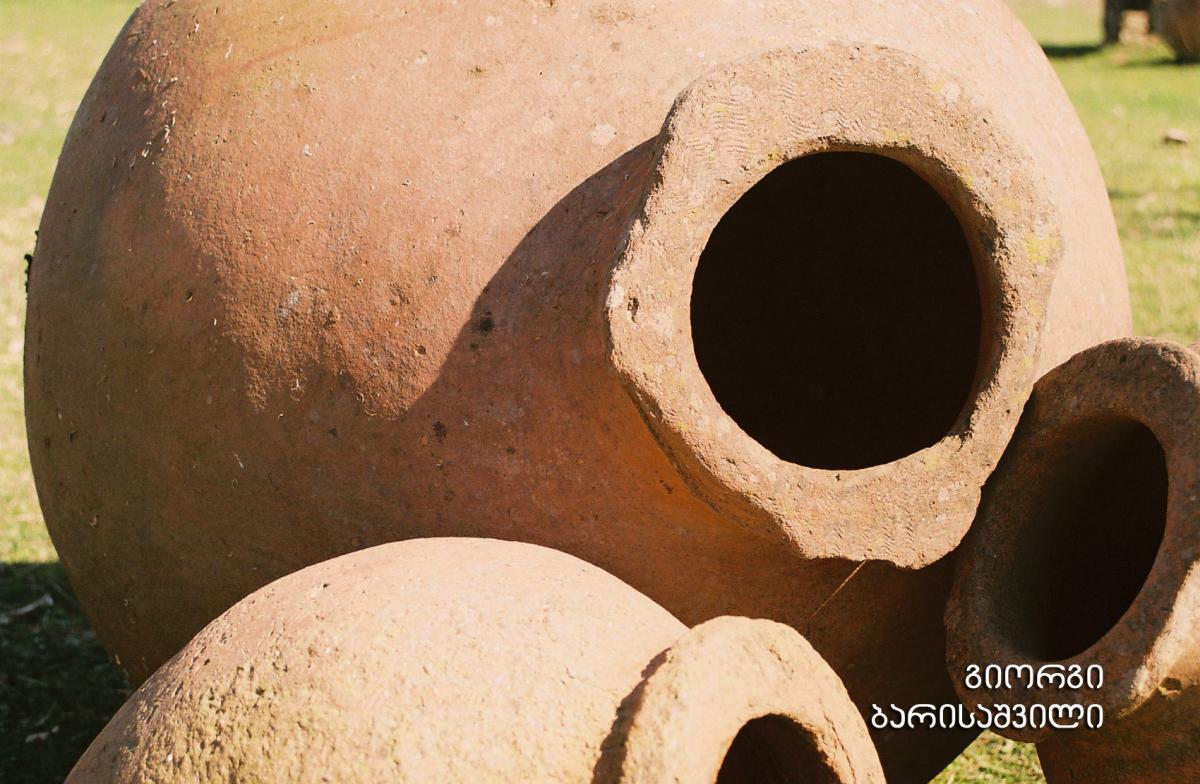 Qvevri-making in Georgia: past and present
Many Georgian villages were engaged in qvevri-making, but we shall dwell on the most well-known places where the famous Georgian qvevris were made.
In Eastern Georgia, the following provinces and villages were noted for qvevri-making:
·
Sighnaghi district villages: Anaga and Bodbiskhevi;
·
Telavi district - Vardisubani; and
·
Sagarejo district – Antoki.
·
The regions of Kartli and Kakheti also procured qvevri through the seasonal travels of artisans. Villages include Sartichala, Khashmi, Sagarejo, Digomi, Akhalkalaki (Kaspi district), Kavtiskhevi, etc.
In the 19th century, the village of Antoki was noted for qvevri-making in Kakheti as ethnographic material and literary data have shown. Prince Jorjajdze refers to this village in his work Viticulture and Making and Improvement of Wine, a Guide for Makers of Kakhetian Wine. Tbilisi, 1876: "Before and now, a qvevri made in the village of Antoki of the Sartichala uchastok (sub-district) of Tiflis uezd (district) is found to outperform the qvevris made in other places, and those having taken a qvevri from this place, before or now, are all satisfied and say that it stores wine well and for a long time, and that the qvevris of this village are being praised far and wide."
The famous Georgian historian and geographer Vakhushti Bagrationi when describing Alistskali Valley ("The Description of the Kingdom of Kartli"), notes as follows:
"Above Ali, on the slope of Mt Likhi, a fortress stands. Behind the fortress, there is Utslevi village, wherein good and best wine vessels (churi) are made"…
We studied the village Utslevi in the Khashuri district and nearby villages and found that today no one is engaged in pottery making. However the locals, especially the elders, still remember the earlier production of tiles, various earthenware and locally made vessels.
Pottery, and particularly qvevri-making, was also well-developed in Ksani Valley, Kartli, especially in the village of Tskhavati, although locals no longer carry out this activity. Tskhavati earthenware crockery was famous and in high demand in many villages and towns of East Georgia. Tskhavati qvevri-makers were known for their small-size qvevris (kotso) or slightly bigger ones. Large-size qvevris, as narrates M. Zandukeli in his work Georgian National Ceramics (Ksani Valley), Tbilisi 1982, were brought into the Ksani Valley from Imereti (West Georgia).
Vardisubani village in the Telavi district (Kakheti) used to be a famous qvevri-making center, where this activity has been followed for ages. Vardisubani is the only village in East Georgia where qvevri-making has been preserved since ancient times. Earlier the village was also engaged in making tonne, bricks, tiles, and earthenware crockery and was famous for en masse production of large-size qvevris. At present maximum capacity of qvevris produced in Vardisubani is about 2-2.5 tons. According to the local population and qvevri-makers, even larger qvevris were also made in the village in earlier times. In general, the region of Kakheti was distinguished for making large-capacity qvevris. For example, one still can find qvevris in the village of Shilda that hold 6000-8000 liters.
In West Georgia, for example in Imeretia, the best-known qvevri-making villages were Boslevi, Chkhirula, Makatubani, and several others.
We have studied well-known villages in Guria, West Georgia, where pottery was produced, and qvevri in particular. Some include Aketi and Atsana. High quality qvevris are still being made in these localities although craftsmen are far fewer--today only two qvevri-makers are still working in Atsana.
In the village of Aketi the availability of high-quality clay has meant that artisans can still produce qvevris and crockery as well as other earthenware (tiles, tonne (Traditional bread-making ovens
)
, bricks, well crowns) in Aketi proper and Atsana. In Samegrelo, qvevri-making was practiced in the villages of Namkolao, Mukhuri, Jvari, Chale, Namkoli, Chkaduashi, Pakhulani, Kortskheli and others. In the area of Lechkhumi, artisans from the village of Sairme were noted for this skill.
Qvevri-making is still practiced in several Imeretian villages as well, though comparatively smaller sizes are made. Although qvevris holding 2000-2500 liters are also made here, the fact that Imereti, in comparison with Kakheti, is a comparatively land-poor region means that the land dedicated to vineyards occupies a relatively small area. Thus small-capacity qvevris are quite sufficient to hold the yearly grape harvest.
Today, qvevri-making is restricted to three Georgian regions: Kakheti, Imereti and Guria. In general, Georgian qvevris vary in capacity from 2 to 3 liters to 6000-8000 liters, although in ancient times artisans supposedly made even larger vessels that could hold 10,000 to 15,000 liters.
From: Making Wine in Qvevri: a Unique Georgian Tradition, Tb. 2011.
© elkana
Tagged: