- Posted on Wed, 05/27/2015 - 00:41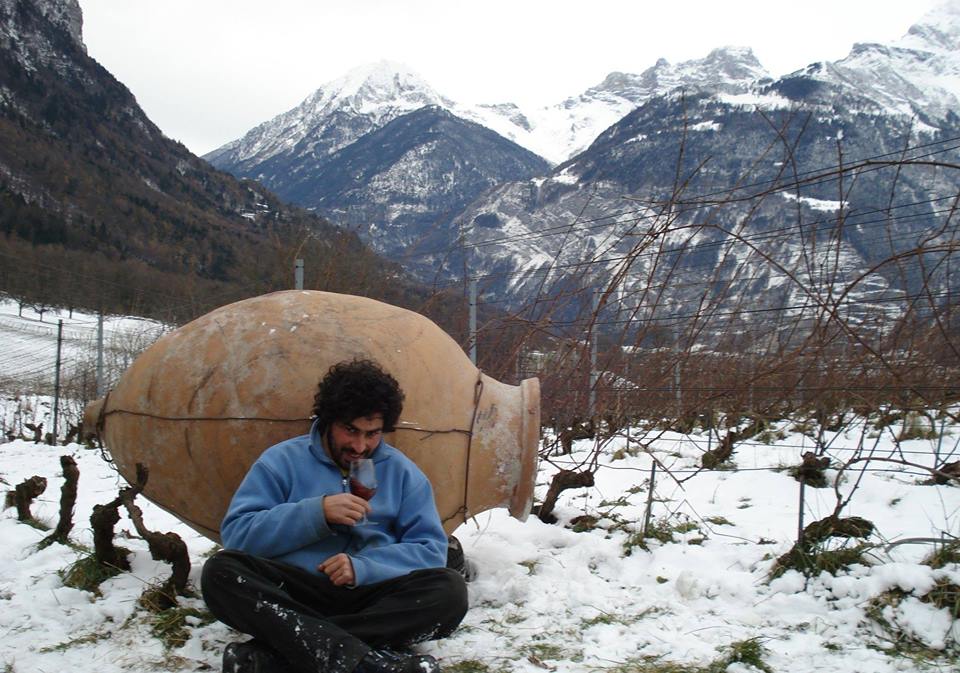 By Keto Ninidze
Prologue:
Nikoloz Natroshvili is 26 years old guy and when I was listening to him, I reminded about one Kakhetian nobleman, we all know about, who was a straightforward, diligent man, fighting against illiteracy, being slightly radical, with little ironical biting wording. But, I think that context unintentionally follows the name, with strong pathetical and sacral tones, thus, I won't fully disclose my modest comparison.
You may remember that, pretty later, this man [Ilia Chavchavadze] was describing the moment of his biography, when after four years of living in Petersburg, was reaching his homeland with the most tender feelings and watching own social cultural environment from outside; he was thinking about Georgian characters and the Mountains of Caucasus seemed so small, following the passion of progress and development; he was feeling the power like all enthusiasts, diligent, educated and uncompromised young people feel.
Thus, it may be due to unconscious and irrational mode that storytelling about Nikoloz, rejoined exactly with this flow. Text, which engraved one of the most flexible metaphors in our cultural memory - "Black nightshade or grape" ("These four years period is a period, which crafts bud of life in the mind and heart of a young fellow. The bud is a bud, which may turn into either brilliant grape or black nightshade").
I shall try to tell you the story about a person, whose four years abroad turned into "beautiful and brilliant grape". Doesn't matter how you understand me, either allegorically or directly.
First steps into bio husbandry (economy)
Nikoloz took interest in winemaking, when his family became the member of the Association of Biological Sciences - ELKANA and was involved in busy and very interesting process of conversion. This farming practice was completely focused on empirism and observation, which was especially interesting for him as a child, being attracted by various layers of the soil and its living micro environment.
As he admits, in 2003-2005 such farms/husbandries were in small number in Georgia, ELKANA monitored the process and in case of necessity supported families, in terms of providing with seeds and relevant information, including some financial resources. Afterwards, it turned out that bio husbandry brought some benefits for their vineyard, for example, within 3-4 years period of time, grape worms have totally vanished. Period full of observations and discoveries, became the source of inspiration for Nikoloz, who at that time, was facing the dilemma of choosing a profession, he didn't hesitate much and was enrolled at the faculty, where he could learn vine growing and wine making fields more deeply.
Introducing with the European experience
His studies on the faculty of food technology of Vine Growing - Wine Making Institute of Tbilisi coincided with a pretty difficult, transitional period - reforming of the institute, changing of the institute building, collapsing of infrastructure. As for studies, Nikoloz explained that even curriculum was not so flexible and concentrated.
In 2008, with the support of ELKANA, he passed internship for several months at Vaud Canton, Switzerland, in the field of bio and biodynamic vine-growing. In this period of time, he was able to dig deep within the characteristics of this type of husbandries, besides, internship included theoretical part as well, where practical issues were reflected. He was studying controlling of dangerous diseases with the medicines applied in bio husbandry; green operations in vineyard, preparation of biodynamic medicines and herbal mixtures, collecting of medical herbs, etc.
"Morning chill ... cold wind from Alps pushed me towards the bed again, though tens of my fellowmen came out for working and I was inspired to go forward. Working in the rain? we are not used to, we don't work in the rain. Pierre Alain went nearby, smiling and directing me towards the vineyard. I hardly began working and praying for rain to stop, but it neither stops, nor nobody stops to work. Everybody works obediently, including me and can't even stop. Girls are also working, how can I stop?! Suddenly, I reminded about Georgia, imagined my female friends (conceited ones) in the vineyard and I laughed. I think, I', going to head in a big turmoil"- this honest and funny story is from Nikoloz's Swiss diaries.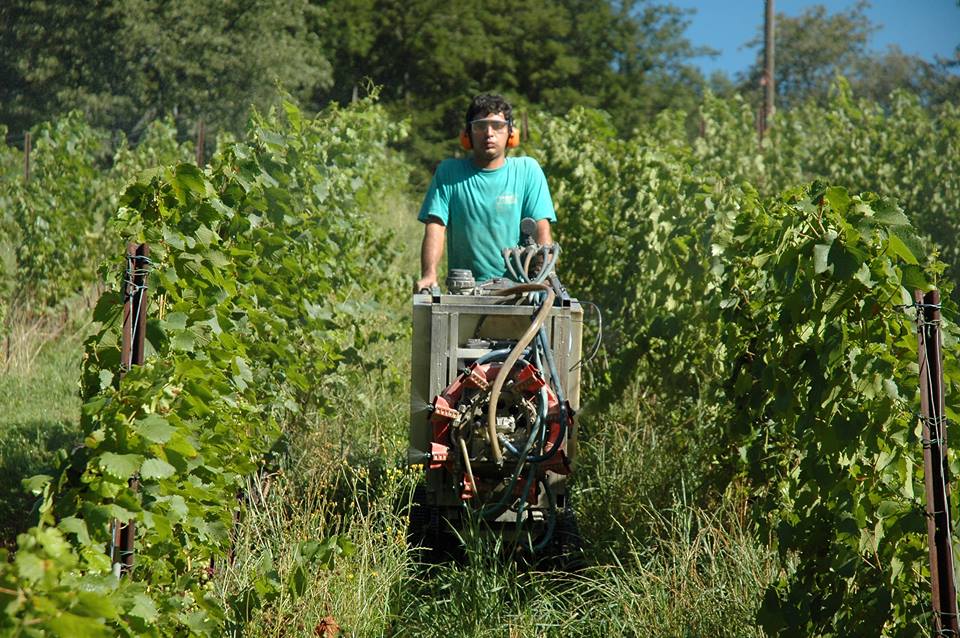 After Swiss internship, the most important period has begun in the life of Nikoloz, when he gained the gov scholarship of France and was enrolled in Vine-Growing MA Faculty, Jules Guyot Vine and Wine Institute of Burgundy. Study model was well concentrated and student-targeted. Simultaneously, they passed internship in various structures acting in the field of vine growing and winemaking. Nikoloz is very proud that he had a wonderful chance to participate in vintage of Louis Jadot wine cellar and making of Pinot Noir. He was also involved in barrel aging of Chardonnay and making of wine through classic Burgundian method in the barrel (elevage sur lie).
After finishing the first MA year of Enology and participating in Cave de 2010 vintage, Nikoloz returned to Georgia for a while and worked on various positions in wine companies (Khareba, Shumi), like wine cellar works, vineyards monitoring, etc. Afterwards, he returned to Burgundy, MA of vine growing and terroir and to the south regions of France, for studying local wine styles more precisely.
In 2013-2015, Nikoloz was the winemaker of Besini, recently he got an offer from GWS and became the Lab Manager of the Company.
Point of View
If we do not count his studying period, Nikoloz never lived in Tbilisi, after educating in Europe, he returned to his hometown - Gurjaani, explaining that he "doesn't see" himself in Tbilisi. Unfortunately, his fellowmen, friends are not the only ones, whose talents and the best possibilities of self-realization were lost into the destroying process of urbanization. From Nikoloz's point of view, this is the most wrong and unpractical decision, when a person has full possibilities to develop small business in his region and runs to Tbilisi and for three hundred Gels salary.
We talked much about some severe and sensitive issues, such as, development of small cellars in Georgia, where, from his point of view, one of the major challenges is the need of professional education of small entrepreneurs. His example proves that, development of small wine cellars in Georgia, could serve as precondition of the successful business. Family cellar of Nikoloz has own loyal customers, though presently, in his case, demand is far bigger, than the index of delivery. Thus, family puts large investments in increasing and development of vineyards and production. They invite their customers to show Qvevris and qvevri opening process in their wine cellar. Such interaction among seller and the customer, incurs special respect and increase the sense of cooperation. For a person like Nikoloz, being well aware of practice in biological husbandry/agriculture, this practice doesn't necessarily correlate with the quality. As he explains, only right management of bio husbandry is the provision of desirable result, combined with some conventional method. Such approach means great theoretical and empirical knowledge. Practicies in different parts of the world, where small wine cellars flourish, is grounded on agronomical knowledge of the vine grower and winemaker (and not only philosophy of natural process resistance).
Nikoloz is a person not preventing himself from talking about problems and up-to-the-point critics; transparent discussions and reflection are important for the development. And I suddenly reminded of that – "Dear readers, please don't be afraid of the word "revolution" (Ilia Chavchavadze, "Letters of a traveler") and I shall read pretty modest rhetoric beyond the honest irony, directed to the people, supposedly having devoted love towards the past and passed people, than towards the life, youth and development drive. It seems that, this is the part of existential fear of small nations and the cultural code shows up even on extremely domestic levels; at the moment, when we are afraid of arguing, critic, oppositions and finally, of life; at the moment, when we are continuously obsessed by the history and individuals, and more often, we confess it in terms of "passed ones".
Nikoloz and his friends, recently have founded non-governmental organization - "Association of Young Winemakers". Here they plan to unite the resources of young professionals and accomplish many interesting projects in the field of winemaking. In general, our interviewee thinks that in Georgia, state interest is not only in wine export development, but in the development of small wineries and consuming culture as well. These two things are directly connected with each other. As he explains, Georgian wine success abroad is really good, but such facts may not have direct affect on wine culture development in Georgia.
Nikoloz is a great admirer of France - wine country, where wine is organic, natural part of people's life, their dignity and is in direct liaison with their cultural identity. This is not surprising, as coming from the Georgian experience in winemaking, he flashbacks wine factories and enormous tanks of wine from 90s, smell and taste of which reminds him one of the period of our everyday history, when wine and dignity, wine and values were totally separated from each other.
Therefore, he was deeply impressed by vintage in France, with the famous merchant, Jadore, where he fully felt the vintage as a celebration, created by diligent endevours of individuals. Pretty interesting experience of such carnival and celebration existed in Georgia as well, let's think about field team songs, when teams are competing with each other via antiphonic method, where hard work correlates with funny, encouraging melodies and moods. Our interviewee reminds about French winemaker respectfully, being very impressed with his corny hands. They drank wine together and he was telling about his vineyards and winemaking moments very passionately. Thereby, Nikoloz wishes to read the same passion and attraction with wine, vineyard and labour, supposedly being the victims of value crisis at the same time.
© Georgian Wine Club, Wine Informational Center
Tagged: