- Posted on Wed, 02/11/2015 - 16:55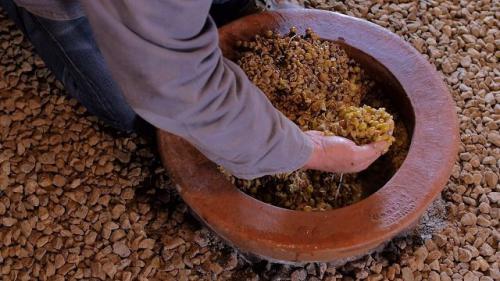 On January 31 of this year, TV France 3 offered the first run of the French documentary of Philippe Gasner – "A la source du vin". This 52'' film shows traveling of winemakers from Loire in Georgia – in the country boasting thousands of years of winemaking.
Besides his documentary works, Philippe Gasnier follows family traditions of winemaking. In the city of Saumur, Loire, he produces natural wine and is an active supporter of organic wines. Couple of days ago, he showed his film to the diverse society of winemakers from around the world, at the wine exhibition of La Dive Bouteille, in his home town.
Film shows French winemakers, searching for the historic origins of the wine, digging into the past of the Georgian wine and discussing the future challengers as well. Film characters are the Georgian naturalist winemakers - Ramaz Nikoladze, Iago Bitarishvili, John Wurdeman, Archil Natsvlishvili, American wine writer – Alice Feiring, the later introduced the Georgian wine to the film director for the first time, in 2011.
Film venues include wine cellars, vineyards, where spectators introduce with small wine enterprises, qvevri, wine cellar, Georgian polyphonic singing and other Sufra traditions.
It's no wonder that director pays major attention to the oldest tradition of qvevri winemaking. As Mr. Gasner says, he aimed to show the technological development of wine, as of the history and adventure of a human being – the way from vineyard to the wine glass.
© Georgian Wine Club, National Wine Agency