- Posted on Tue, 06/16/2015 - 16:53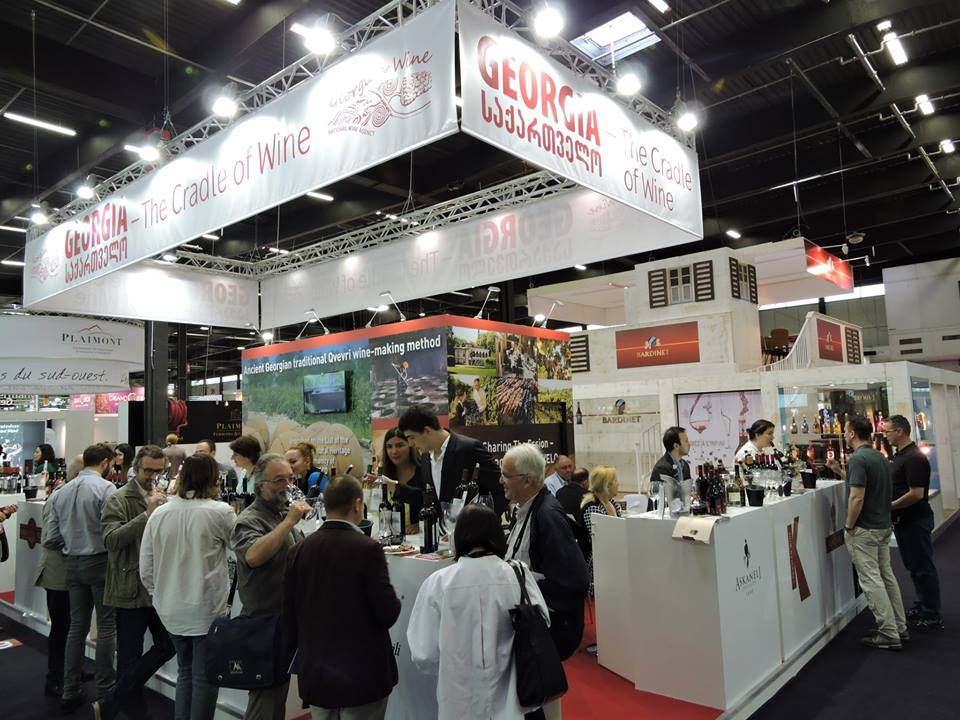 On June 14 Bordeaux hosted opening of the 18th edition of international exhibition of wines and spirits Vinexpo Bordeaux 2015. Exhibition that was first organized in 1981 and takes place every odd year will last until June 18. It is organized by the Bordeaux Chamber of Commerce and Industry. The last event in 2013 attracted 44 participant countries and up to 2,400 companies. It was attended by 48,858 visitors from 148 countries. Vinexpo is one of the biggest international events in the field of wines and spirits and is visited by professional buyers from all continents. The goal of the exhibition is to bring together representatives of the industry and other professionals and support their businesses. Trade shows that are organized in the frames of Vinexpo create important opportunities for interested persons looking for discovery of new products.
This year, for the first time National Wine Agency provided support for organizing of a large scale branded booth for presentation of Georgian wines. There are 12 companies to represent Georgia during the event: Shumi, Château Mukhrani, Tbilvino, Besini, Kakhuri, Telavi Wine Cellar, GWS, Askaneli Brothers, Geowine, Vaziani Company, Chelti and Traditional Kakhetian Winemaking. Megvineoba Khareba is presented independently from other companies.
Program of the Vinexpo Bordeaux 2015 includes several important events that are dedicated to the Georgian wines. The first tasting "Georgian Wine – Promises and Paradoxes", which was led by the Master of Wine Lisa Granik (USA) took place on the first day of the exhibition. The second degustation "Georgian Wine – Ancient and Modern" is scheduled for June 15. Tomorrow, on June 16 the exhibition will host two important events: wine tasting and discussion of international perspectives of Georgian wines and demonstration of production methods of Qvevri wines. The latter is organized with support of the Wine Club of Georgia, Georgian Experience, National Wine Agency and Wine Tourism Development Fund. Presentation will be conducted by David Jishkariani and be followed by tasting of the Qvevri wines.
© Wine Club of Georgia, Wine Information Center.
Tagged: