- Posted on Thu, 06/19/2014 - 21:09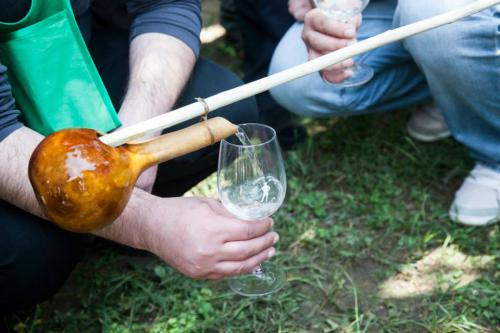 By Aleko Tskitishvili
The annual New Wine Festival has been back at Tbilis Open Air Museum of Ethnography for the fifth time this year. It is first and foremost the opportunity for the wine connoisseurs and wine lovers to evaluate wines from the latest vintage. It also plays a role in increasing the awareness of Georgian winemaking and viticulture while featuring a cornucopia of wine. Finally, the festival demonstrates the orientation and the progress of Georgian vintners which is particularly apparent to those who have been part of this winemaking celebration since 2010.
During these five years new tendencies have been born that have had more positive than negative effects on the wine industry. The discovery and cultivation of new grape varieties, the revival of the age-old traditions of qvevri winemaking and of qvevri wine production, the growth of quality wines and of boutique and family owned wineries, the restoration of unique traditions and the practise of new experiments – these are recently emerged tendencies that help Georgian winemaking break free from the stream of monotonous, conventional wine production established by the Soviet wine factories and take it to a new level of a more diverse, creative approach.
About five years ago, the names of many old, rare and indigenous grape varieties were hardly recognized. These varietals have recently made their comeback as different wine companies and artisan winemakers have started producing their wines from Kisi, Khikhvi, Chkhaveri, Tavkveri, Goruli Mtsvane, Chinuri, Aladasturi, Usaxelouri and many more. These varieties are now well-known and familiar to everyone. A lot of boutique wineries see their main advantage in producing the wines that are made from rare, uncommon grape varieties. Many started as artisans 4-5 years ago, also showcased their wines at the New Wine Festival and in time, established themselves as small wine producing companies.
One of the striking aspects of the New Wine Festival is that it features many age-old and forgotten varietals and helps them make their comeback in the wine industry. Thus, it is likely to say that more and more varieties are expected to be showcased at the festival in the coming years. As I have been informed by several winemakers, some of them will include: Skhilatubani and Jani from Guria region, Kapistoni Tetri from Imereti region, Mtsvivani Kakhuri, Budeshurisebri Saperavi and Vardisperi Rkatsiteli (Pink Rkatsiteli) from Kakheti region, Budeshuri and Mukhamtsvane from Kartli region, etc. Thus, some winemakers have already planned to present these varietals and many more at the festival next year. These are the grapes the potential of which is not fully understood even in the professional circles of ampelographers and enologists. I have personally discovered two interesting wines of rare varietals this year: Jgia made by the winemaker, Lekso Tsikhelishvili and Muskaturi Rkatsiteli made by the winemaker, Giga Loladze.
Lekso Tsikhelishvili is from Zemo Alvani village of Akhmeta Municipality. He owns vineyards in Obolidziani village, close to Zemo Khodasheni border. His vineyards come from Soviet times. They were given to Tsikhelishvili family during the Soviet collectivization and industrialization. Since the vines are old, they make an excellent wine. The owner makes Qvevri Rkatsiteli in his own cellar that is successfully sold abroad as well as locally, specifically at natural wines bar, Vino Underground in Tbilisi. Last year Jgia 2012 was also submitted for sale on Vino Underground shelves and was greatly praised. 2013 vintage Jgia has even more intense red color, heavier body and is very fresh on palate mainly because the wine has been allowed to remain in contact with the skin for 8 months. However, this wine, in general, doesn't have as much body as Saperavi wine does. It is more like Tavkveri or Aladasturi in style and that's what makes this wine exceptional: It is not a typical example of Kakhetian red wine, it has lighter body and is less dramatic.
Lekso Tsikhelishvili, winemaker: "I have only 50 plants of this varietal in my vineyards, however, they're all old vines and are sparsely planted while their roots are given enough place to run deeper and wider. I receive the maximum yield of around 300-400 kilograms, the equivalent to 200 bottles of Jgia each year.
This varietal was never taken seriously in Georgia, even its name reveals the attitude toward this grape suggesting that it is not noteworthy enough to be considered interesting. Indeed, I always liked Jgia and always made wine from it. It usually ripens late and I always give it enough time to fully ripen, which is typically, by the time Rkatsiteli harvest is over. I make this wine in qvevri following traditional Kakhetian rules and let the wine stay on its skin for 6 months. This year has been different though as the skin contact has lasted for 8 months. I guess, this has even helped the wine reach its best expression."
Interestingly, there are two types of Jgia described in the book, "Georgian ampelography," written by Niko Ketskhoveli, Maxime Ramishvili and Dimitri Tabidze. One of them named is named Jgia and the other one – Jgia Sagviano (Late Jgia). It would be nice if ampelographers test Leqso Tsikhelishvili's vineyards and identify the exact type of the varietal.
Giga Loladze showcased the Muskaturi Rkatsiteli wine at the festival. Even though it is not a traditional, old varietal (it was first generated in the 20th century by Georgian ampelographers), indeed, from Soviet times until now, Muskaturi Rkatsiteli remains to be one of the most common white varieties in Georgia. Presumably, there was someone in the elite of Soviet Georgia's agricultural industry who was lobbying this grape and therefore, it was given a more privilege than traditional old varieties. During Soviet times there was a standard list of grape varieties and no wine producing factory could make a wine from the grape that was not on this list.
The vineyards of another winemaker, Giga Loladze, is located in the Didi Chailuri village of Sagarejo Municipality. This is the place where he also makes the Kakhetian style wine of Muskaturi Rkatsiteli. It is a pronounced wine that has the delicate balance of strong Muscat aromas and delicious Rkatsiteli flavors. Despite the fact that this variety was on the standard list, it was not grown and produced extensively during Soviet times. In fact, Giga Loldze is the first winemaker who makes wine from it. He aims at developing his winemaking plans, bottling his wine and releasing it for sale.
The New Wine Festival 2014 has also shown one more important tendency: there have been various experimental examples presented. It has also shown the winemakers' eagerness to revive the country's age-old winemaking technologies and traditions. The 2013 wine blend of Otskhanuri Sapere and Tsolikouri made by Archil Guniava is one such example. Making the wine that is similar to this style has even been described by the historian, Ivane Javakhishvili, in the beginning of the 20th century. He noted that even as the name of the grape suggests – Otskhanuri Sapere ("Sapere" – "for color" in Georgian), this varietal was mainly used to give a little color to white wines.
Archil Guniava says he has not done anything new, that his winemaking technologies are quite old and that he is just following the experience and the knowledge that were passed down to him by his ancestors. "Keeping traditions is what preserved Otskhanuri Sapere grape. Every winemaker used to have at least 20-25 plants of Otskhanuri Sapere in their vineyards among more widespread varietals such as Tsitska and Tsolikouri. This amount of Otskhanuri Sapere was sufficient enough to blend with the white grapes and to give enough color to the wine. The winemaking process is also interesting: We harvest Tsolikouri grapes either in late September or in the beginning of October and they are fermented without their skins. By the time the primary fermentation phase is over, which usually takes a month, Otskhanuri Sapere grapes are already ripe. So we add Otskhanuri Sapere grapes (along with their skins) to the Tsolikouri wine that has already gone through the primary fermentation in qvevri. The addition of Otskhanuri Sapere triggers the fermentation again and this phase lasts about 1.5-2 months, until the secondary fermentation is over. After that, we take the skins from the wine.The second racking takes place in April. At the end of May the wine is ready to be consumed."
Kakhetian winemaker, John Okruashvili, talks about an interesting experiment that bears a resemblance to the winemaking technique, that has been used for making Otskhanuri Sapere and Tsolikouri blend. In fact, he uses the modern technique of Rosé winemaking. "We squeezed Rkatsiteli grapes without stems. After 5 days, the wine was racked off the skin and Saperavi grapes, harvested from the vineyards next to the Rkatsiteli vineyards, were added to it. It is important that the grapes are harvested from the neighbouring vineyards, because if Saperavi comes from different terroir, it migh influence the Rkatsiteli flavor too much and the wine might lack balance. Saperavi stems were ripe and therefore, I added the whole thing including stems and skins to the Rkatsiteli juice. So the wine was being fermented this way and the third day it was racked off the Saperavi skins as well. Finally, after the second fermentation was over, dry, Rosé wine was made."
The New Wine Festival has had a nice addition of famous Atenuri wines for the last two years. The age-old traditions of winemaking are being revived in Atenis Kheoba of Kartli region and surprisingly, the family-owned wineries are the originators of this process. The big companies still don't pay enough attention to this unique wine even though they have more resources available.
Finally, I would like to touch on the wines of "Imeretian Wine Company." The father and the son, Murad Jugeli and Lasha Jugheli, planted the vines of not only locally popular varietals in Imereti region such as Tsitska, Tsolikouri, Krakhuna, Otskhanuri Sapere, but also of other leading varieties of Georgia's wine producing regions such as Usakhelouri, Aleksandrouli, Mujuretuli, Saperavi, Ojaleshi and Chkhaveri in the prominent microzone of Sviri, Imereti Region. They also grow French varieties such as Pinot Noir, Chardonnay and Cabernet Sauvignon.
The several years experience of "Imeretian Wine Company" suggests that some Georgian grape varieties have the potential of crossing national boundaries and becoming international varietals. It is true that Usakhelouri from Okureshi village, Aleksandrouli and Mujuretuli from Khvanchkara village or even Ojaleshi from Tamakoni village have unique and distinctive flavors. However, they also express themselves pretty well in other places such as Sviri village, for example. Consequently, this experience should be shared and followed. Jugheli family is rightfully proud that their Usakhelouri, Aleksandrouli, Mujuretuli, Saperavi, Ojaleshi and Chkhaveri are made from the grapes that were grown in the vineyards located in the Sviri village.
© Georgian Wine Club/vinoge.com
Tagged: