- Posted on Thu, 12/12/2013 - 02:13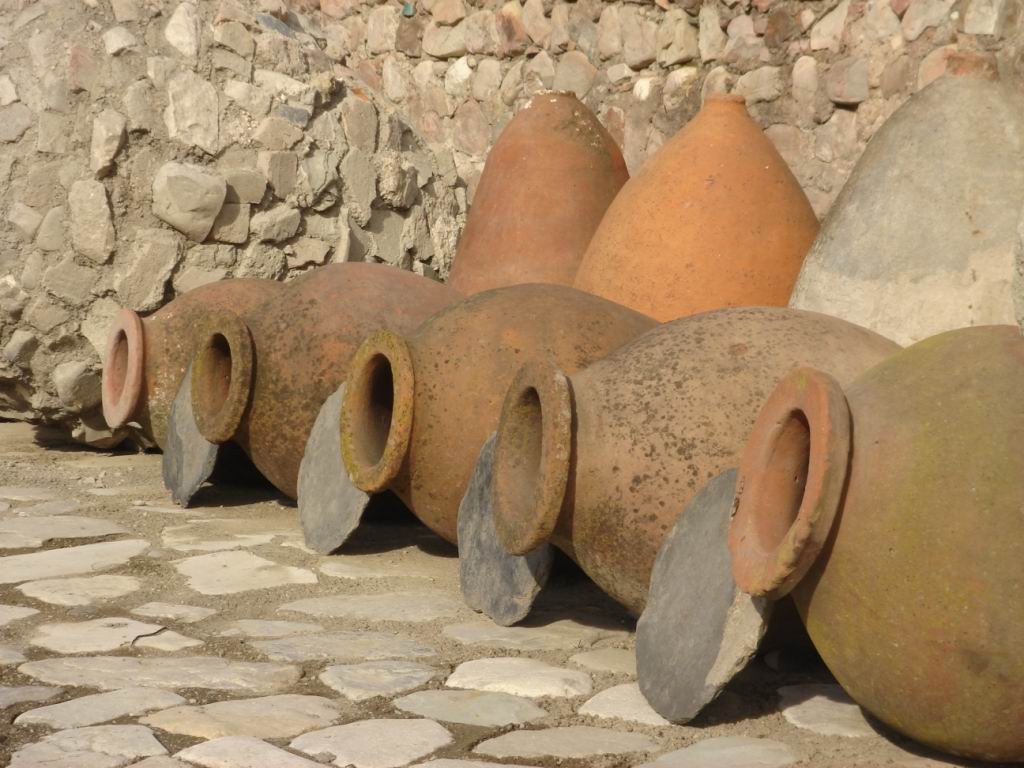 By Giorgi Barisashvili
Although qvevri winemaking is a subject unto itself, sacramental wine and qvevri can be regarded as a special phenomenon. Making sacramental wine does not differ greatly from traditional winemaking--the principal difference is in the conceptual and perceptual aspects of sacramental wine.
According to the Georgian language dictionary, sacramental (zedashe ) wine is that used during religious ceremonies such as the celebration of the Eucharist (the Lord's Supper) or weddings. Another definition states that sacramental or zedashe wine is the best wine, specially reserved for religious holidays. The sacramental qvevri and wine culture was found throughout the country, however this phenomenon is more frequently encountered in East Georgia, specifically in Kakheti. Formerly, practically every marani had at least one sacramental qvevri buried in the ground. Almost all families with a marani kept a sacramental qvevri for wine intended for donation to churches and monasteries and for their own consumption during secular or religious holidays.
Sacramental qvevris served as a peculiar reference point and always occupied their own distinguished place in the marani. Other qvevris were placed in relation to the zedashe qvevri, depending on its location in the marani. The zedashe qvevri didn't necessarily occupy the central place among other qvevris; quite the contrary, it was placed separately from other qvevris for quality storage in a cool, dark and relatively secluded place.
We lack data concerning the difference in the ordinary and sacramental qvevri-making technology. Differences have not been observed in the cases of liming and/or waxing of the zedashe qvevris, however it appears that sacramental qvevris had to be washed more thoroughly, and in the past the procedure probably took longer than today.
Making sacramental wine requires special attention and care, starting with qvevri washing and marani hygiene and ending with fermentation, aging and storage. During alcoholic fermentation the pomace needs to be regularly stirred inside the qvevri. This process must be repeated five times a day at least. In general, it is advisable that the pomace be agitated in the qvevri once every two or three hours at least, especially during fermentation.
When the fermentation is over, the pomace and wine are separated and the latter is decanted into another qvevri. Then the sacramental wine should be given a complete rest for some time. The first drawing of wine from the qvevri occurs at different times depending on the location, region, vintage year, and other factors.
Only red grape varieties are used in making sacramental wines. Using white grape varieties or even adding white grape juice to the sacramental wine is prohibited. Blending red and white wine is inadmissible even in the smallest proportion. Also, sacramental wines should have no contact with water. For this purpose, washed wine vessels (qvevri, barrel, glass-ware, etc.) must be used only when well dried. Grapes producing rosé wines should never be used in sacramental winemaking. In general, native Georgian red grape varieties are used, such as saperavi, dzelshavi, otskhanuri sapere, Kartlian or Kakhetian tavkveri, shavkapito and other varieties.
Homemade sacramental wine requires no treatment (filtration, refining or chemical additives) and the use of pure culture yeast during fermentation is neither required nor recommended. In general, making wine under household conditions, whether sacramental or ordinary, does not require the use of any additives and filtration because wine should go through all the necessary stages naturally. The only technique which could be added when making sacramental wine is burning sulfur (sulfating) in the qvevri to disinfect it before use. This was done in ancient times as well. Of course burning sulfur does not exclude compliance with the other standards of sanitation of the marani and wine vessels.
Qvevri marks
A qvevri mark is the incision made by the qvevri-maker on the neck of the vessel. We have collected photographs of qvevri marks in both East and West Georgia and Kakheti is especially distinguished by the number and diversity of such marks. Early qvevri-makers marked other earthenware as well, such as tiles, bricks, large pots and jugs. Today abundant and diverse marks are still found on old qvevris. The qvevri mark identifies its maker, its origin and the date it was made, etc. Frequently qvevri marks let us know exactly where they were made and from where they were taken.
Most old qvevris are stamped with signs such as the qvevri-maker's initials, the artisan's full name, the year of manufacture, various ornaments, a cross, borjghali (a Georgian symbol of the sun with seven rotating wings), where it was made and its capacity. According to popular legend the qvevri mark was also a mark of quality. Such marks could not be automatically passed on from father to son or grandson, but instead every qvevri-maker had to earn the right to stamp his own products.
Conclusion
This publication promotes the traditional Georgian wine vessel – the qvevri. It is difficult to encompass as important and as voluminous a subject as the qvevri and qvevri-making in one brochure, so many readers--especially those interested in or practicing the age-old art of Georgian qvevri winemaking--may not find all the answers in this work. However, the theme is still subject to further research and that in the near future many more questions around these issues will be answered. Our plans include new publications on winegrowing and winemaking to highlight important related issues like establishing the vineyard; the construction and design of the Georgian marani, its equipment and tools; and describing other traditional Georgian wine vessels.
In conclusion we would like to repeat that the Georgian qvevri is a unique vessel with an original shape, an archaic simplicity and, most important, an indispensable role in true Georgian winemaking.
References
Kartlis Tskhovreba (Georgian Chronicles) IV. Vakhushti Bagrationi. The Description of the Kingdom of Georgia.
Sulkhan-Saba Orbeliani, "Sitkvis Kona" (Dictionary of the Georgian Language), 1949, Tbilisi.
Newspaper Meurne (Farmer), No. 9, 3 March 1888, Tbilisi.
A. Bokhochadze. Winegrowing and Winemaking in the Ancient Georgia According to Archeological Materials. 1963, Tbilisi.
Lekiashvili. Thou Art a Vineyard. 1972, Tbilisi.
L. Pruidze. Winegrowing and Winemaking in Georgia. 1974, Tbilisi;
J. Songhulashvili. On History of Georgian Winegrowing and Winemaking. 1974, Tbilisi.
T.L.E. Jorjadze. Winegrowing and Wine Making and Improvement. Guide for Kakhetian Winemakers, 1876, Tbilisi.
Materials on History of Georgian Domestic Production and Craftsmanship. Vol. 2, 1979, Tbilisi.
M. Zandukeliu. Georgian Folk Ceramics (Ksani Valley). 1982, Tbilisi.
Iv. Javakhishvili. Selected Works in 12 Volumes. Vol. 5. "Winemaking", 1986, Tbilisi.
Ilia Chavchavadze. Georgian Winemaking (essay), 1887.
T. Ghlonti. Ilia Chavchavadze and Agriculture. 1988, Tbilisi.
From: Making Wine in Qvevri: a Unique Georgian Tradition, Tb. 2011.
© elkana
Tagged: