- Posted on Mon, 03/17/2014 - 23:30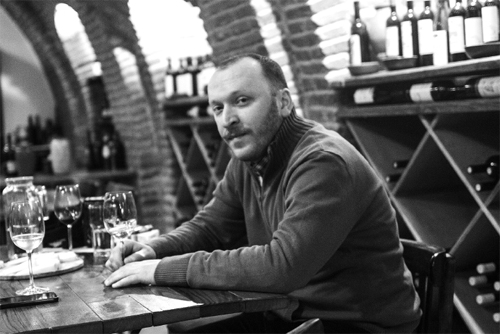 In December 2013 UNESCO added Georgian method of making qvevri-wine as the world's Intangible Cultural Heritage. This imposes a huge responsibility over the country with ambition of being cradle of wine. History of modern winemaking has been developing heavily, but reality showed that difficulties only made it stronger – at the moment demand for quality Georgian wine comes way beyond from Georgian borders. These and other issues were discussed by Malkhaz Kharbedia, President of the Wine Club in his interview with Leila Naroushvili, journalist of Бизнес Грузия (Business Georgia).
- Few months ago UNESCO included qvevri (clay pot) winemaking method in its list celebrating world's Intangible Cultural Heritage (ICH). I would like to congratulate everyone, and especially you, the President of the Wine Club, with this achievement.
- Thank you! This, indeed, is a very important phenomenon, especially since UNESCO only started recognition of non-material heritage few decades ago. Such heritage includes Georgian polyphony, recognized as the masterpiece of world polyphony. It could be said that Georgian method of qvevri winemaking is much older, with history of over 8,000 years, so it was logical for UNESCO to appreciate it.
Qvevri method is one of the archaic cultural layers of our history, which is not associated with any of the specific regions and is characteristic to every region with wine-making traditions – Kartli, Kakheti, Ajara, Imereti, Abkhazeti, Samegrelo, Racha-Lechkhumi and Meskhet-Javakheti.
- UNESCO status imposes a huge responsibility over Georgian wine-makers. What are some of the international standards that qvevri wine should meet?
- At the moment there are no standards on a legislation level, but there is a huge experience of making qvevri wine. More authentic and archaic the method, more valuable it is as a cultural phenomenon. Different regions of Georgia use different methods for making qvevri wine. There are Kakheti and Kartli methods. Different technologies are used in Imereti, Guria and Samegrelo regions.
- Wine Club member wine-makers make wine using methods other than qvevri. Do you know how many wine-makers use the latter method?
- At the moment there is no exact data. Lots of beginner wine-makers started making qvevri wine, but there are many experienced ones that have been using this method for years now. It should be noted that whole of Georgia, and especially Kakheti, Imereti, Racha and Kartli always had families that produced traditional qvevri wine. There are a lot of families like that. You would easily see this if you visit our annual New Wine Festival, usually held in Tbilisi in May each year. The first festival was held in 2010, and the number of participants making qvevri wine increases each year. These producers include large companies as well as small, family wineries, for which this festival is a début and therefore, are separately presented during the festival.
During last few years large companies also got engaged in making qvevri wines. There are new small wineries and owners grow specific vines needed for qvevri wine. Good qvevri wine can only be made from specific grapes and following specific rules. Large number of these small winery owners follows organic grape-growing and wine-making. Several years of practice has shown that wines in line with natural wine philosophy are most popular in Georgia as well as in the west. It can be said that natural winemaking is closely associated with qvevri method, even beyond Georgia.
We have a large and diverse selection of qvevri wines. I can list the best: Khareba is the best of the large companies, which produced several wines in qvevri; also Telavi Wine Cellar, Tbilvino, Teliani, Kindzmarauli corporation, Traditional Kakhetian Winery, Old Twins Wine Cellar, Vazi+. I also want to especially point out the contribution of small wine cellars like Khokhbis Tsremlebi, Chveni Gvino, Alaverdi Monastery Wine, Iago's Wine, Nikoladze's Wine Cellar, Kakha Berishvili Wine Cellar, Gotsa Family Wines, and many others.
- As far as I know qvevri wines are produced in western countries as well. Are you planning to invite foreign colleagues to the upcoming Wine Festival?
- Yes, we are. This year the Festival will be held on May and I am hoping it will have lots of participants. The process of reviving qvevri wines started in 90-ies of the past century. Interest of European wine-makers in this method served as a precondition for international recognition of non-material heritage. This is especially important in spite of Georgia having traditions that has been ongoing for centuries.
For several years now western wine-makers have been buying Kvevri in Kakheti and Imereti for their cellars and import them abroad. They usually use local varieties (French, Italian) for wine. Unfortunately not many of them indicate that the wine is produced in qvevri and that this is a Georgian method. Some refer to qvevri as "amphora", which is a more recognized term, but is incorrect – amphora has nothing in common with qvevri. On the other hand, it should be noted that historically Italy, Spain and Portugal used to have a similar vessel, although the method of producing and storing wine was different. In Georgia qvevri would always be buried in the ground.
The fact that western wine-makers are interested in qvevri method and use it in their homelands, is only positive. This method has many followers in Italy and France. One of the wine-makers from Alsace recently purchased several additional qvevris for his winery. Same is true about Burgundy and several other regions. These vessels are used in Croatia, Germany, Slovenia, Austria and Switzerland. Each year Europe hosts natural wine festivals. Italy, for example. As for London, it simultaneously hosts two independent natural wine festivals. These events are very important, since qvevri is advertised here. Georgian wine-makers are also active in this regard.
Our Wine Club has good relations with similar foreign and local clubs, professionals of wine business. I would like to specially point out Wine-Underground restaurant-bar in Tbilisi, headed by experienced wine-makers – Solomon (Soliko) Tsaishvili, Malkhaz Jakeli, John Wurderman, Iago Bitarishvili, Ramaz Nikoladze and others. They are our friends. Most of them are active members and founders of the Club. These people are in constant contact with foreign colleagues. They visit each other, share experience and of course, share wine. By the way, other wine-makers also introduce their wines to this bar, which results into a wide selection of interesting wines, both qveri wines as well as those produced using other methods. They all have one thing in common: all of them are made using organic or natural methods.
- Georgian wine often appears in Russian publications. For example, Russian Forbes recently published a critical article about qvevri. Igor Serdiuk, the author says that qvevri is on different than any other wine vessel in terms of winemaking technologies. Moreover, qvevri is am "atavism" and its use for quality wines is just a "fiction".
- I read this article and I think this publication simply follows soviet rhetoric, which was very popular during 80-90-ies of the past century, when there was a targeted attack towards qvevri wine. Maybe many people don't like the popularity of qvevri wines (and that's a whole different issue), or simply don't understand its essence. Maybe Russian market is more in favor of cheap Georgian drinks like semi-sweet white and red wines branded as Alaznis Veli. These wines cannot possibly express qualities of Georgian wine, since they do not serve as the image of Georgian wine. These drinks have no own style, unlike wines that are produced in Georgia for the past few years – some of them in qvevri, and some using modern methods. Our wines bring gold medals from prestigious international competitions like Decanter World Wine Award, International Wine and Spirit Competition, Concours Mondial de Bruxelles, International Wine Challenge. It can be said that Georgian wine is now more diverse than during previous decades. Most importantly, it is not associated with semi-sweet red wine only, even if they are as distinct and of quality like Kindzmarauli or Khvanchkara.
I want to come back to qvevri method and emphasize that qvevri wine philosophy is fundamentally different from conventional wine philosophy and requires differentiated approach. The principle of matching qvevri wine with certain dishes is also different. Therefore, it is quite understandable why some of the experts don't understand its importance.
- In the same article the author indicates that qvevri is "not too hygienic", which, naturally, affects quality of wine.
- If we follow this logic, then we could say worse things about oak barrels. Any vessels are unhygienic if not washed properly. There is a "qvevri washer" occupation in Georgia, requiring huge knowledge and experience. This is a highly energy-consuming task. In general, making quality wine requires lots of work, especially when it comes to qvevri. It is natural that such wines are different from ordinary conventional wines, made in large quantities around the world. So the argument cannot stand the criticism. The thing is, some people are ready to taste, learn and assess such drinks, while others are not ready for this. So Jancis Robinson, Isabelle Legeron, Lisa Granik, Andrew Jefford or Alice Feiring are much better aware of natural Georgian wines, than Russian experts. Maybe the reason is that Russian market has few so-called bio or natural wines, including those made in qvevri. This is different from the western countries, where wine evaluators have significantly widened their viewpoints.
- According to "Российская газета", during June-September last year Russia became largest importer of Georgian wines – 8,917 million bottles. It states that Georgia plans to increase wine and cognac export to Russia up to 30 million bottles in 2014. On one hand, the state will receive profit from sales, but how would that affect the quality?
- Wines of the companies that are leaders on Russian market are not known on Georgian market at all. This is a very bad, and even dangerous fact. I am not talking about every company, but wines of two top companies out of the leading trio are unknown to Georgia. They are either created specifically for Russian market, or are once again using famous scheme after seven years of sleep. This shows that tradition of transporting wines made especially for Russian market has been restored. Uncoordinated politics of selling Georgian wine to Russia once again continues, which is wrong initially, so it is unreasonable to think that we will be able to gain strong positions on a Russian market, unless such detailed policy is generated. It is important to know specifics of demands of Russian market as well as possibilities of Georgian winemaking. In other case the state may harm own interests as well as interests of producers that are ready to sell their wines to Russia.
It is clear that opening of this market resulted in significant movements, but this is not an indicator of quality. At the same time, high quality Georgian wines are also sold in Russia, which is definitely a positive fact. We should occupy our niche and interest Russian buyers using quality and distinct beverage. I call my Russian colleagues to be critical of every wine coming from Georgia. Thus they will assist not only consumers, but Georgian wine-producers as well.
As for 30 million bottles during 2014, this is a huge number. I suspect low quality beverages might end up amongst them as well. I believe such approach is incorrect. I support producers that place quality first and quantity second. It is much better if Georgia is known as a serious country supplying quality wine. Georgian wine-makers should study Russian market thoroughly and act based on reality. They should do everything they can so that nostalgic image of Georgian wines of soviet era comes to an end in Russia. Otherwise, this tendency will become destructive for us.
-Russian experts doubt whether Georgian wine can find its niche on a Russian market. They believe it is impossible to have quality wine for less than 100 rubles.
-I agree with those who think wines costing less than 100 rubles are of low quality. Self-respective wine-maker producing good quality wine would be offended if his wine ends up in a low quality wine category. However, it's not a crime if Georgian wine is priced for 3 USD. We have interesting wines in this price category, but not for the volume to meet requirements of the Russian market. I would not want to see all Georgian winemaking switching to producing cheap wines for the sake of selling it to Russia.
Our wine should take a high- and mid-priced category segment, but unfortunately, we don't exactly have a great image in Russia, due to the experiences of the last years of the past and beginning of this century. At that time the name of Georgian wine was used for who knows what.
Now the situation is different. Georgian winemaking is on a different level and tries to play on a better ground. No matter how important Russian wine market could be in financial terms, I object for the demands of this market to influence quality and style of Georgian wine.
- Do you have contacts with your colleagues, Russian experts?
- Of course. They provide us with accurate and important information about Georgian wines sold on Russian markets. We know the violations identified, although so far we come across strange and wicked marketing moves – I mean labels and origin of wines, which has a negative impact over the quality of our wine.
- You received an international certification of wine expert at the end of 2013. What is the situation in Georgia in this regard?
- This is a third level certificate of WSET (Wine & Spirit Education Trust). Several years ago we joined USAID's Economic Prosperity Initiative (EPI) and took this course for two years. Program developed by WSET is comprised of several levels or qualifications. 14 experts of level 2 were prepared in Georgia. Third level (WSET Advanced) is higher than previous two levels and three of us, me, Giorgi Samanishvili and Giorgi Dartsimelia won it. Soon we will also receive a status of WSET official representative (APP – Approved Program Providers), most likely covering region beyond Georgia. WSET is a famous British organization, founded in 1969, and is a world leader in offering educational programs on wine and spirit. This is the biggest educational organization and its certifications are recognized around the globe. We can organize teaching of representatives of Georgia and region using western standards needed for receiving quality education in the field of wine and spirit.
© bizzone.info/Georgian WIne Club
Translated by Tamuna Kvaratskhelia
Tagged: