- Posted on Sat, 02/09/2013 - 12:36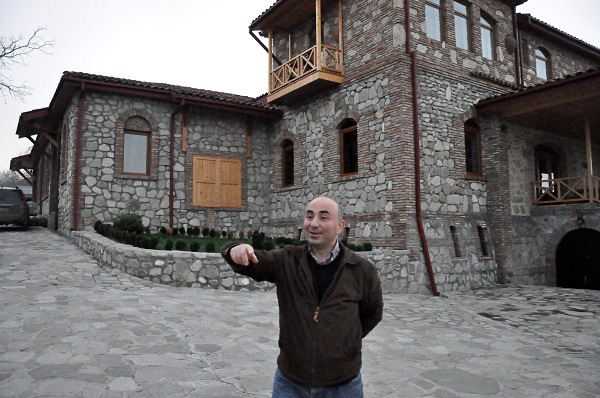 Vinoterra Winery is the product of great passion, dedication, and respect for history, and the facility where winemaker Gogi Dakishvili works his very talented magic with both traditional European production methods as well as ancient techniques that date back to the beginning of Georgian - and the world's earliest - wine production. The resulting wines are unquestionably some of the most stylish and sophisticated examples of what can be produced in a proud country with an incredible wine culture and indigenous grape varieties that offer elegant flavors, superb balance, and unparalleled food friendliness. We are pleased to offer these wonderful, small-production wines for the first time ever in the U.S.
Vinoterra Tsinandali 2007
Made from a traditional Georgian blend for wines that are named for this famous wine zone, this world-class dry white is 80% Rkatsiteli and 20% Mtsvane. The result is one of the best examples of Tsinandali anywhere, slightly exotic yet elegant, beautifully-balanced with a fruit and acid synergy that makes it a delicious cocktail wine as well as a spectacular food companion.
Rkatsiteli was at one time the 3rd most planted white wine grape in the world (largely in the general region of eastern Europe, though there is even some limited production in the U.S.). It is a prolific producer, and can tend toward the tart side if not allowed to ripen fully and allow for richer sugars. It is known for pronounced floral aromas and a certain spiciness in flavor. Mtsvane means "green", or "young" in Georgian, and this thin-skinned grape variety adds a noticeable fruity and aromatic quality. Separately they are used to produce a number of different table wines, sparkling wines, and even distilled grappa (called "chacha") and brandy - but together in Tsinandali, they harmonize to create the white wine that is the pride of the country.
The 2007 is refreshing and lively, with spice and green herb flavors joining notes of cucumber and green pineapple. Only 12.5% alcohol, it is a perfect wine to accompany lighter fish dishes (especially trout), olives, and goat or sheep cheeses.
Vinoterra Saperavi 2003
Produced from 100% Saperavi, this wine is a spectacular combination of ancient and modern winemaking techniques, as it sees primary fermentation for 20 days in qvevri, and then moves to stainless steel for malolactic fermentation before transfer to French oak barrels to mature for 2 years before bottling.
Saperavi is the noblest of Georgia's red wine grapes, and is made into many styles of dry and semi-sweet reds. A very dark and thick-skinned grape with violet-colored flesh, it naturally produces red wines of deep color. The texture, or mouthfeel, is traditionally one of medium weight, and the acids are substantial - which, as with so many Georgian wines, makes it even better with food than standing alone and is also a key building block for good cellaring potential. Flavors of black pepper are quite characteristic. Saperavi is native to Georgia, though a few adventurous growers in Australia and the Finger Lakes region of upstate New York are experimenting with its use.
The Vinoterra 2003 is unfiltered and deep-hued, and tastes of pomegranate, dark berries, and herbal tea. Earthy, rich, and round, it is a big wine but still supple, and develops in the glass with each passing minute. It is a beautifully-proportioned wine and surprisingly only 13% in alcohol, and makes an ideal companion for dishes using lamb, or mushrooms...or both!
The Vinoterra qvevri-fermented white wines
2006 Kisi
2005 Mtsvane
2005 Rkatsiteli
It is here that Gogi Dakishvili truly departs from what we know as the usual, and actually focuses on the most ancient winemaking techniques that originated in Georgia to produce three distinct varietal whites that are quite unlike anything else in the world.
Fermented with full skin, seed, and stem contact for 5 to 6 months in buried earthenware containers, stirred every 4 hours with a wooden paddle that was used by his grandfather, these remakable wines are made from classic Georgian white wine varieties. An additional 12 months of aging in French oak barrels lends a refined quality to these unique limited bottlings. Every sip not only offers layers of flavors that beg for foods, and many that might never actually pair well with anything else, but a taste of how wine was first made some 7,000 years ago. Gogi believes that because of the level of oxidative fermentation that is such a key component in their production, they can be cellared for 50+ years. Sharing these is one of the true joys of being a serious wine lover!
Kisi is a grape that is one of the lowest volume varietals produced commercially in Georgia, and it is largely grown in the small village that surrounds the Vinoterra winery. It has a natural sucrosity when made into traditional table wine, and that carries through to a degree even in its qvevri form, with a complex nose of dates, butterscotch, and dried nuts. The color is a beautiful deep golden yellow, which falsely gives many first-time drinkers the idea that something syrupy-sweet awaits. Instead, it offers flavors of nuts, baked apples, spices, and even a bit of whiskey and anise on its extremely long finish. If this sounds interesting, unique, and complicated...it's because it is.
Mtsvane means "green", or "young", in Georgian and when produced as a fresh table wine it shows itself as fragrant, dry and with plenty of acid and minerality. As a qvevri white, it's natural characteristices develop even more deeply - this wine is stunning in color, a dark amber, almost rusty shade that lets you know it is something exotic. A bouquet of surprisingly delicate soft floral aromas is followed by a wonderful viscosity and intricate flavors of mild nuts, dried fruits (especially apricots), and fresh cedar from the time that it spent in barriques. A great match for more acidic green vegetables like asparagus, artichokes, and brussel sprouts that can be difficult to pair with any other wines.
Rkatisteli has no problem finding a key place in most Georgian wineries, used proudly in many popular table whites, sparklings, brandies, and "chachas" (grappas); but in the case of Vinoterra's qvevri version it is indeed elevated to a distinguished level. An impressive color of coppery, dark tea leads into a nose of candied grapes, melon, and new wood. The medium-bodied flavors of toasted nuts, mixed dried fruits, and subtle new oak leave an extremely long finish that constantly changes between sips. This wine is a splendidly dry and acid-balanced companion for slightly sweeter or nuttier cheeses, grilled poultry and firm fish.
© daqopa.com
Tagged: