- Posted on Mon, 02/23/2009 - 18:23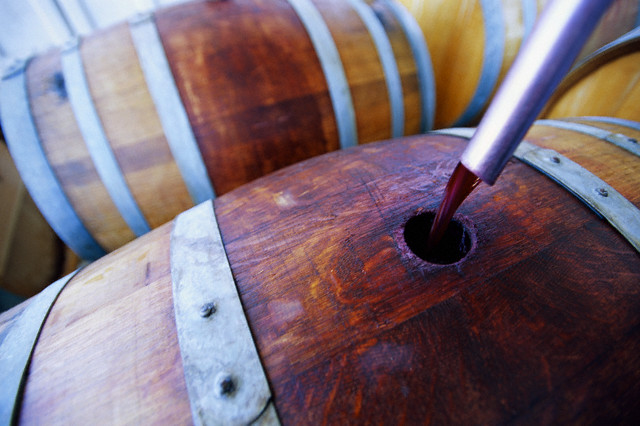 By Levan Lomtadze
Due to the financial crisis major Georgian wine exporters are claiming that 2009 will be a challenging year for them to keep the same sales figures as they had in 2008. The Ukrainian market which was one of the main export destinations for Georgian wine in 2008 is in the middle of a serious financial crisis and Ukrainian wine distributors are having problems with selling the product.
The "Prohibited in Russian" promo campaign initiated by the Georgian Government did a good job in the first part of 2008. In 2009 Georgian Wine Business is looking for new and more creative ideas to regain the Ukrainian market.
"If we compare the total sales of the last year and the forecast which we have at the moment for the year 2009 we should be expecting a 47% decrease in sales in Ukraine . However these are just forecasts and have their limitations," Zurab Margvelashvili, Executive Director of TbilVino, told The FINANCIAL.
TbilVino, one of the biggest Georgian winemakers, has been awarded gold and silver medals at the Berlin Wine Trophy, the Berlin international wine contest, recently. The total export sales of TbilVino in 2008 equalled 1,118,412 bottles. Most of it was sold in Ukraine .
The company has three brands TbilVino, TbilVino Special Reserve and Georgian Valleys. These brands include 40 different wines in total, the costs of which vary from low to high end prices.
"The sales figures of January-February 2008 and the sales of January-February 2009, are almost the same, but this year expected increase will be 0%. Due to the global financial crisis in 2009 we'll be trying to keep the same index as in 2008," Shota Khobelia, Commercial Director of Teliani Valley told our reporter.
During the autumn harvest Teliani Valley received 3,400 tonnes of grapes, 300 tonnes, or 9%, of which was from its own vineyards. As of today the winery stores approximately 3 million litres of wine material and 250,000 litres of brandy liquid, according to Liberty Consumer owning 26% of the company. In September 2008 Teliani Valley's market capitalization was 48 million.
In 9m 2008, Teliani Valley's Net Income equalled GEL 0.36 million. The company's revenue grew by 27% to GEL 8.54 million, while gross profit went up by 34%, to GEL 4.02 million.
Impact of the August 2008 conflict
According to company reports the Kakheti region, Teliani Valley's base and the main winemaking region in Georgia, was not directly affected by the August 2008 conflict between Georgia and Russia; therefore Teliani Valley's facilities have not been damaged. However the conflict has caused some logistical disruption to the company, as for approximately three weeks starting from August 7, 2008, Teliani Valley was unable to export its products and receive imported materials and equipment. Disruption in exports resulted in the loss of shelf space in certain countries.
According to the Department of Statistics of Georgia in 2007 the total export of wine from Georgia was equal to USD 291,974,000. From this amount USD 147,984,000 of wine was exported to Ukraine , which is over 51% of the total export.
In 2008 total wine exports increased and reached USD 368,628,000.From this amount USD 190,157,000 of wine was exported to Ukraine , which was 52% of total exports. In the 4th quarter of 2008 total trade of goods with Ukraine reached USD 393,860,000.
But since the financial crisis started evolving in Ukraine , selling wine has become more and more difficult.
"Figures have decreased quite notably in Ukraine . The sales for November 2008, December 2008 and January 2009 together were 70,036 bottles. Still the sales of January-February 2009 compared with the same period in 2008 were increased by 3%. Different factors have provoked such changes, such as holidays for example. However it doesn't mean that the global financial crisis will not affect exports in 2009," said Margvelashvili, TbilVino
As Margvelashvili explained, in spite of the fact that the first two months of 2009 are better in terms of sales rather than the same period of 2008, this is not the actual picture of the situation.
Problems in Ukraine
In 2008 Telavi Wine Cellar exported 1,500,000 bottles of wine. From 1,500,000, 600,000 bottles were exported to Ukraine . This year exports to Ukraine seem to be decreasing for the company by on average 10% and this is due to the economic crisis, as mentioned by the General Director.
"In Ukraine distributors are having problems with the selling of the wine that they have imported. For this reason we've agreed on 2 weeks postponement of payments from distributors. But so far there have been no cancelations and exports are in operation as planned," stated General Director of Telavi Wine Cellar.
"This year, in January we exported 100,000 bottles of wine to Ukraine . If we compare 2009's result with the one in 2008, we'll see around a 10% increase. Despite this, the crisis in Ukraine is definitely influencing the sales of wines in general," states Ani Beriashvili, Operations Director of GWS.
"Ukrainian distributor's sales have decreased by 20% in the last 3 months," she said.
"I think for GWS and other Georgian wine exporters the main challenge in 2009 will be keeping the market coverage they had in 2008. Increasing the market share will be extremely hard during the economic crunch."
Today GWS is exporting 95% of its production.
In 2008 GWS exported a total of 1,350,000 bottles, the company informed The FINANCIAL. In 2008 the biggest markets were Belorussia with 350,000 bottles, Kazakhstan with 300,000 and Ukraine with 250,000 bottles. The most popular brands of GWS are Old Tbilisi - Alazani Red, Old Tbilisi - Alazani White, Tamada - Saperavi and Tamada - Kindzmarauli. The market share of these two brands is 52% for Old Tbilisi and 48% for Tamada. Tamada is GWS's premium brand.
From August 1, 2008, Teliani Valley officially owns 100% of Teliani Trading Ukraine ("TTUA"). TTUA was set up in 2007 as a 50%-50% joint venture between Teliani Valley and Olever, the previous importer and distributor of Teliani Valley products in Ukraine .
According to Liberty Consumer, in Q3 2008, and partially in October 2008, TTUA sold products received from Teliani Valley before August 1, 2008, which had a negative impact on the company's revenue recognition for Q3 2008.
"The political and economical instability in Ukraine , significantly augmented in Q3 2008 and forecasted to be in force throughout 2009, is expected to impact the company's sales in this country, as Ukrainian growth slows and consumers are affected by the weakening of the Ukrainian national currency Hryvna (UAH)."
According to the Food and Drink Report of Ukraine private consumption will contract by 2.6% in 2009, and grow by only 2.7% in both 2009 and 2010. This is significantly lower than the 10.1% average annual rate of expansion between 2005 and 2007.
The GDP of Ukraine is expected to shrink by 3.2%, down from the Government's previous forecast of 2.2%. The ongoing fragility of the domestic banking sector, a weaker local currency and a drastic deterioration in both external demand and credit markets will have effects on food and drink spending.
Badagoni's main market for export is Ukraine , but according to the local reports Badagoni is experiencing a sharp fall in sales in Ukraine .
The company was founded in 2002 by refugee from Abkhazia and has become one of the leading Georgian wine exporters. This year Badagoni entered 3 new markets: England, Germany and Italy.
For many it may seem that the black cloud will be following wine producers through 2009. However, according to a report released by the International Wine and Spirit Record global wine consumption is forecast to continue to grow into the next decade. The United States will be overtaking Italy as the world's biggest consumer by 2012.
The United States will be overtaking Italy as the world's biggest consumer by 2012.
The report predicted the financial crisis affecting many wine-consuming countries would only have "limited" outcomes for the growth of the wine sector. The report forecast growth for the coming four years roughly in line with pre-crisis trends.
As it says production is expected to grow by 3.83 percent from 2008-2012 to slightly over 3 billion 9-litre cases.
Consumption is to grow at an even quicker pace by 6 %, over 2008-2012, reaching 2.8 billion cases.
In Russia, expenditures on wine nearly doubled in 2003-2007 and are expected to reach nearly USD 6.5 billion by 2012.
For many Georgian exporters foreign markets are the main source of sales. For this reason the financial crisis is becoming the major enemy for Georgian wine after the Russian embargo. It's noteworthy to say that since the August war sales in Baltic States have increased. Wine producers are saying the main reason was solidarity for Georgian products and it was a move against Russian aggression. It worked well, but how long can this demand be maintained?
"As our export turnover strategy planning showed, in the beginning of a new calendar year we'll have sales volume increased by 17-25% compared with the previous year. As for the entire year 2009, due to the existing global economic downturn, we were unable to increase the export volume as planned but have tried to keep the same index as in the year 2008," says the General Director of Teliani Valley.
"The biggest share on export comes on our premium brands, but we also successfully export other brands in CIS and EU countries. Ukraine and Baltic States are importing the largest amounts of our products. Fortunately sales haven't decreased in Ukraine despite the tough financial situation. Our main competitors in Ukraine are medium price range wines," Khobelia explained.
Teliani Valley's most popular brands in foreign markets are Saperavi Unfiltered, Saperavi, Mukuzani, Saperavi Rose, Tsinandali and Tsinandali aged in oak.
© The FINANCIAL