- Posted on Fri, 02/23/2018 - 17:21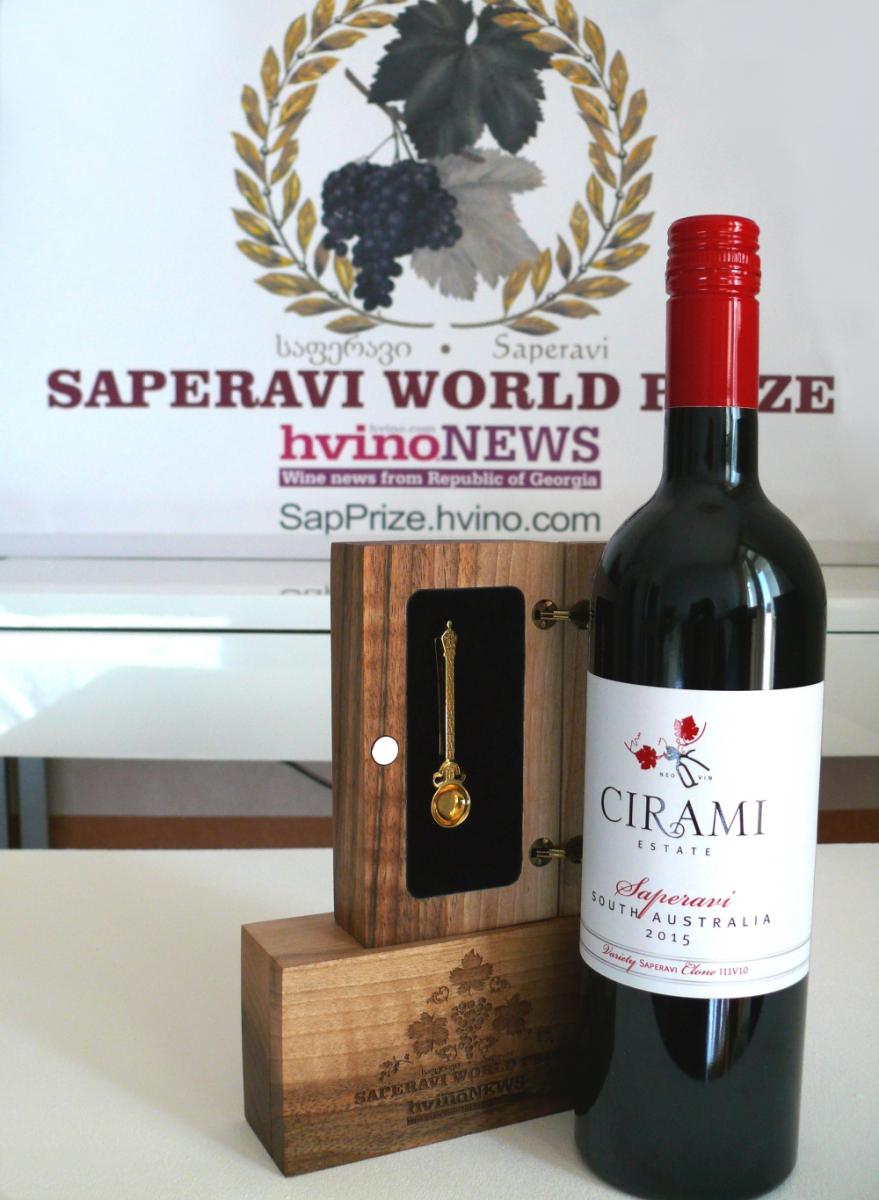 Saperavi World Prize is a new international wine contest in Georgia, which brings together the wines from winemakers from around the world who use the Saperavi variety. Saperavi is a grape variety native to Georgia, which is becoming increasingly popular with winemakers around the world.
Saperavi World Prize ("SapPrize") is conceived to become not only a wine contest of Saperavi wines produced in all continents, but a meeting point of international winemakers and Georgian tradition-keepers, backed by eight millennia-old winemaking history of Georgia – the cradle of wine. Official website of SapPrize is sapprize.hvino.com.
Small and large wineries from several continents have submitted wine samples to SapPrize in 2017. Wines came from Australia (14 wines), United States (4 wines), Azerbaijan (3 samples), Kazakhstan (2 samples), Russia (2 samples) and one wine each from Armenia and New Zealand.
The Gold, Silver and Bronze "Azarpeshas" – the grand prizes of Saperavi World Prize 2017 ("SapPrize") international wine contest – were presented to Ambassadors and diplomatic representatives of the winner countries at a special award ceremony on February 15.
The Grand Prize winners are: Saperavi winemakers from Australia - Grand Gold, USA - Grand Silver; Kazakhstan - Grand Bronze.
Wines of best-known Georgian variety from all over the world were judged in Georgia for the first time at SapPrize contest organized by wine news publisher Hvino.com.
Saperavi World Prize Award Ceremony was held at IArt Gallery in Tbilisi. Officials, diplomats, businesspeople, wine experts, and journalists attended the VIP event.
The Grand Gold Prize was awarded to Cirami Estate 2015 Saperavi from Australia. "The Gold Azarpesha" was presented to David Kereselidze, Director of Department of Asia, Africa, Australia and Pacific Rim of Georgian Foreign Ministry.The foreign Ministry will deliver the precious prize to Georgian Embassy in Australia, which will present it to the winner in Canberra.
The winner of the Grand Silver Prize is McGregor Vineyard's Black Russian Red 2010 Saperavi from USA. "The Silver Azarpesha" was presented to Elizabeth Rood, Charge d'Affaires at US Embassy. The Embassy will deliver the award to the winner John McGregor in USA.
The Grand Bronze Prize was awarded to Lagyl Arba Saperavi 2013 from Kazakhstan, and presented to Gulmira Sultanali, Charge d'Affaires of Kazakh Embassy.
Both Foreign and Georgian Saperavi wines were served at the ceremony. The guests had a chance to taste hard-to-find Saperavi samples from Australia, New Zealand, USA, Kazakhstan, as well premium-quality Georgian-made Saperavi wines from Vaziani Winery, Tchotiashvili Family Winery, and JSC Cradle of Wine.
An exhibition of rare ancient "azarpeshas" (Georgian traditional wine drinking cups) from private collections, which were the inspiration behind creation of SapPrize awards, was also exhibited during the event at iArt gallery. "Instead of traditional medals, to stress the Georgian dimension of this wine contest, our prizes are inspired by ancient Georgian drinking cup usually made of silver and gold – so called azarpesha. We are awarding miniature azarpeshas, made of the same precious metals. These prizes are absolutely unique; they are hand-made by Georgia's leading jeweler Jimi Lominadze from our partner Zenaari company", - commented the organizer of SapPrize.
The full list of SapPrize Awards follows in the link.
Saperavi World Prize 2017 is organized by Hvino News with support of ICC Georgia.
Saperavi Wine Prize 2017 is organized under patronage of: Embassies of Georgia in USA and Australia (Ministry of Foreign Affairs of Georgia); Revenue Service (Ministry of Finance of Georgia); National Intellectual Property Center "Sakpatenti"; Wine Tourism Association; Georgian Wine Club.
Sponsors: ICC Georgia; Vaziani Winery; Channel Georgia FZC; Lasare Ltd; Zenaari (official prize producer)
Tagged: