- Posted on Wed, 03/25/2015 - 18:13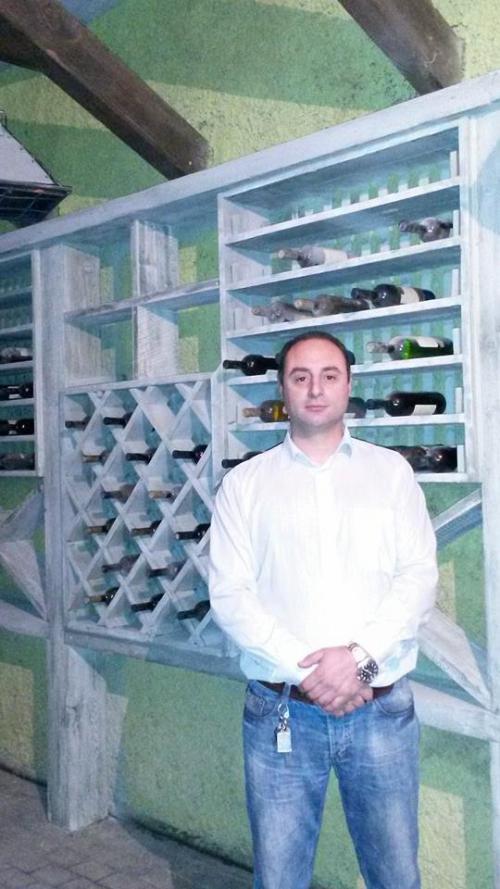 By Keto Ninidze
"My goal is to see Georgian wine along the French and Italian Wines throughout the world, and we, young winemakers have enough time and via proper steps, we can really make it happen very soon" - says Goga Khatiashvili. Goga leaves in Telavi and presently he is the chief winemaker of Company "Shumi".
Winemakers are not very fond of talking about their activities, especially winemakers from Kakheti. Wine is extremely personal space, kind of ritual and even taboo.
Notwithstanding this Goga shared his childhood memories, reconstructing scenes from Italian Neorealism in front of me, I even heared rich and diverse phrases of Gogla Leonidze about his childhood, taste of vineyard and many more. This is the classic structure of storytelling, starting from harvesting the grapes, squeezing and winemaking, from small vineyard and wine cellar to big wine enterprise, from boyhood to adulthood; and within this structure, repeated in different stages of his life, Goga suits the role of a young boy now and later of a father.
I was always interested in a human's condition, when idea, deeds, values are more important than conditional and changing circumstances, like status, social and cultural context, age, etc., as at this very moment, a man is not just a passive follower of the flow, but the flow itself, trying to dig its way. It was just the way it happened, in 2003, when Goga visited "SHUMI" and asked Mr. Jumber Batiashvili, Director to engage him as an ordinary worker, without remuneration and thus, with simple and honest move began his winemaking carrier.
He was soon received in the factory. In 2003-04 years, he was working on the position of the lab worker, since 2005 he was holding the position of winemaker-technologist and chief winemaker - technologist since 2o11. It should be underlined that. since 2007, Goga Khatiashvili is the Expert, Member of the Official Sampling Commission of the Wine and Sparkling Wines.
As for Goga, Natural scientist by education, proper time management is the core principle of his activity, inherited from his teacher, chief winemaker of Company "SHUMI", Genadi (Bichiko) Kumsiashvili. It helps him to gain maximum results with less efforts, especially during harvest periods.
Goga Khatiashvili thinks that Georgia is gifted with all the conditions (climate, soil, unique vines) that is necessary to take one of the first places in terms of wine quality and diversity. It is of key importance to find and recover forgotten indigenous species, cultivate vineyards and replace the thousand years of mere pride with real deeds.
Teachers, consultants, colleagues play important roles in formation of every winemaker, as of a professional, while cooperating and interacting with each other.
Such role models in Goga's life were, Genadi Kumsiashvili, Chief winemaker of Company "Shumi" and Jean - Michel Fernand, French winemaker, sharing his European winemaking experience.
Free sharing of knowledge is his key value for him as well. Today, Goga provides free consultations number of beginner companies and small cellars and which is the most important, he plans to share his knowledge and experience to his three sons, if they are interested in winemaking, in the future.
© Wine Club
Tagged: