- Posted on Wed, 04/29/2015 - 12:10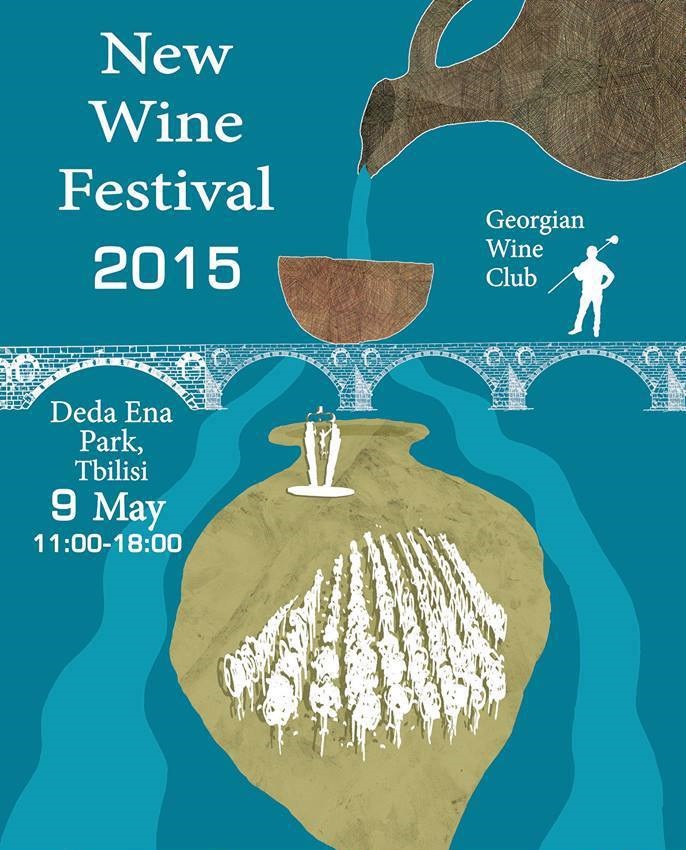 By Keto Ninidze
Selection stage of family wineries for New Wine Festival is over. An unprecedented number of wineries will take part in the festival this year. 55 winemakers will represent 72 varieties of wine from Kakheti, Kartli, Imereti and Racha regions. See the list below.
On April 25, in the village Chardakhi of Mtskheta district, "Georgian Wine Club" organized wine tasting to select family wineries. A committee consisting of 11 people which was composed of enologists, winemakers, winegrowers, writers and wine enthusiasts, gave positive feedback to most of wines out of 110 registered ones. The committee members were adviser of the chairman of National Wine Agency, Goga Tevzadze, president of the Wine Club, Malkhaz Kharbedia, director of New Wine Festival, Iago Bitarishvili, enologists - Kakha Tchotiashvili, Nikoloz Natroshvili, Vano Shiukashvili, and Mikheil Meskhi, journalist and wine writer – Aleko Tskitishvili, wine club members and wine enthusiasts - Vano Stefanashvili and Avtandil Kobakhidze.
President of the Georgian Wine Club, Malkhaz Kharbedia notes that quality of wine submitted this year is higher compared to wine samples of last year. In addition, more and more people apply traditional qvevri method of winemaking each year. Actual and typical problems were identified, most of which are related to the hygienic norms of wine production process. Malkhaz Kharbedia said that the approach towards problem identification perhaps was a bit too liberal and the wines with minor problems passed the selection stage. However, if one of the diseases was identified in wine or hybrid wine was presented on behalf of Saperavi or Aladasturi, it was removed from the tasting. As Kharbedia mentioned in about a week after the New Wine Festival, "Georgian Wine Club" will organize a special meeting with the producers, who have not passed the selection stage. Individual wines as well as general problems that arose during testing will be discussed.
Most of the registered wines were white, majority of them were Rkatsiteli, Kakhuri Mtsvane, Chinuri and Tsolikouri. From red wines, mostly Saperavi and Tavkveri were presented. Merab Mirtskhulava, Gogi Dvalishvili, Giorgi Revazashvili and others were defined as stable participants of a new wine festival. The wines, which have passed the selection stage, will be presented at the new wine festival, on May 9, in the space for family wineries in the park of Deda Ena.
We want to remind that the New Wine Festival 2015 will return for the sixth time this year on May 9, 2015. The festival will feature about 120 participants including family-owned wineries (55 of them), small and large wine companies, various associations and other organizations. Especially interesting is the fact that shooting of the separate episodes of Levan Kitia film about the festival have already started. The film reflects the history of the festival since its inception. The film will soon be presented to the public.
We provide a complete list of wine-producing companies and family wineries, which will be presented on May 9, 2015 in New Wine Festival, in the park of Deda Ena:
Wine companies, small enterprenuers and other entities:
1. Avtandil Bedenashvili manufaktur Kardenakhi
2. Askaneli Brothers
3. Assocciation Kvevri Wine:
Guria
Iberieli Ltd;
Imereti
Nikoladze's Family Wine Cellar ltd;
Gaioz Sopromadze's Wine Cellar;
Gogita Makaridze's Wine Cellar;
Archil Guniava's Wine Cellar;
Amiran Vepkhvadze's Wine Cellar;
Kartli
Iago's Wine;
Zaza Darsavelidze's Wine Cellar;
Mandili;
Kakheti
Nikoloz Antadze's Wine Cellar;
Our Wine Ltd;
Aleksi Tsikhelishvili's Wine Cellar;
Beka Gotsadze's Wines;
Kakha Berishvilis's Wine Cellar;
Mariam Iosebidze's Wine Cellar;
Nika Bakhia's Wine Cellar;
4. BabaneurisMarani
5. Bagrationi 1882
6. Chateau Telavi
7. Corporation Kindzmarauli
8. Cradle of wine
9. Dergi
10. Drujba
11. Dugladze Wine company
12. Ghvardzelashvili's Cellar
13. Giuaani
14. Goldengroup
15. Imeretian wine company
16. Jakeli Organic Vineyard and Wines Ltd.
17. Kakhuri
18. Kakhetian Traditional Winemaking
19. Kerovani
20. LEPL Scientific-Research Center of Agriculture
21. Letre
22. Lukasi
23. Manaveli
24. Naotari
25. Naotrebi
26. Nikala's cellar
27. Pheasants Tears
28. Petriaant Marani
29. Professional winery products
30. Sagvareulo Marani
31. Shalvino
32. Satsnakheli
33. Shumi
34. Simon Chkheidze's Wine Cellar
35. Stori
36. Tbilvino
37. Teliani Velley
38. Temi
39. Tifliski Vini Pogreb
40. Usakhelouri Vineyards
41. Vaziani
42. Vazi+
43. V&D Usakhelouri
44. Wine Tourism Association
45. Winery Khareba
Family Wineries
Tbilisi
Solomon Tetrashvili
Wine: Rkatsiteli
George Chikhoria
Wine: Rkatsiteli
Vakhtang Macharashvili
Wine: Rkatsiteli
Nukri Revishvili
Wine: Rkatsiteli
Wine: Krakhuna
Kakheti
Zaza Bakhsoliani
Wine: Rkatsiteli
Wine: Aleqsandrouli, Mujuretuli, Saperavi
Giga Loladze
Wine: Muscat Rkatsiteli
Zurab Zatuashvili
Wine: Rkatsiteli, Kakhuri mtsvane
Rostomaant Marani
Wine: Rkatsiteli
Wine: Saperavi
Merab Mirtskhulava
Wine: Saperavi
Wine: Tavkveri
Wine: Shavkapito
Wine: Rkatsiteli - Mtsvane Kakhuri
Wine: Rkatsiteli
David Kapanadze
Wine: Rkatsiteli
Wine: Mtsvane
Vasil Nikolashvili
Wine: Saperavi
Aleksandre Kvernadze
Wine: Saperavi
Wine: Asuretuli Shavi
Bichiko Qoqiashvili
Wine: Rkatsiteli
Levan Zurashvili
Wine: Rkatrsiteli
Givi Tavtetrishvili
Wine: Saperavi
Mikheil Madzgharashvili
Wine: Kakhuri Mtsvane
Ioseb Oqromchedlishvili
Wine: Saperavi
Petre Betsukeli
Wine: Rkatsiteli
Erekle Loladze
Wine : Saperavi Mukuzani
Wine: Saperavi Khashmi
Wine: Kakhuri Mtsvane
Elguja Goderdzishvili
Wine: Rkatsiteli
Pavle Tavadze
Wine: Khikhvi
Vakhtang Beruashvili
Wine: Kisi
Wine: Khikhvi
Gocha Ghulelauri
Wine: Kakhuri Mtsvane, Rkatsiteli, Kisi, Khikhvi
Giorgi Chekurishvili
Wine: Rkatsiteli, Mtsvane
Beka Gremelashvili, Davit Gremelashvili
Wine: Rkatsiteli (Mtsvane 25%)
Nodar Tchitchashvili
Wine: Saperavi
Giorgi Oghrapishvili
Wine: Saperavi
Mikheil Darbaiseli
Wine: Saperavi
Aleksi Chankotadze
Wine: Rkatsiteli
Giorgi Gachechiladze
Wine: Kisi, Rkatsiteli
Ketevan Dushuashvili
Wine: Saperavi
Lasha Janelidze
Wine: Manavis Mtsvane
Besik Pirtskheliani
Wine: Kisi, Rkatsiteli
Mamuka Terterashvili
Wine: Mtsvane, Rkatsiteli
Tamaz Sarishvili
Wine: Rkatsiteli, Mtsvane
Aleks Bardanashvili
Wine: Rkatsiteli
Giorgi Gogichaishvili
Wine: Rkatsiteli, Mtsvane (filtered)
Wine: Rkatsiteli, mtsvane (unfiltered)
Vaja Kasrelishvili
Wine: Saperavi
Kartli
Giorgi Revazashvili
Wine: Atenuri
Tamaz Alavidze, Guram Avqafishvili
Wine: Rkatsiteli
Avtandil Darakhvelidze
Wine: Chinuri, Tavkveri
Aleksandre Beruashvili
Wine: Chinuri
Ivane Maghlaferidze
Wine: Chinuri
Ivane Ramazashvili
Wine: Chinuri
Gogi Dvalishvili
Wine: Atenuri, Chinuri, Goruli Mtsvane
Giorgi Kublashvili
Wine: Chinuri
Beka AslaniSvili
Wine: Chinuri
Giorgi Latsabidze
Wine: Shavkapito
Rezo Vasadze
Wine: Tavkveri
Wine: Rkatsiteli
Wine: Saperavi
Wine: Kakhuri Mtsvane
Ilia Tigishvili
Wine: Chinuri
Imereti
Zurab Ghvaladze
Wine: Tsolikouri
Wine: Tsitska-Tsolikouri
Baia Abuladze
Wine: Tsolikouri -Tsitska
Severian Ghambashidze
Wine: Tsolikouri
Racha
Kakhaber Vakhtangadze
Wine: Rachuli Tetra
Shorena Pataridze
Wine: Mujuretuli, aleqsandrouli
© Georgian Wine Club, Wine Information Center
Tagged: