- Posted on Tue, 01/26/2010 - 09:00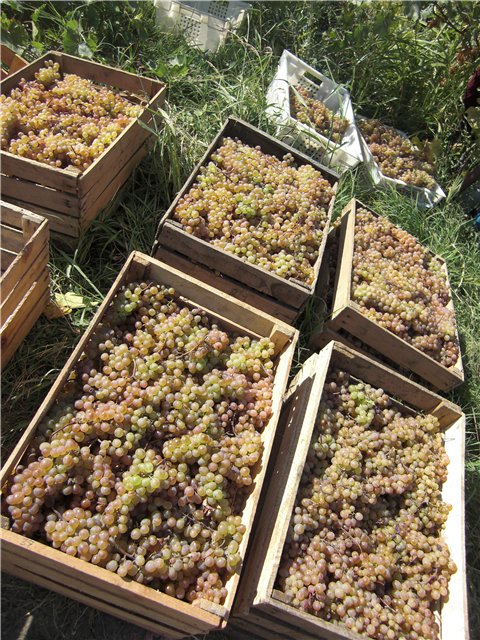 Georgian Wine Exports in Ukraine were Reduced by 32 Percent
Maia Arabidze
After having lost the Russian wine market Georgia is in the process of losing the Ukrainian market as well. However, unlike the Russian case, the reason for losing the Ukrainian target market is not political but the price and deteriorating quality of Georgian wines. Last year wine exports were reduced by 10 percent compared to 2008. Analysts forecast further decrease in wine export in future.
In 2008, 12,192,000 bottles of Georgian wine were exported while last year export was reduced to 10,968,161 bottles. This significant fall was obvious in regards to Georgian winemakers' target markets as well.
According to official data, in 2009 the export of Georgian wines to Ukraine was reduced by 32 percent compared to 2008. In 2009 the export of Georgian wines to Ukraine was 4,573,461 bottles while in 2008 there were up to 6,474,668 bottles exported to Ukraine. Instead, compared to last year wine export has been increased in Kazakhstan, Belarus, Latvia, Azerbaijan, China and several other countries.
According to export statistics, the best popular Georgian wines abroad are: Kindzmarauli Red semi-dry and Tsinandali white, dry. Vasil Managadze, head of Samtrest, says the reduction in export is caused by the world economic crisis.
"The economic crisis has served a reason for the export reduction," Managadze said. "Still, Georgian wines were sold in more than 40 countries, which is an obvious sign of geographical expansion compared to 2008.
In addition, lots of events are organized for the promotion of Georgian wines, the most important ones being the participation in the most prominent and most famous exhibitions.
In this way Georgian producers are given an opportunity to attract new markets and increase export. The latest exhibition in which Georgia was presented was the Green Week Berlin.
Private sector representatives offer different views. Zura Margvelashvili, executive director of the wine production company Tbilvino, says that the export reduction is caused because of the non-existence of marketing campaign and promotional support in target markets.
"The export reduction tendency has been obvious already for several years," Margvelashvili. "As far as Tbilvino's concerned, in 2008 we reached the same indicators the company had before the Russian embargo.
Moreover, in 2009 our sales were further improved by 10 percent, which means our company's not in the list of the export reduction.
Fifty percent of our income used to come from the Russian market and embargo actually put us in bankruptcy position. In 2006 to 2007 have been rather tough years for the company.
Wine manufacturers must continue active work on wine quality stability issues. Today wine producers participate in different exhibitions through their own resources, which I believe will never be enough for the decent presentation and promotion of Georgian wines in foreign countries."
He added: "It's an accepted practice abroad that government and private sector works together.
The government has started active participation in different exhibitions, which is a welcome step, not enough though. Government should get even more active in this respect."
Tbilvino's management says Georgia's losing Ukrainian market little by little and Georgian companies should be looking for other alternative options.
"Ukraine has become the member of the World Trade Organization, which means the taxes on wine export from the European Union and other countries are the same as from Georgia," Margvelashvili said.
"However, before that Georgia had preferential conditions. While being put in same conditions, Georgian wines are not mostly capable of competing with others because of their price.
Thus, Ukrainian consumers realized that they can buy more quality wines for the same price and indeed, preferred them over Georgian wines. When particular market is lost it has commercial ground, Russian case is an exception.
Everything is the fault of incorrect work and wrong price policy. In the coming two to three years the sales of Georgian wines will further be reduced in Ukraine."
Georgian Business Week spoke with independent wine industry analyst Giorgi Samanashvili regarding the ongoing developments in the wine market and what should be done to increase export and attract new markets.
"Wine exports will further keep reducing unless the approach itself to this subject is changed," Samanashvili said.
"Especially the reduction will be obvious in respect to Ukrainian market, where in addition to the Grivna (UHR) devaluation political issues will also have an impact. Ukraine is the major market for Georgia and Georgian wines are becoming out of fashion there already as popular brands from other countries keep coming.
GBW: Does it mean that Georgian wine face the threat of being removed off the Ukrainian market?
GS: It's become apparent lately that wines from Chile and Argentina are becoming more popular than Georgian wines, even for their prices. Most important is that these countries conduct marketing activities in Ukrainian market.
If in the past French wines actually were not at all presented in Ukraine, today, Ukrainian market is well saturated with French wines and consumers have broader options.
There's a rather big competition in wine field all over the world and each country is doing its best to attract new markets. Out of the wines presented in Ukraine Georgia has the least marketing campaign.
GBW: When you say the approach to the subject has to be changed, what's your suggestion and what are your recommendations for the promotion of Georgian wines both on local and foreign markets?
GS: First of all there should be worked out a joint policy which will need the corrections in the current legislation.
GBW: Would you say that the current legislation hinders the sector development and sets obstacles for the export increase?
GS: In general the situation in the country and the approach to the subject partly does hinder the sector development. There should be a joint plan worked out about selling more wine aboard taking into account the views of both private sector and government. A special board should be created that will lead the marketing campaign and work at target markets.
A website must be active where all the necessary information will be available about the companies and all that will be arranged and organized neatly. You'll agree that much has to be done in this respect. There must be some group that will work on Ukrainian market issues in order to raise branding awareness of Georgian wines there.
GBW: Such ready-made recommendations are welcome, but surely the government alone won't be able to settle the problem unless there's an involvement of the private sector.
GS: Indeed, cooperation between private sector and government is very important and a decisive factor. Private sector has no money today; on the contrary, all it has is debt. Government can do nothing alone as governmental sector is too weak in marketing. It's essential that joint works are conducted and one side should take responsibility for managing these issues and put the circle together.
© Georgian Business Week
Tagged: