- Posted on Tue, 03/22/2022 - 13:33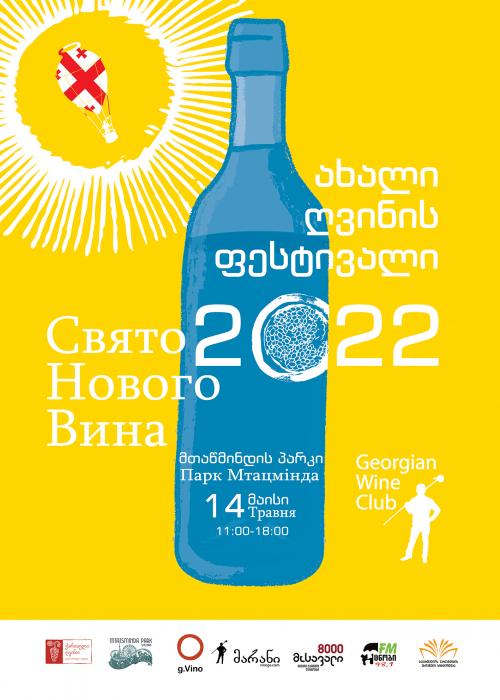 New Wine Festival 2022 will be held on May 14 at its habitual location of Mtatsminda Park. The Festival is supported by the National Wine Agency. Information support is provided by the Marani website (vinoge.com), Wine Information Center, Radio Utsnobi. The proud partners of the event include Mtatsminda Park, Wine Bar G.Vino, Wine Shop Network 8000 Mosavali and the National Parliamentary Library of Georgia.
New Wine Festival expresses full solidarity with Ukraine. A big charity event is planned at the festival in support of the Ukrainian people, about which we will provide more information in the near future.
This year, the festival will be held in Mtatsminda Park, following all safety recommendations. Prior to the festival, it is advisable to get vaccinated against Covid-19, and to wear a mask during the festival, while keeping social distance. The Wine Club will be pleased to offer you a number of recommendations and advice regarding Covid safety until May 14, the Festival date.
As always, the New Wine Festival attendance is free of charge.
New Wine Festival 2022 is delighted to offer the participants and guests to taste hundreds of new wines of the last harvest (2021), to actually meet the makers of these wines and make memories of new taste discoveries to cherish.
The main idea of ​​the New Wine Festival is to promote Georgian traditional Qvevri (pitcher) wine, discover new varieties and places, raise the level of wine education in Georgia and improve consumer culture.
Not just wine producers, but also Georgian and international wine professionals, wine writers, wine bars, restaurants and aficionados are looking forward to the New Wine Festival. By tradition, world-renowned wine masters, sommeliers, importers and wine writers save the date for the New Wine Festival, as they get ready to encounter the Georgian wines.
This year's New Wine Festival is ready to welcome all Georgian wine enthusiasts in Mtatsminda Park. On May 14, from 11:00 to 18:00, large wine companies from different parts of Georgia, medium and small wineries, along with family wineries will treat the Festival guests with the best wines of the last harvest (2021).
The perk of the New Wine Festival is the diversity and discovery of new flavors. Also, by meeting the winemakers in person, we can learn more about the wines we taste and like.
The New Wine Festival 2022 will kick off with a traditional Qvevri opening ceremony, accompanied by a song Mravaljamieri. By tradition, this Qvevri keeps the best wine made in a family cellar specially selected by the Wine Club.
The doors of the Festival are open to all guests, who are invited to enjoy good music and fun program, and also get a chance to win barrels full of the best wine in the lottery, among other enjoyable things to do.
For terms of participation in the Festival for family wineries click here
and for wine companies - click here.
© Georgian Wine Club