- Posted on Mon, 07/06/2009 - 22:52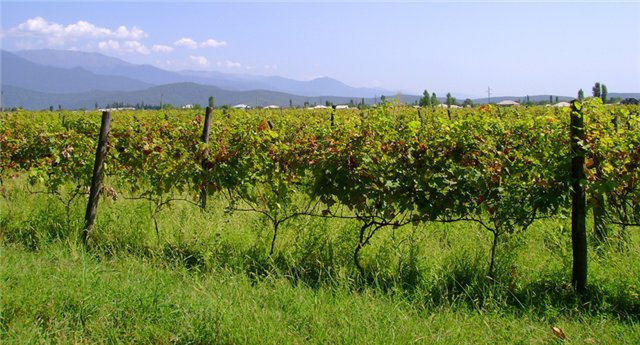 Tamar Khurtsia
Bank Republic has opened its third branch in the wine-rich Kakheti region, its 46th branch in the country. The bank – a subsidiary of the French Société Générale Group – said the new branch in the city of Kvareli would provide full banking service.
"To provide the population with the simple access to the banking service is one of the major priorities of the bank's strategy, including offering the excellent quality of service, innovated and tailored-made products, proximity to each and every customer will be intensively followed and observed in Kvareli branch," said Gilbert Hie, the bank's CEO, at the opening ceremony last week.
The center's banking service will include retail and corporate services, deposit, credit and other products.
Apart from describing the service and products types, Hie paid attention to the financing of the agriculture sector of the country, mainly the region's wine industry.
"We are in the process of conducting the analysis on issuing credits to wineries, as the bank sees great potential in this business," he said.
Hie said many of the wine-producing companies are bank clients and it will be more convenient now that another branch is opened in the region.
Kvareli is in the center of Kakheti and the town itself is known for its Kindzmarauli wine, a semisweet red variety, which is very popular in Georgia.
"In this tough economic time the bank has decreased issuing loans. This doesn't mean that the bank is facing liquidity problems but we have to adjust our strategy to the current situation in the country," Hie said.
The bank CEO also said he supports an initiative by the National Bank of Georgia (NBG) that commercial banks should issue loans in Lari – the Georgia's national currency – so that borrowers feel protected.
"Major part of credits has been issued in dollars. As a result, borrowers are vulnerable to the exchange rate shifts," Hie said. "The government and NBG should develop a new instrument to enable banks to issue loans in Lari."
Commercial banks have issued loans of 5.5b GEL as of May 1, according to NBG. The volume of GEL-denominated loans decreased by 26.1 percent to 1.3b GEL, while the volume of loans in foreign currency increased by 21.8 percent to more than 4.2b GEL.
Bank Republic is the third largest bank in the Georgian bank market by assets and deposit portfolio. It owns 8.6 percent market share and 7.6 percent in loans. Bank Republic's average return on equity is 3 percent. The bank has more than 100 employees.
Société Générale Group purchased 60 percent interest in Bank Republic in 2006 and European Bank of Reconstruction and Development (EBRD) bought a 10 percent stake in the bank.
Established in 1864, Société Générale is the seventh-largest French company in terms of market capitalization and one of the leading financial services groups in the Eurozone. It employs more than 151,000 people in 82 countries and serves 27m customers worldwide.

© Georgian Business Week
Tagged: