- Posted on Thu, 04/16/2015 - 09:12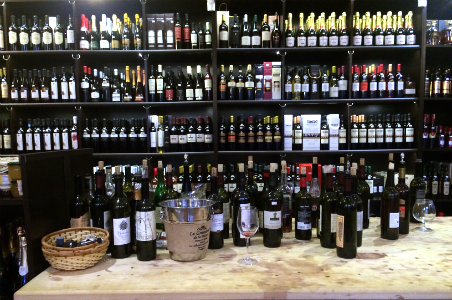 by Benjamin Kemper
People have been making and drinking wine around Tbilisi, the capital of Georgia, for 7,000 years. Bounded by the Black Sea to the west and the Caucasus to the north, Georgia is perhaps the most exciting newcomer on the international wine scene, with offerings as diverse (500 indigenous grape varieties) as they are distinct (fermentation underground in clay vats called qvevri).
Only in Tbilisi, though, can you sample the full breadth of Georgian wine, from the nutty, mineral-driven amber wines of the East to the plummy, semi-sweet reds from the West. The United States imports just 1 percent of Georgia's yearly production, which means that the best and often most interesting bottles—those made by small-production wineries—don't make it across the Atlantic. If you want to taste the best that Georgia has to offer, you'll have to make the trip.
The good news for travelers is that Tbilisi, a budget-friendly city with dozens of new wine bars and tasting rooms, has grown into a veritable and largely undiscovered wine destination. It exhibits the self-assured excellence of the world's most historic wine regions without the accompanying price tag or the snootiness. Its cuisine is an East-meets-West fusion of freshness and spice, with walnut-thickened sauces, cilantro, and dried marigold petals among the culinary staples. And as for hospitality, it's the sort of place where strangers insist on walking you to where you need to go when you ask for simple directions.
A memorable way to take in Georgia's rich culture of food and wine is to set out on a wine bar crawl up and around Kote Afkhazi Street through Tbilisi's Old Town, snacking on pickles, pungent sulguni cheese, and burnished khachapuri (stuffed flatbreads) along the way. With a wine shop on almost every corner pouring free tastes, it's easy to lose track of time, but these standouts are worth marking on your map.
Schuchmann Wine Bar & Restaurant
A candlelit 18th-century caravanserai (roadside inn) with exposed brick arches and hidden nooks is the setting for Schuchmann Wine Bar & Restaurant. A wine tasting here, accompanied by local sheep's-milk cheese, toasted walnuts, and crusty bread, spotlights excellent indigenous varietal wines such as Kisi, Rkatsiteli, and Saperavi from wine guru Schuchmann's proprietary label, Vinoterra. The qvevri-fermented Cabernet Sauvignon, while a departure from Georgia's traditional grapes, has the staying power of a good Bordeaux.
Konka
Situated directly across the street from Schuchmann is a historical konka (Georgian horse-drawn tram) that was converted this spring into a cozy wine bar called Konka (23 Baratashvili St., +995 32 299 8599). Don't be fooled by the red satin curtains and kitsch appeal, however. Konka has a serious wine list, complete with rare vintages that even the most discerning Georgian wine drinkers would applaud.
Vinomania
Shalva, the exuberant owner of Vinomania (45 Kote Afkhazi St., +995 59 336 8622), seems to thrive on giving new customers whirlwind crash courses in local wines, from the sweet reds of Adjara to the world-renowned whites of Telavi. The tasting of seven wines comes to a fiery finish with an obligatory shot of chacha, Georgia's answer to grappa. You're in luck if Shalva pulls down a bottle of his grandfather's homemade stuff, which sees nine years in French oak barrels and can only be bought at his shop.
Bottle Shock
Perched on a hilltop just beyond the famous Metekhi Church is Bottle Shock (14 Metekhi Rise, +995 55 540 8000), a homey bar and restaurant opened by a young couple. It has become a favorite hangout in Tbilisi for locals and expats alike. Guests come first for the wine list, with its especially deep selection of antioxidant-rich Saperavi and other dry reds, but they come back for the fireplace, the hearty food, and the warm staff.
Vino Underground
John Wurdeman, the visionary American-born artist who co-founded Pheasant's Tears winery, has teamed up with six other winemakers to create this subterranean tasting room in the ancient Sololaki district. Vino Underground stands out for its commitment to wine produced using strictly traditional methods, meaning no industrial yeasts, additives, or flavorings go into the mix. To swirl, sniff, and sip a glass of wine here is to savor, in essence, what wine probably tasted like thousands of years ago.
© fodors.com
Tagged: