- Posted on Fri, 05/01/2015 - 11:11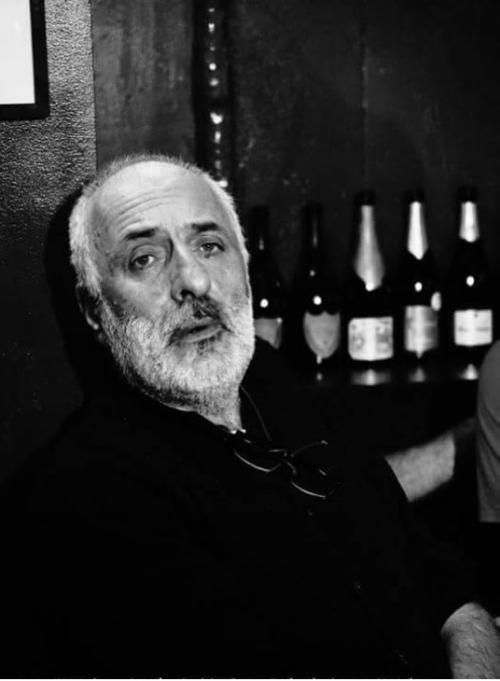 By Keto Ninidze
I can definitely say that long, long time ago, neither Mr. Soliko, PhD, Litterature professional, nor me, Philologist, working at the Institute of Literature, couldn't even imagine that, one day, we would meet each other and discuss natural wines; he as a naturalist winemaker, and I, as a person, who tries to write about wines. Considering the notion that this story is based on occasions, I received this pleasant coincidence as natural act.
Context
Soliko Tsaishvili grew up among literature professionals. His grandfather, Solomon Tsaishvili was the researcher of the Georgian literature, folklore and pedagogical sciences, apprentice of Iona Meunargia. His father, Sargis Tsaishvili – literary scholar, one of the prominent researchers of the Middle Ages and Rustaveli in Georgia and Director of the Institute of Georgian Literature. As for Mr. Soliko, he is the philologist and he achieved so much success in his carrier that, he defended thesis on "The Knight in the Panther's Skin", when he was 26 years old. He was researching and translating German literature as well, published scientific works and for a long period of time, literature was the major tool of self-expression, great hobby and place for thinking for him.
Nadimi aka Drinking Party (Symposium)
Tradition of drinking party counts from XIX century, showing even some awkward forms. At first wind brought the sounds of crosses an epaulets of our Big Brothers, from the North, while, simultaneously, it gently settled into the promiscuous urban orgies of merchants and craftsmen of the city. Then after, it turned into the way of entertainment of machos from now sarcastically called "37-Rubles-Flight-Club" during the Soviet Era, aka the most grotesque knights for the blondes, cheating their husbands.
If we put the Soviet mainstream aside, there were families in Tbilisi that kept the authentic character of this tradition, where the major ingredients of drinking party was communication, friendship, listening to each other, talks, discussions, joy . . .
Soliko Tsaishvili is one of those few people, who remembers such parties. As he says, his father had many friends in every corner of Georgia that gifted family wines to Tsaishvili family. Thus, Solom tasted the wines made from unique vines, such as Gurian Jani, Skhilatubani . . . Chkhaveri, by all means.
"Wine is a way of communication for me" - says, Soliko Tsaishvili. In any case, either partying of winemaking, he is always with his friends. Major message of the wine brand proves the same "Our Wine". Drinking of wine, partying as a way of communication, prepares a person for deep pleasure, dialogues, "exiting" from yourself and turning into some other creature. Maugham and Gauguin
At the end of 80s, when it was impossible to consume officially (state) produced wine, because of its critically low quality, Solomon and his friends decided to make the wine by themselves, for own consumption. The first wine they made in Tbilisi, from the grapes harvested in the yard of friend's father-in-law, turned to be good, as everything first. Though, they didn't have any idea about the method of making, nor even they knew about vine kind. For several years, they continued to make wines for friends. Unfortunately, family entertainment and polyphonic Georgian songs, were replaced by monophonic and importune bullet sounds. Joyful party mood was destroyed in darkened city immersed into war and smoked with oil lamps.
From the beginning of 2000s, when lights were turned on in Tbilisi, as well as hope in people, Mr. Soliko began winemaking once again, together with his friend. Unlike the previous attempt, now this move was more planned and targeted for the future, comprising of two components, pleasure of liaison with wine, grapes and small income.
Soon afterwards, some friends bought small house and vineyard in the village of Bakurtsikhe, Gurjaani, where they scheduled the shift, replaced each other from time to time, thus our hero often had to visit the village for working. At the age of 42, in about 1-2 years he understood that, he couldn't live without vineyard and he couldn't bear his other occupations, activities anymore. As he says, he felt that it was enormous love, passion that makes you to avoid your routine, even yourself. Thus, Solomon abandoned his literary activities and followed after someone/something impetuous and merciless. Maybe you reminded about Charles Strickland mystification from "The Moon and Sixpence", but in fact it was the story about Paul Gauguin that founds himself in simple moves of his brush and sun filled colours, far away from its social and cultural context. Today, Soliko Tsaishvili keeps and cultivates 5 hectares of vineyard (with support of aides) and considers that vineyard cannot be abandoned. He brings example, when in 2008, after two weeks urgent visit in Italy, almost the entire vineyard was diseased and high material loss was incurred to "Our Wine".
Chance with the elements of absurd
Even friends cannot believe this part of Soliko's biography, but fortunately there were witnesses. Solomon, considering barrel as the best ware for wine aging for pretty long period of time, once visited famous enologist and the head of Samtrest, Mr. Gogi Tushmalisvhili, for testing the characteristics of wine. Enologist sampled the wine and told Solomon that you are a very diligent man, try to age the wine in Qvevri, do not interfere and wine fill find its way.
The words were not the words that the Head of Samtrest could utter, but it is the fact that afterwards, Solomon began to make wine in Qvevri.
After one year, Solomon visited Mr. Tushmalishvili again, bringing Qvevri wine samples with. He asked his wife, wine lab worker, remember my words, soon this wine will be the bestseller.
Fortuna Respiciens
Exactly in 8 months, the words became true.
It was 2006. It was still very difficult for friends to sell the wine. 3 Gels per liter, only among the circle of acquaintances. One evening, they gathered at friend's place, Giorgi Makashvili, to discuss the issue. Someone called and friends were told that some foreign guest was interested in their wine. They went to meet the guests - Jean Jack Jacobs and Luca Gargano. The first was French farmer, working in Georgia and the other was wine merchant from Italy, president of the largest network of the natural alcohol drinks - "Velier".
Gargano sampled the wine and directly offered to buy the entire supply. Of course, at that moment, they couldn't release that this chance opened the doors into completely new world. In Tbilisi of that times, there were more cheater businessmen, than public transport in the streets, offer of the businessman was not quite a trustful one, about purchasing the entire supply of the wine. Thus, they understood it quite late to get registered as an enterprise and open a bank account. In the same days, Gargano visited Iago Bitarishvili as well and he was the first to introduce Iago's wine to the European naturalist family.
Luca Gargano was one of the first persons in the world, who attracted and involved huge resources to the development of naturalist alcohol drinks and "Slow Food". He tried really heard for the popularization of the Georgian natural and Qvevri wines and if the world recognizes it as high class product, his contribution is really invaluable.
In 2008, Soliko Tsaishvili and Georgian naturalist winemakers, in support of Luca Gargano, participated in the International Natural Wine Exhibition for the first time. In 2009, "Our Wine" and "Iago's Wine" were presented at Taste Lab of Taste Salon of Terra Madre. This is the space, where products are evaluated because of their special taste characteristics and historical values.
Thus began the triumph of the Georgian natural wines at the international events of the natural wines, around the globe.
Presently, Luca Gaargano, is one of the partners of "Our Wine" and friend of the Georgian naturalist winemakers.
Secret of Gvelismchameli ("snake-eater", by Vazha Pshavela)
Soliko Tsaishvili is fond of German Language and Literature. German culture shows deep and rich experience in nature philosophy and romanticism. Homeopathic medicine is formed in there, in the same context. Here everything is nothing but ethical attitude to the nature, which place key role for Solomon Tsaishvili, as for the philosophy of viniculturist and winemaker.
Georgian poet, Nikoloz Baratashvili has one very interesting, romantic poem - "Chinari"
"I believe that a secret language does exist,
among those that are soul free and ageless,
gifting the soul to the words they utter,
then any other language that exists" . . .
not many are acquainted with this poem, as it is not included in educational program, but I shall tell you, why I exampled the poem.
As Mr. Solomon says, for him, as for the lover of literature, poetry, plants and nature were just the matter of esthetic pleasure. For now, their attitude is simple, equal relationship, they understand each other, speak the same language. Not surprisingly, we are thinking about fable of Mindia, by Vazha-Pshavela, together with other prominent characters of his poems. Relationship is formed as follows - viniculturist can understand when his grapes are ripened and when there is time of harvesting. Major value for him is authenticity of the nature, which cannot be prevented by excessive contact and artificial interference of human being.
Naturalist winemaking is a kind of steeplechase towards the top, where you are never safe from stone falling, avalanches or falling into the gorge or gaps or in wine terms, from hail, disease and turning into vinegar. This pretty difficult and adventurous rout is simplified, when you have friends, going along with you. I remember the African proverb "If you want to go fast, go alone and if you want to go far, go together".
"Our Wine" had pretty difficult periods that farmers and winemakers can face. In 2005 cellar was emptied by thieves, in 2008 diseases stroke the vineyard, in 2009 and in 2013 hail and flood. If not such obstacles, we could timely cover the credits taken for the winemaking, to arrange the cellar, hosting small tourist groups. Though, notwithstanding crisis periods, we do express our free will and agreement around key values.
As Mr. Solomon says, afar from the philosophical curlings, the issue is pretty simple - for him, wine is the best way to feel better. When dealing with the vineyard, he solves the dilemma of Mindia - consumerism or sharing, in favour of the later one. And exactly such liaison gives birth to the character wines of Solomon Tsaishvili, rich with natural tastes.
© Wine Club, Wine Informational Center
Tagged: