- Posted on Sat, 06/27/2015 - 12:49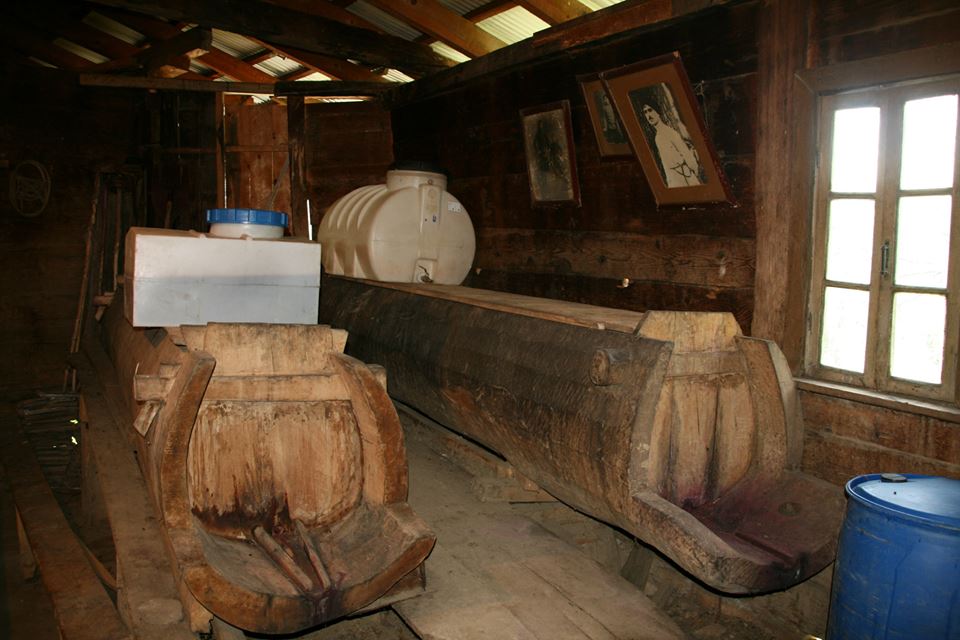 Photo: Gogi Margvelidze's wine cellar. Village Sadmeli.
Text: Keto Ninidze
In our previous report we told the readers about the family wine cellars of Merab Akhobadze, Kakha Vakhtangadze and the Kipianis. This time we would like to present small wineries of the Sardanashvilis, Ilia Kenchadze and Gogi Margvelidze.
The Sardanashvilis' Wine Cellar. Village Khvanchkara, Ambrolauri Municipality.
Since two years family winery became the source of income for the Sardanashvili family, which previously produced wine for its own consumption only. At the moment the family owned total area of old and new vineyards in the village Khvanchkara amounts to almost one hectare of land. They produce about 300 liters of Khvanchkara wine, more than half ton of Tsulukidze's Tetra and Tsolikouri. The Sardanashvilis use contact pesticides in their old vineyard where they try to maintain the principles of organic winemaking. New vineyards are treated with systemic pesticides.
Aleko Sardanashvili is 34 years old. Couple of years ago the educated orientalist returned back to his own village from Syria in order to welcome small groups of tourists in his old fashioned house and the wine cellar. For him, winemaking has not become the source of financial gain yet. However he has a long-term vision in this regard and believes that with time the wine business will benefit his family in the most diverse and extensive way.
According to Aleko Sardanashvili in the first place these are economic hardship and lack of awareness among the local population that are to blame for hindering development of small winemaking companies. Population of the Racha region does not have access to information about many of the state and international programs that could offer very important opportunities. He also believes, that decision makers pay very little attention to the touristic potential of the region. This attitude results in skepticism from the side of the vine-growers towards wine production and wine tourism. Their majority produces falsified wine even for its personal consumption.
Gogi Margvelidze's Wine Cellar. Village Sadmeli, Ambrolauri Municipality.
Gogi Margvelidze has difficulty to answer the question about the date he has got involved in the winemaking activities for the first time. He assumes it was some 50 years ago when he was still a little boy. Family winery is even older and dates back to the times when it was run by Gogi's father and his grandfather. It was only couple of years ago that the family, which used a huge amount of grapes (5 tons) for its own consumption (distribution of grapes to the relatives and friends, selling of the rest) turned winemaking into a business. However at the beginnings it could qualify more for a kind of enthusiasm rather than business that the family would depend on.
At the moment Gogi Margvelidze operates an old original wine cellar in the yard of his house in the village Sadmeli. He welcomes groups of tourists and in parallel plans to extend the winemaking activities. Since recently his vineyard was added 2,500 new plants of vine. Margvelidze uses contact and systemic pesticides in order to reduce chances of vine illnesses and pest. For the family consumption he produces Kapistoni, Mtsvane and Tsulukidze's Tetra; the business is dominated by Aleksandrouli and Mujuretuli, which serve as a basis for Khvanchkara wine.
Gogi Margvelidze believes, that migration poses one of the biggest challenges for development of small wineries in the Racha region. Another important aspect is connected to the need for replacement of the manual work with mechanized one. The problem is the farmers do not possess relevant materials and technical resources. Very limited economic resources force them to engage in generation of quick benefits - they opt for growing and selling the grapes rather than turning to winemaking.
Ilia Kenchadze's Wine Cellar. Village Chrebalo, Ambrolauri Municipality.
Winemaking has a long history in Ilia Kenchadze's family. Until 2013 it produced wine for its own consumption only. However later the family turned this activity into a business idea.
Ilia possesses 0.7 hectares of vineyards, which on average give him 3 tons of grapes each year. 70% of the harvest consists of Aleksandrouli and Mujuretuli grapes, 30% of the other types: Rachuli Mtsvane (Green from the Racha Region), Tsulukidze'e Tetra and Tsolikouri. Kenchadze experiments with the grapes and wants to produce wine that is innovative, interesting and different. For this purpose he mixed up Tsolikouri from Lechkhumi (70%) and Mtsvane from Racha (30%). Ilia Kenchadze has a very clear understanding and vision in regard of the problems of small wineries in Racha. In his opinion the main factor that prevents the vine-growers from becoming the winemakers is the high cost of endemic types of grapes (Aleksandrouli, Kujuretuli). This fact enhances the farmers' motivation to cultivate the vineyards and not engage in winemaking. Another problem is of a technological character: because of the regional climate it is quite difficult to maintain the optimal temperature in the family wine cellars. The third issue concerns the absence of relevant technical equipment. Additional problems are created by the deficit of knowledge and low awareness about the wine related issues. They prevent the farmers from overcoming their skeptical attitude towards small wineries.
---------------------------------------------------------------------------------------------------
Farmers from the Racha region should take special interest in the trend that is revealed in the statistics from 2014. According to the official data provided by the National Wine Agency in 2014 export of Khvanchkara wine demonstrated a 36% decrease compared to 2013. This looked the following way in numbers:
Exports 2013: 1,296,681 bottles
Exports 2014: 833,212 bottles
Trend of decrease continues up until now. The big companies don't necessarily draw their attention towards expensive Aleksandrouli and Mujuretuli grapes as Khvanchkara can be quite successfully replaced by semi sweet Kindzmarauli on the post soviet markets. According to the statistics sales of Kindzmarauli exceed Khvanchkara exports eleven times. Presumably decrease of the exports of the latter one should also be one of the reasons to blame for that.
On the other hand economic crisis on the biggest export markets of Georgian wines Russia and Ukraine increased urgency of market diversification. Big companies, that are vital in creating demand for the vine-growing in the Racha region try to find new markets with less need for semi sweet red wines. In the larger wine industry grape types from Racha appear to be less competitive compared to the other types of grapes in Georgia (also due to the harvested quantities).
In any case vine-growers from the Racha region will have to reevaluate their business visions and approaches. It may happen that presented cases turn for them into interesting examples if they realize that even small scale organic vine-growing and winemaking have quite good perspectives in any region of Georgia. In parallel it is important to maintain cooperation practices with big industries. In addition to the existing will it is crucial that the state initiates some infrastructural projects and creates conditions for promotion of a sustainable tourism and ecotourism, which on their turn will support development of enotourism in the region as well. The latter can become a prerequisite for good management of vine-growing resources, attracting of new potential clients and restoring of a balance between the demand and supply.
© Georgian Wine Club, Wine Information Center.
P. S. We would like to express special gratitude to Giorgi Barisashvili for information support.
Tagged: