- Posted on Fri, 12/04/2015 - 16:15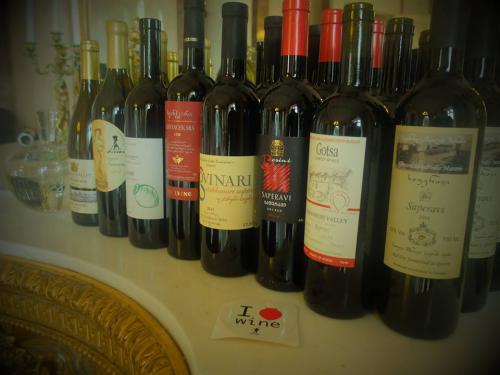 Keto Ninidze
It was Swedish-Georgian Wine Club Marani to come up first with an idea of presenting and tasting Georgian wine in Sweden. In this year's February there was first event of this kind held, where two Georgian wine brands were presented – Pheasant's Tears and Tbilvino.
For the next wine-tasting, in November 28, guests were able to taste 8 brands of Georgian wine and make more or less complete impression of Georgian wine. It is extremely important to mention, that half of presented wines were made with traditional Qvevri method.
The wine-tasting event was organized by Swedish-Georgian Wine Club Marani and Georgian Wine Club. It was supported by Georgian embassy in Sweden, Ministry of Foreign Affairs of Georgia and National Wine Agency. Swedish Business and Media representatives, as well as deputies of Georgian Embassy in Sweden and members of Marani Wine Club attended the event.
Swedish-Georgian Wine Club Marani was established a few years ago, with support of Georgian Wine Club. This is non-commercial organization promoting Georgian wine in Sweden, striving to make favourable conditions for Georgian wine to gain foothold on the Swedish market. For this, club is aimed to make functional communication platform linking Georgian winemakers, local governmental organizations and chain of restaurants. Marani also delivers all the needed information about Georgia wine tourism regions and objects to wine enthusiasts. In a nearest future, in collaboration with Georgian Wine Club, Marani is planning next wine-tasting and seminar in Göteborg. Also, there are certain plans of holding wine-tastings in big Swedish cities, Stockholm and Malmö.
The event was held in Vila Överås historic palace and was opened by one of the founders of Marani Wine Club, Giorgi Skhirtladze. In his speech he spoke about Marani and Georgia Wine Club collaboration and future views. This was followed by short presentation of Georgian winemaking historic and modern experiences given by Georgian Wine Club president, Malkhaz Kharbedia. After seminar wine-tasting began with its Q&As and discussions. All the participants were provided literature about Georgian wine – "Georgian Wine Guide" and various wine info graphics, which Georgian Wine Club is preparing for two years now.
As mentioned above, 8 Georgian wines were presented at the event – Tsinandali Lukas, 2012; Tsolikouri, Teliani Valley, 2014; Rkatsiteli, Lekso TsikheliSvili wine-cellar, 2013 (Qvevri wine); Khvanchkara, Tbilvino, 2014; Otskhanuri Sapere, Lagvinari, 2013 (Qvevri); Saperavi, Besini, 2014; Saperavi, Beka Gotsadze wine-cellar, 2013 (Qvevri); Saperavi, Ghvardzelashvili wine-cellar, 2014 (Qvevri). Saperavi allowed widest stylistic choice, so, according to Malkhaz Kharbedia, the most complete impression guests got exactly from Saperavi; "They had an opportunity to compare Besini classic Sapheravi made on Telavi region Saperavi basis on the one hand to Beka Gotsadze Qvevri Saperavi from Akhmeta saperavi and to Giorgi Ghvardzelashvili Saperavi from Kondoli on the other hand. These three wines have one characteristic in common – they express Saperavi nature in an exact way – strong tannins, intensive aromas, high alcohol and distinctive, exceptional, unforgettable taste" – Says Kharbedia.
Tasting began with Lechkhumian Tsolikouri (Teliani Valley), served well chilled; It was followed by oak aged Lukasi Tsinandali. This wine reminded to some of the guests of Burgundy whites. Qvevri made Khodashnuri Rkatsiteli from Lekso Tsikhelishvili wine-cellar was also accepted with great interest and with number of questions. Then half-sweet, most sophisticated and gentle Khvachkara was tasted and then time came for heavy artillery –Otskhanuri Sapere and above-mentioned three varies of Saperavi. Event aimed not only presentation of Georgian wine, but popularization of Georgian culture in general. Therefore, evening was accompanied by Georgian polyphonic songs performed by Doluri - Georgian folk band working in Sweden. And of course, hosts didn't miss the opportunity to share with guests the secrets of pairing Georgian wine and food.
According to Malkhaz Kharbedia, tasting was held in quite an interactive way. Part of the questions were regarding Georgian wine varieties, wine regions and technological details, yet, for participants, who in general showed great wine skills and enthusiasm while accepting novelties, wine availability was first thing they've got interested in.
"Sweden and Scandinavia in general can be very important market for our wine, especially if we'll take into account liberalization of local market in recent years. Except government-owned company Systembolaget, that has monopoly for selling alcoholic beverages and where Georgian wine companies can try their luck (and many of them already did it, for they have their registered products there), there are also licensed restaurants where Georgian wines made in small cellars and with traditional methods could be accepted with great interest and luck. It is extremely important to develop more close collaboration with Scandinavian media and to schedule bigger events for Georgian wine popularization.
In May 2016, at New Wine 7th festival we will have a big group of guests from Sweden (Journalists, sommeliers, wine enthusiasts). And there are more then one exiting plan for Georgian wine popularization in Scandinavian countries and primarily in Sweden" – Says Georgian Wine Club president, Malkhaz Kharbedia.
© Georgian Wine Club, Wine Information Centre