- Posted on Tue, 06/23/2015 - 16:58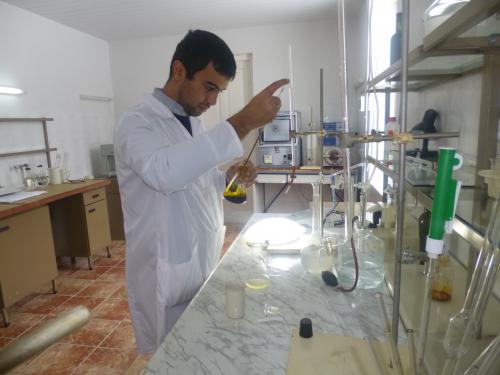 Keto Ninidze
All heroes of my portraits are people with individual views on wine – with different attitudes and diverse tastes. This time it was extremely intriguing to write about a man who even as a child discovered that in oenology scales attracted him most.
As a rule, individuals are swallowed by the industry and due to production scales there is no surprise most people appeal on commercial side of the business. Though the man, who takes less commercial benefits and whose work is often victimized by the stereotypical attitudes, is a part of this industry as well.
Giorgi Datukishvili is a representative of a huge oenology industry; in winemaking business it means on the one hand skating on thin ice and permanent involvement on the other hand, immediate answer to the new challenges. Giorgi is a chemist and for him solving each of these dilemmas are passion, art, science and ingenuity at the same time.
In early 90s, when Georgia reestablished national sovereignty deprived by Soviet regime, according to the free state government decision, peasants could lease vineyards. Giorgi's father, as well as his grandfather, took a chance and delivered quite amount of grapes harvested in these vineyards in Old Telliani Factory.
Giorgi was then a typical third grader from Tsinandali, who had of course everyday involvement with family wine business, with vintage, new wine, wine press and pitchers, but the scene seen in factory completely changed his comprehension. There, in Old Telliani factory little boy perceived these huge tanks, wine aroma, tones of ripe grapes were his vocation and that one day he will join this symphony - maybe not as a conductor, but one of the humble, bowed string instruments that imperceptibly creates theme for symphony.
Giorgi's story is indeed exceptional, for, as a rule, family values and bonds between child and father, as well as a grandfather, make greatest influence on wine-maker's experience. Naturally it doesn't mean that Giorgi's work is not linked to all of these, but still, according to him, the key moment was while in Teliani factory he was covered with "scene dust" (scent of sweet??) as actors would say.
How is it possible not to be intrigued what kind of fascination, what passion bears a man, who do not care much about difference between workdays and weekends, who's surfing the web and various publications in search of oenology issues after returning home late at night.
Perhaps this is kind of catharsis brought through oblivion of hard working, or if we go further, we can compare it to the passionate Oriental wording in poems of Georgian king Teimuraz, where affection, love and unremitting rush is an instinct towards the pleasure that brings one to self-sacrifice? Can it be Pygmalion's fascination with perfection and admiration for his own creation? Or could it be compared with corrida either taming a wild horse as trying and straggling with one's passions? Or else could it be existential fears bore by people either culture, as well as self-expression instinct and unrealized opportunities, erupted in this one young man only?
His story really amazes and intrigues me. And I believe in our times enology is a field where such feeling as amazement did not reach its limits.
As a young boy Giorgi already used to work on vacations in big vineyards in Tsinandali and from early age started to earn all by his own. Fortunately, such lifestyle is quite common for Kakhetian boys and, unlike numerous Tbilisian ladies, their mothers do not complain, as though they have to let their boys work for times are tough. On the contrary, Giorgi's family was delighted that seventh grader cared to gain as much financial independence as it was possible in his age. After some time family granted him a small plot, where he cultivated cabernet sauvignon and even earned small profit from its harvest until 11th grade in school.
In 2003 he entered Georgian Technical University, faculty of Chemistry and Biology. Fundamental education in chemistry made greater influence on his winemaking practice. In 2007 he applied for master's programs of food technology department at the same university. In university he used to do intense scientific researches under the guidance of a young professor Marika Khomasuridze and participated in student scientific conferences. Finally he developed one of these researches regarding exogenous ferment preparations into his thesis.
In 2000s there were specific exchange programs that allowed students to learn more about various oenology experiences worldwide and receive higher education in this field abroad. Although, in the period Giorgi was a bachelor, no exchange programs existed in this particular field in Technical University. Poor English language proficiency also caused problems to our 90s generation. Luckily, at that time young cadres (Ana Godabrelidze, Giorgi Samanishvili) were giving lectures in Oenology Institute and generously shared their knowledge and experience earned abroad to the motivated students. At the same time with university masters degree program Giorgi used to work in Telliani Valley Company where Gogi Dakishvili provided him conditions to improve his scientific hypotheses with empirical experiments.
Up to 2010, before he started his present job in Corporation Georgian Wine, as mentioned above, Giorgi took traineeship in Telliani Valley and professional practice in Chateau Mukhrani. In this period he gained essential and timely experience from the red wines' great expert Gogi Dakishvili; as for the European white wines – he learned autolysis technology from Lado Uzunashvili and in after years inculcated this method in his own practice – in Tsinandali wine making process.
In his own words, working with Lado Uzunashvili was extremely interesting. Master and apprentice used to have long discussions regarding various technology issues. Master was giving him a hint and Giorgi was trying to solve the riddle whole night through till sunrise. Lado Uzunashvili encouraged him a lot and Giorgi started to learn English. Now through reading foreign literature he satisfies his lust for information well known to all the determined members of his generation who didn't have a chance to receive education in world's best universities.
Wine aromas always had a greater fascination for Giorgi. Therefore, he always avoids using strong yeasts. This issue even became his PhD research subject – Exploring dry cultural yeast impact on wine chemical composition aimed at technological processes improvement (Mukuzani and Tsinandali). One more research he made not long ago includes various dry cultural yeast tests on identical wine materials. Pilot experiment identified yeasts that more or less keep unique and specific wine sort/breed??? characteristics. According to Giorgi's words, Corporation Georgian Wine welcomed his initiative and treated responsibly. They not only encouraged him but also provided financial support for his research. Giorgi's scientific inquiry included study of wine nutritional value as well. He was exploring various Georgian breeds potential for prevention of circulatory system diseases and during this process had a close collaboration with Chapidze emergency cardiology center.
Giorgi calls himself risk-seeker skating on thin ice. He's recalling 2012 when Corporation Georgian Wine received from Chine purchase order for 15 000 Kindzmarauli bottles. Adding preservatives or using pasteurization method was forbidden. It seemed to be extremely difficult task. Yet with help of a former tutor Gogi Dakishvili and thanks to his own knowledge in chemistry he managed to make stable wine and did microbiological quality tests at least in 150 bottles out of 15 000.
Giorgi defines his attitude to oenology as following; grapes and wine are God's grace one should treat right. He gives one simple metaphor for it; wine is a result of his work, it's like a child and when child happens to be ill parent necessarily tries every possible - easy or powerful cures (preparation, manipulation) if needed. In Giorgi's opinion most important thing for winemaker should be the end that justifies means and not complacent principles. But, he adds, wine flavor characteristics and vitality should not disappear in technological processes.
At present, except his basic job in Corporation Georgian Wine he works part time for several other companies as well; according to him, these wineries are facing huge challenges. But solving problems is his greatest satisfaction. So to speak, for him oenology means struggling problems, solving them, waiting for new obstacles and dealing with them too – that's his exciting work- and lifestyle. And not only his! It's a war and the war is what we can do best for it was grammar of our history from middle ages and until today.
© Georgian Wine Club, Wine Information Center.