- Posted on Tue, 05/05/2015 - 11:11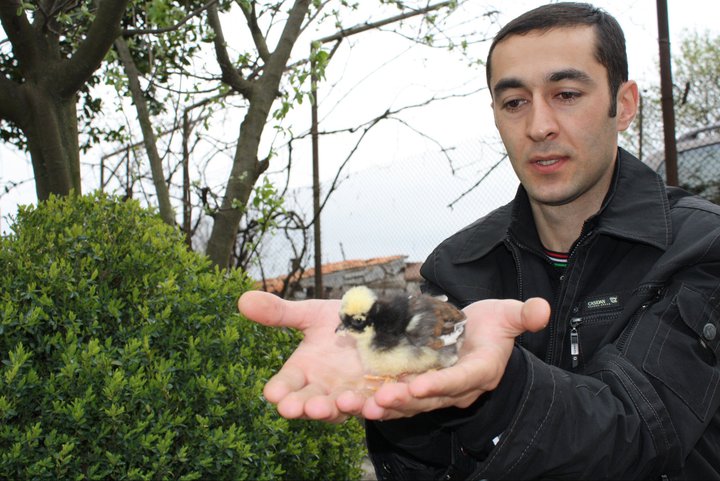 By Keto Ninidze
Kakha Chotiashvili is a man who creates the wine. Do not think I am exaggerating, when I say the word "creates" . . as he is not specifically enologist, or winemaker or viniculturist or incorporator, as creating of wine includes everything above said, including maintenance of equipment and accounting. As it seems, his interdisciplinary viewpoint is derived from physico-mathematical and enological education. Recently, I was reading a blog of Robert Josef, he was writing about Georgia. He slightly ironically mentioned foreign bloggers and journalists, being under impression of local nature and ancient culture, with their sentimental and teary blogposts about Georgia. Josef, strictly followed his rules and evaluated challenges of the Georgian wine and its potential through the world markets.
I thought about it many times - why Qvevri? What will be when the world will wake up from the euphoria and time for analysis will come?
These questions bothered our hero as well, when he was studying enology and introduced with those empirical researches, proving the priority of making wine in Qvevri. He can scientifically prove - why to choose Qvevri. Researches prove that, Qvevri is the vessel that activates the best taste and healing characteristics and keeps its high nutritional values. Someone may consider indecent even to put a question, but for Kakha Chotiashvili, having worked with numbers for a long period of time, firm axioms, conventional approaches merely do not exist. Only empirical approach and arguments are important. Besides, we have to take into account his Kakhetian origin (village Saniore, Telavi Region).
Winemaking was his passion from his childhood, when his fellow boys (especially from the Soviet Era) were dreaming about the space. It was impossible to receive good education in winemaking in Telavi at that time, thus he chose physico - mathematics and graduated his BA at Iakob Gogebashvili Telavi University. in 1999, at the age of 19, he decided to leave for Tbilisi and continued his studies at winemaking faculty at Scientific-Research Institute of Gardening, Viniculture and Winemaking; simultaneously he start working at "BINEKHI" wine factory. As he says, though he was 19 years old at that time, still he was the eldest employee at the Company, as management of the company decided to attract young, creative and motivated people in winemaking. He spent 14 years in Binekhi and we may say that Kakha and those children working in the Company brought many medals for the company either at the local or international competitions. There were even cases, when all three place (gold, silver and bronze medals) were conferred to their products.
Today, Kakha works for 6 small enterprises and as I mentioned, he doesn't like when his work is called merely "winemaking" or "wine consulting", as starting from the very first day of his career until now, he is either chief winemaker or ordinary worker, working equally on any position. As he told me, there were moments, when during harvesting, in 24 hours working regimen, he even fell asleep beside the cisterns. He participates in everyday "creating" process and his activity doesn't simply includes instructing of his employees.
Kakha Chotishvili is more individual than team player. He thinks that arranging of team working is pretty difficult in here, as it seems that we are not ready for that. Notwithstanding this, he has different attitude towards the youth, he always try to gave at least one young companion in the Company, for delegating his activities at proper time.
#49 barrel
And here is the problem of #49 barrel. This line follows all through Kakha's activity, as the march them from the Film of Otar Ioseliani, though his winemaking career doesn't coincide with the soviet era in Georgia.
"I think wine is pretty mature, though as similar to young wines, shades of wild pear are felt"
- Taste of sour apple.
- As for acidity it is really high shaped, but I like the colour, you know! colour of buffalo blood!"
You do remember this dialog from "Giorgobistve" Otar Ioseliani. Text is kind of simulacra. Evaluations and attributions: "mature", "taste of wild pear", "taste of sour apple", "acidity", "colour of buffalo blood" - looks like simple grammatical units, though simulacra is created from separating them from the context. There is emptiness beyond this bunch of authentic symbols, as in nonsense sentence of Noam Chomsky "Colourless green ideas sleep furiously". Kakha reminded me about "Giorgobistve", when he exampled the phrase "This is it", mostly answered to the motivated, diligent students. Now and then. there were lots of similar phrases in our language. They do not appear from nowhere of course. It was just a trace of negligent, irresponsible attitude, incurring in different professional circles. Phrase, through which we read the following: "It's worthless", "oh, don't you have any other things to do?", was the best way to avoid sharing of one's knowledge, expressing one's position and analyzing.
As he was not lucky enough with free consultations, Kakha remembers every single person, which helped him and shared his/her experience for him. He warmly mentions Akaki Sirbiladze, famous winemaker, lecturer at the Research Institute. During II WW, he was working in Research Station, in Telavi and during such difficult period, Kakha remembered so many good thinks from his hometown that he showed really good attitude and respect towards him as well. Akaki Sirbiladze was also very passionate about Qvevri wines. Notwithstanding this, Kakha was the only one who created his path in winemaking career, he had to re-invent the bicycle, but he surely thinks that one of the most important periods of his life was the period of individual researches and obstacles that made him as he is today.
Kakha even witnessed wine pasteurization period and no wonder that he was compares to Don Quixote, announcing his support for Qvevri winemaking. It is true that not many years have passed, but in 25-30 years attitudes have critically changed in Georgian winemaking, as well as in the life of society in general and in field experiences. Fortunately, wine pasteurization method is forgotten by the companies and Qvevri wine became more popular and respected.
Though, it should be noted that some attitudes from the Soviet era are still kept. Maybe this is caused by opposing to those values and approaches, but acceptance and refusal, are two sides of the medal, two members of one system. We are still turning on the same circle and think that peasant's wine is better than factory wine. Though, unfortunately, peasant with Kakhetian hat on his hand, bringing his family wine in the Agrarian market is not really the guarantee for quality. Factory wine is not the same as we remember from 80s, totally avoiding quality characteristics.
Kakha Chotiashvili introduced with behaviors and attitudes of the Georgian consumer, when in 2012-2013 he ran his own shop, where he was selling his wine. As he remembers, for most of the customers, wine was expensive, but in fact Kakha's wine was not that expensive. Low purchase power of the population is major obstacle for wine business in Georgia. I actually doubt genuineness of this notion, when I look at the luxury cars, standing in front of the river bank restaurants.
One of the most interesting and outstanding feature in Kakha's biography is that, after long term and attractive research, he refused to defend his academic degree. He doesn't talk much about the case, though, in my opinion, he just recognized that he could never become the part of the system, where academic degree opposed to the word "degree" (quality). Sometimes a man, devoted to his valuees, his principles is called stubborn man, I don't know how it happened in case of Kakha Chotiashvili, though he considers that the field where he works and the job he fulfills doesn't need scientific, academic degree and he can cope with it, without such degree. Besides, there are large portion of science and art in his activities. He cannot sit in the room and plan the steps of career staircase. He is a really good manager, with problem-oriented approach. He continuously keeps books, which helps him to analyze the experience; at the beginning of the day, he schedules everyday aims and tasks and says that there are less problems, where open and frequent communication dominate. As he admits, order is one of the major accent of his character. Based on this accent, German winemaking experience, he received under GTZ program was especially interesting and attractive for him.
Work and poetry or a story of physics and lyrics
There are activities, when this worn-out opposition lose its sense, and such is winemaking. Kakha, who is extremely disciplined, strict and uncompromising in his work, is an impressionist in terms of mood and comprehension. In his opinion, nothing in the world can replace the feeling of opening the Qvevri and embracing the smell of autumn and wheat from within. Color of the Qvevri, often described as "amber colour", is compared to sun beams by the winemaker, which fills and flourishes Georgian wine.
As Kakha admits, you have to think only about positive things while making of and drinking the wine, as wine is inclined to attract the character, mood, both good and bad. For grounding his opinion, he compares Georgian characters to the wines from various regions, for example, wine from Racha is sweet and tender, even visualized grammatically, with diminutive suffixes, he reminds of semi sweet Rachian wines, while Kakhetian wines show direct and brave character.
Like his father, grandfather and other ancestors, Kakha Chotiashvili were all involved in winemaking from the very origins, though their personal enterprise "Satsnakheli", where he and his brother - Ucha Chotiashvili work, was incorporated in 2012. Besides other popular grape kinds, they try to make wine from rare vine kinds, such as: Khikhvi, Kisi, Mtsvane, including Saperavi and Rkatsiteli.
Each year, family harvest about 60 tones of grapes.
Kakha Chotiashvili is the member of State Sampling Commission, from the day it was incorporated. As the Commission is in charge of controlling all types of export wine quality, he has vast and clear impression on popular trends of the Georgian wine.
Together with Iago Bitarishvili in Kartli and Gogi Dalakishvili in Kakheti, Kakha Chotiashvili was actively involved in Qvevri winemaking from the end of 90s of XX century. In that period of time Qvevri was not that popular, neither for small nor for large enterprises. Thus, Kakha, this uncompromising, diligent person takes one of the most important places in flourishing and promotion of Qvevri wine in Georgia.
© Wine Club, Wine Informational Center
Tagged: