- Posted on Fri, 03/27/2015 - 18:21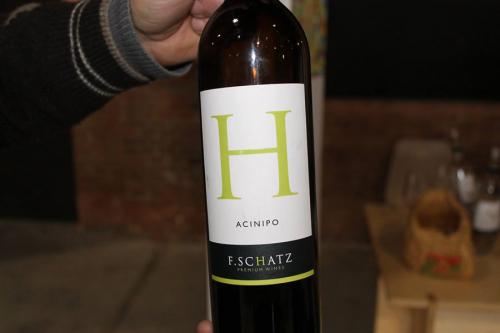 On twelfth edition of International natural wine festival organized by the "Vini Veri" consortium, Georgian winemakers have come to an interesting discovery.
On the tasting session of Spanish winemaker Federic Schatz, one of his wines attracted attention of Georgian participants. Characteristics of the wine seemed to be very similar to Georgian wine Tavkveri, which prompted them, better investigate the origin of this wine. Mr. Schatz confirmed that wine was made by the Georgian grapes. Despite the fact that he was not aware of original name, after looking at the photographs, he confirmed the similarity of external characteristics (fruit color, the shape, the grain density, leaf shape, etc.) with Tavkveri.
Federic Schatz of German origin lives in the extreme south of Spain from youth, in the environment of ideal climate for wine. He produces six varieties of wine, which has quite original packaging - product name represents per letter-symbol, the combination of which is the abbreviated form of the Schatz surname.
S – Chardonnay
C – Pinot Noir
H – Acinipo
A – Finca Sanguijuela
T - Petit Verdot
Z – Rosado
Most likely, one of the wines from this diversity, - H - Acinipo is Georgian Tavkveri that Schatz brought to Spain from Germany. Registration the name of foreign species in Spain has a number of legal difficulties. That is why Federic Schatz did not investigate its Georgian origin and called wine a name of antique city Acinipo that in Latin means "middle of a vineyard"
Such stories that are connected with the world travel of Georgian grape varieties can become a source of inspiration for writing interesting ampelographic detectives.
© Georgian Wine Club
Tagged: