- Posted on Wed, 05/13/2015 - 10:59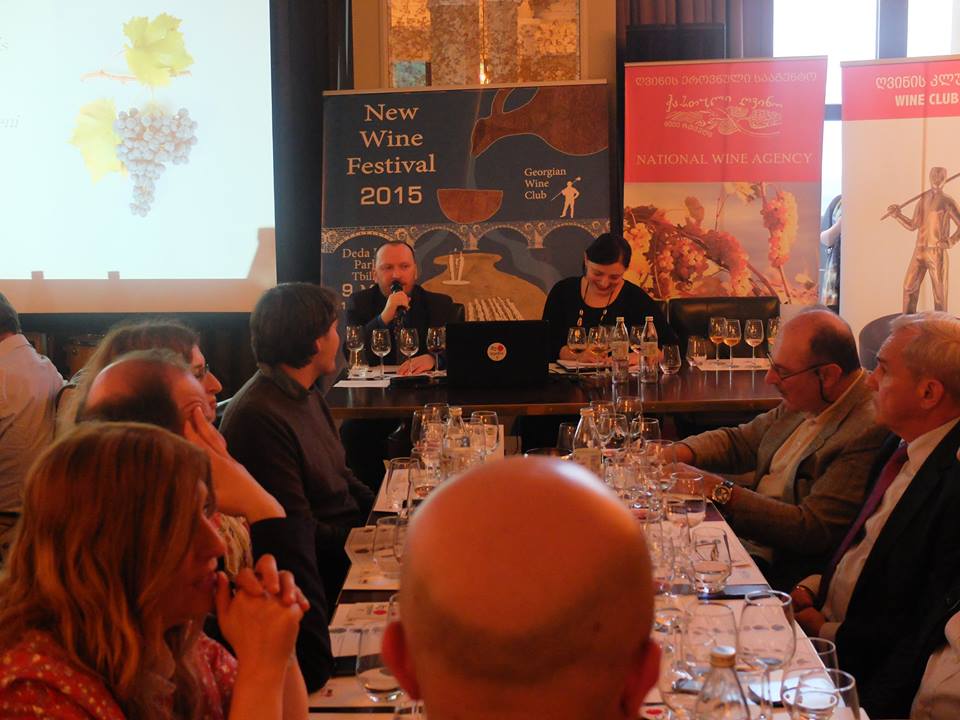 On May 8, 2015 "New Wine Festival 2015" was opened at the Restaurant "Funicular". The very first day of the New Wine Festival was dedicated to massive sampling of wines made of rare Georgian vine. Representatives of the National Wine Agency, Tbilisi City Hall, National Tourism Administration, professional enologists, sommeliers, representatives of large and small participant wine companies, including media representatives, wine journalists, wine bloggers, wine writers from Georgia and abroad (Holland, Japan, Italy, USA, UK etc) attended the opening ceremony of the Wine Festival.
10 Georgian rare wines were presented for sampling, such as Chkapa, Zhghia, Simonaseuli, Tavkveri, Chkhaveri, Kisi, Khikhvi, Rkatsiteli Vardisperi (pink), Otskhanuri Sapere, some of which are famous, but some of them were new, even for professional enologists. Wine made of Chekobali grapes gained special attention among others. Malkhaz Kharbedia, President of "Wine Club" hosted the event.
Guests appreciated event and the rare wines, they sampled at the event. As Nina Khatiskatsi, Deputy Mayor admits, "Wine and Vine are integral part of Georgia, if Georgia is associated to anything, this is wine. Tbilisi is not just one of the municipalities, it the heart of Georgia, third of population resides in Tbilisi, thus it is very important to promote the wine in here, which is very important for our culture and traditions. This is impressive for tourists as well and helps to attract external resources. Tbilisi City Hall supports the Festival and expresses its gratitude towards the initiators and organizers of this tradition, as this event is the presentation of our authentic image on the one hand and on the other, it is encouragement of new entrepreneurs to create new products".
Mariella Beukers, Dutch wine writer and wine historian, visiting Tbilisi especially for Wine Festival, says that: "This is my very first day in the City, I'm meeting with the City, local culture and I'm totally impressed. I'm looking forward for tomorrow, especially sampling of Qvevri wine and amber-coloured wines, I bought in Slovenia, while ago. Often, taste of Georgian wine is unique, authentic and different. This sampling was very interesting, I would especially mark out, Chkapa and Zhghia wines".
Givi Chagelishsvili, professional enologists says that "it's 65 years already, I've been serving this field, and I've never had such a good meeting with winemaking representatives. Such events prove that, our viticulturists, winemakers dedicate more time and energy to the development of vine-growing and wine-making. As we see many foreign guests attend the event and it is a wonderful opportunity to present Georgian wines abroad".
Sampling of wines made of rare Georgian vines "other varieties" aimed to promote more or less rare wines to the Georgian and foreign consumers and show its capabilities. Initiators of the event hope that these kinds soon will take their deserved place in local and world markets.
On May 9 i.e. on the second day of "New Wine Festival", open, public event took place at Deda Ena Park, Tbilisi.
© Wine Club, Wine Informational Center
Tagged: