- Posted on Sun, 01/18/2015 - 21:11
By: David Connors
There are at least 525 varieties of grapes grown in Georgia.
When I told people I was going to Georgia, they almost always started to sing.
"GEORGIA, GEORGIA..."
But they were singing the wrong song. They should have been singing the Beatles' Back in the U.S.S.R., not Ray Charles.
"OH, SHOW ME ROUND YOUR SNOW PEAKED MOUNTAINS WAY DOWN SOUTH..."
THAT Georgia's always on my my my (my my my my) mind.
After the correct Georgia was established, the next phase of the conversation inevitably involved the question why? Why are you going to the Republic of Georgia?
I didn't know how to answer that. I had a vague notion of where the country was, but I had to Google it to be sure. There it was, right between the Black and Caspian seas -- not all that much bigger than Manitoba's Interlake.
Of course, if you ironed out the country, it would be much larger; it is mostly mountainous. The Greater Caucasus Mountains, which guard the northern border of Georgia, are higher than the Alps. The Lesser Caucasus range brackets the country to the south, creating a perfect corridor for Silk Road travellers looking for trade as well as Mongol, Persian and Turkish invaders looking for plunder.
BUT STILL... WHY GEORGIA INSTEAD OF ONE OF THE MANY MORE CONVENIENT COUNTRIES BLESSED BY THE ALPS?
To try to answer that question, Georgia Tourism sponsored a press tour of the country last October. About a dozen hard-nosed, sophisticated travel writers from Winnipeg, Chicago, Boston, San Francisco, Vancouver and several places in between were invited to the country to make some hard-nosed, sophisticated observations. As such, the trip was a failure. After one day in Tbilisi, the capital, we were all giddy in love with the place.
We loved the geography (the warm, dry, vineyard-covered highlands of the east slope down toward the sub-tropical lowlands of the west, while the mountains of the north are among the most remote and rugged you will ever see); we loved the climate (Tbilisi rarely gets below freezing in winter); we loved the tough but friendly people (the huge statue of the Mother of Georgia in Tbilisi holds a sword in one hand to repel enemies and a wine glass in the other to welcome friends), and we loved the wine.
On our very first day in the country, we sampled 14 vintages, first at Vino Underground, and later that evening, at Azarphesha Restaurant -- which might go a small way toward explaining our giddiness.
Natural Georgian wine is made in a qvevri, an earthenware vessel that could be described as egg-shaped, but is more poetically described by Georgians as being like a womb. The interior of these vessels is rubbed with beeswax and they are buried in the ground with only their necks showing. Some of them in use today are more than 300 years old.
Into a qvevri go foot-crushed grapes, stems, skin and all, and out of them, three to six months later, comes the most delightful, fresh, mouth-puckering, amber-coloured wine.
Making good wine is an ancient, sacred trust in this country. Residue from the bottom of ancient qvevries has been dated to the sixth millennium BC -- the oldest evidence of wine-making ever found. Today, there are at least 525 varieties of grapes cultivated in this tiny country. And they are cultivated everywhere. As we drove through towns and cities, we didn't see groomed, grassy yards and flower gardens, we saw grape vines. It seemed like everyone in Georgia had their own little micro-winery. In the olden days, soldiers going to battle would put a grape root under their armour in the hope that, if they were killed, they would be buried on the battlefield and a vine would grow from their body.
But lots of charming European countries have a vibrant wine culture. So the question remains: Why Georgia?
One reason is that it is a brand-new country. Sure, Tbilisi recently celebrated its 1,500th anniversary, but Georgia also celebrates another milestone: the end of Soviet occupation.
Massive, abandoned Soviet factories litter the country. Neglected and crumbling, they already look more ancient than the 11th-century churches that also seem to be everywhere. And huge, Soviet-bloc style, concrete apartment buildings dominate several ridges surrounding Tbilisi.
Even though Georgia has been occupied by a throng of invaders and Tbilisi has been destroyed, at last count, 20 times, the Soviet occupation, which lasted from 1921 to 1991, was a particularly dark time, and its mark is obvious in the revulsion Georgians feel toward that era. It doesn't help that Russia occupied South Ossetia (a territory Georgia claims) in 2008 using the tactics it is now employing in Ukraine.
Tamara, our guide for the trip, is an ardent Georgian nationalist. Always smiling, she answered every one of our questions (what's that pile of rocks? How old is that cathedral? Can we stop and see a vineyard?) with candour and humour. When we asked her about the sometimes guttural language she spoke with our driver, she replied, "They say Georgian is a dying language. That's because it sounds like we are dying every time we speak it." We loved Tamara as much as we loved her country, but when we asked her about Russians, her demeanour turned sour. "I am glad to show off my country to everyone except Russians, because they support (Russian president Vladimir) Putin."
Tamara feels the Soviets destroyed Georgians' sense of identity, and her country won't fully recover until Georgians born after the occupation are ready to take the reins.
Her youthful generation is spearheading a revival of traditional Georgian culture. Tbilisi clothing store Samoseli Pirveli is transforming traditional Georgian costumes into high fashion and numerous young Georgians are researching and performing Georgian dances and polyphonic singing -- not just for tourists, but out of a rediscovered pride in the traditions of their country.
The post-Soviet generation is also shaping the architecture of Tbilisi. From below the Metekhi Church of Assumption, built in 1278, you can take a cable car to the Narikala Fortress, started in the fourth century. But what will catch your eye on your ride across the Mtkvari River will be cutting-edge, almost incomprehensible structures such as the "mushroom building," which looks exactly like its nickname, a concert hall that looks like a pair of silver sea slugs slithering into the river and a graceful, canopied pedestrian bridge.
An optimism infused almost every young person we met as we travelled across the country -- from our various hosts and drivers to winemakers such as Iago Bitarishvili, who is working hard to convert the rest of the world to the joys of Georgian wine (and whose wife fed us a delicious lunch after we toured his winery), to the waiters and hotel workers eagerly learning the subtleties of the service industry after decades languishing under the dour Soviet culture.
It's like this centuries-old country has suddenly become the nation of tomorrow -- despite the fact there are no official safety nets for Georgians; no unemployment insurance, no welfare, no universal health care. And the average monthly income is about US$600. Tamara tells us young Georgians live with their parents until they marry. Then, when the parents can no longer work, they move in with their children. Families are their safety nets.
One of the leaders of the Georgian cultural revival is the travel company Living Roots, which handled all the details of our trip. Its general manager is honorary Georgian John Wurdeman V. He was born in Santa Fe, N.M., went to Moscow to study art, fell in love with a Georgian he met there, moved to Georgia and, like many a new convert, became more Georgian than the Georgians.
As our first-day wine-tasting adventure continued at Azarphesha Restaurant, John introduced us to two important and beloved facets of Georgian culture: the supra and the toast.
A supra is technically a Georgian feast, but since every lunch and dinner we had during our nine days in Georgia followed this form, it might as well be called a regular Georgian meal. Numerous dishes are brought out to be shared by everyone. Usually cold dishes come first. Practically every meal we had in Georgia started with khachapuri (a round, flat bread stuffed with cheese), a salad of tomatoes, cucumbers and fresh herbs, and eggplant stuffed with walnut paste. Then the hot dishes would start to flow.
Everything -- cheese, vegetables, bread -- is fresh and flavourful. Practically all of Georgian food is locally grown and made and tomatoes really taste like tomatoes! Meat is present, but it is not the focus of the meal.
At Azarphesha, one of the dishes looked familiar to a Winnipegger: "Perogies," I exclaimed.
"No, no," Tamara interjected. "It is not perogies, but khinkali. Georgians invented the perogy and we named it first." Georgian dumplings, which come stuffed with cheese, meat or mushrooms, are more delicate than the Ukrainian version and burst with flavour -- no sour cream or fried onions required.
Meanwhile, the supra toasts are serious, eloquent and almost as frequent as the dishes (I was told later that it used to be customary to only drink after a toast, which may explain the frequency). A diner can respond or add to a toast, but cannot give a new toast unless the toastmaster grants permission.
John started us off with a toast to friendship, followed quickly by toasts to love and tradition -- and we all willingly participated.
As we struggled to describe the taste of the various wines that were passed around the table, John told us they are "characterized not by their notes of blackberry or vanilla but by their life. We measure wine by how it enriches spirit or scars it. By what it gives or takes away. I believe organic Georgian wines give more pleasure than industrialized wine."
They also give less of a hangover. All of us noted, after nights of heavy wine-sampling, that we felt surprisingly good the next morning and were ready to sample more.
Toward the end of the meal, Luarsab, Azarphesha's manager, asked permission to give a toast of his own: to gratitude.
"We have gratitude you are here, we are here. We survived many things, many invasions. We are still recovering from the Soviet occupation, but we enjoy traditional hospitality. Every guest for us is precious. A stranger... even an unwanted guest. We believe a guest is sent from God, and every person through our door is a special person.
"People looking for something deep, something meaningful, that is what visitors to Georgia will find. Guests are regularly transformed into friends... When you come here, you are not discovering Georgia, but some aspect in yourself. Taking good wine and food -- that is to be grateful."
Georgians take this guest thing as seriously as they take wine. A favourite Georgian poem tells of how a man killed another, and later showed up on the doorstep of the slain man's family during a snowstorm. Because he was a guest, they gave him shelter.
As we worked our way through our last Georgian dishes at Azarphesha (sumac and chili soup, roast chicken in cornealean cherry sauce), John offered up a final toast -- to moderation, I suppose.
"Wisdom tells us it is easy to be taken by the moment, but there comes a time when it is too much. We want to enjoy equally tomorrow morning. You are journeying to my restaurant tomorrow. I want you to show up in a good mood."
In the days to come, our group would visit the Alaverdi Monastery, where the monks have made one of the finest wines in Georgia for a thousand years (its wine glasses bear the slogan: Since 1100). We would visit the fortress town of Signagi in the east, where John's restaurant, the Pheasant's Tears, treated us to a delightful evening of traditional dancing. We would stay at a hotel that was once the playground of the Soviet military elite near the Black Sea in the west -- an area once known as Soviet Florida because of its orange groves.
The "Why Georgia" clincher for me, though, came in the remote Svaneti region.
The day before, we'd driven for hours, winding our way from Zugditi in the subtropical west to the mountain town of Mestia in the north. Our ultimate destination was Ushguli, the highest village in Europe that is occupied year-round. When we set out the next morning, none of us was looking forward to another long drive, so when we passed a road sign saying "Ushguli 45 kilometres" we gave a big cheer.
Boy, were we naive.
The road, clinging to the sides of cliffs, would make a potholed Winnipeg back lane look like an Interstate Highway. At several places, waterfalls splashed onto the road and continued their plunge about two feet away from our van's wheels. It took three hours to drive that 45 kilometres.
About half-way up, we stopped at the village of Ipari. We managed to find a man with a key to the ancient Nakipari church, and he opened the doors onto a fresco of St. George being tortured on the wheel by Roman emperor Diocletian that had been created in 1130 and remained untouched since then. In most other European countries, you'd expect to find a beaten path to such a treasure. You'd expect to find lineups and security guards and steep prices of admission. But no, we had the thousand-year-old church to ourselves.
Every day was an adventure, full of unexpected delights. It didn't matter. Georgia had us from the very first day.
So, why Georgia? A most compelling reason is the fact probably no one you know has been there. There aren't hordes of tourists already in line ahead of you to see the attractions. The locals have not become jaded; they seem genuinely glad to welcome you to their bit of unspoiled turf. Georgia, despite being the birthplace of wine and, allegedly, dumplings, is an undiscovered country. You may not be the first person to see the 11th-century towers of the Svaneti, but you will feel like you are.
Anything this good won't stay off the radar for long. During the past 10 years, the number of hotels in Tbilisi has risen to more than 70 from seven. We passed several small groups of tourists on the "road" to Ushguli hiking from village to village and staying in 12th-century guesthouses. They are mostly intrepid Germans and Israelis now. More will come.
With that in mind, I've got a slogan Georgia Tourism may want to use for the next few years: Georgia: Get it while you can.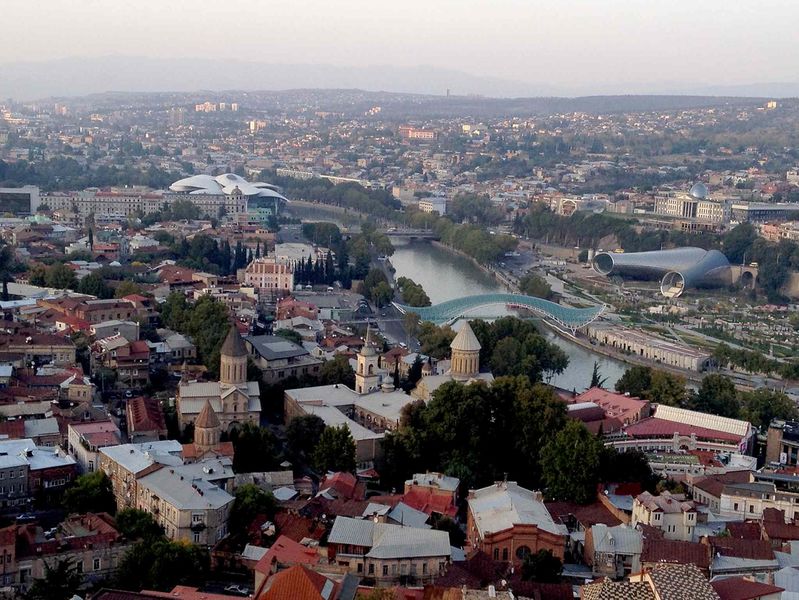 Photos by David Connors Cutting-edge architecture and thousand-year-old fortresses and churches vie for space in Tbilisi.
More reasons to go
Cheese
Be sure to try as many Georgian cheeses as possible. Among our favourites were a stringy, salty cheese that had butter added and a dried cottage cheese, favoured by shepherds as it keeps well. Georgian mozzarella, sulguni cheese, is slightly sour and salty and has a dimpled texture. It is the cheese most often used to fill khachapuri bread.
Chacha
This crystal-clear liquor is distilled from what is left over in the qvevri after the best of the wine is removed. It is sweet, slightly herbal and packs a delightful punch.
Churchkhela
These sweet treats, also known as Georgian Snickers bars, are sold in markets and on roadsides. Shaped like lumpy sausages, they are fruit leather filled with walnuts, corn meal, fruit and honey. Georgian soldiers used them as energy bars as far back as the Middle Ages.
Europe in Asia
Georgia shares borders with Russia, Armenia, Turkey and Azerbaijan, but because of the efforts of St. Ni±o (who used a cross fashioned out of grape vines to convert the country) it is mostly a Christian country and considers itself a part of Europe.
The story of Sidonia
Her brother witnessed the crucifixion of Christ and bought Christ's robe from some Roman soldiers. When he carried it home to Georgia, Sidonia clutched the robe to her chest and died in ecstasy. She was buried with the robe -- which could not be pried from her fingers. Svetitskhoveli Cathedral, in the city of Mtskheta, was built over her grave.
Joseph Stalin
Georgians abhor the former Soviet dictator, but the Gori birthplace of one of the most powerful persons of the 20th century has to be acknowledged. A museum has been built around the house where he was born. Georgians show their disdain by not attending the museum or spending a lot of money on it. The washrooms were a disgrace and many lights highlighting exhibits were burned out.
A hot scrub
The hive-like domes of the Turkish baths stand out amid the bars, shops and outdoor cafés of Old Tbilisi. Dating from the 1700s, the baths, fed by hot, sulfurous springs, were once the social hub of the city. On Women's Day, matchmakers would check out the young, naked, eligible women in the communal baths and arrange marriages with bachelors. The baths come in various sizes, bathers are still mostly naked and attendants scrub you to within an inch of your life and leave you glowing for hours. No marriages were arranged while we were there, though. Groups, gender-separated or not, can rent baths for their private use.
How to get there:
Max Johnson, the founder of the Great Canadian Travel Company and a frequent visitor to Georgia, is hosting a 10 day/9 night tour of the Republic of Georgia departing Sept. 23. See http://greatcanadiantravel.com/tours/georgias-food-wine-and-culture/ for more information.
©Winnipeg Free Press
Tagged: