- Posted on Fri, 02/21/2020 - 12:09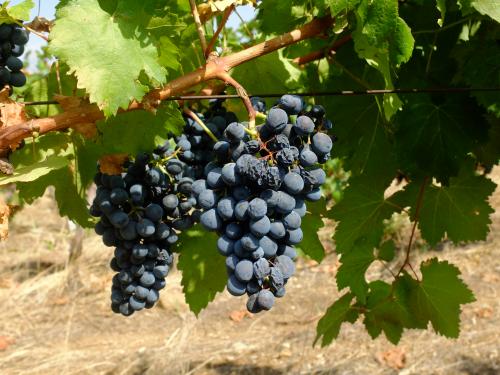 By Malkhaz Kharbedia
Outstanding wine made from Saperavi grapes is always the consequence of great patience. Whether it is aged in oak, made in Qvevri or kept in stainless steel, the magnificent wine of this variety is primarily valued by time and anticipation.
The first bit of time on the patience path is about vineyard. No grand wine can be made from the grapes grown in a 4 or 5-year-old vineyard. It may surely be a precious and beloved wine, the first joy, but not turn into an outstanding wine.
The second bit of time is about ageing, which is crucial, as Saperavi is the variety that takes a long time to fully reveal and prove its character. There are some excellent Saperavi wines aged in oak, but truth be told, this variety can survive well without the oak, while preserving its purity, maintaining the youthful turmoil of tannins and the infinite ageing potential.
The third and most important bit of time is the time lapse of our memory: the stretch between the tastings of the magnificent Saperavi wines, intertwined with unfailing, unbroken threads, as is the way to be. One unforgettable Saperavi is always a reminiscent of the other. One usually recognizes the Saperavi which is 'the one' even after months of no encounter. Once tasted, it sparks something in your mind, it sort of lightens up, and you just know that this is it.
However, there are only a little of such Saperavi available in Georgia. We do have a lot of over-the-top, perfectionist and 'groomed' Saperavi, and even more straightforward, heavy-duty Saperavi. Few are those that give a key to a new secret with every sip.These Saperavi do not offer a one-off futile wonder, but indeed provide with trueamazement, and even turn it into a knowledge, productive experience and inordinate pleasure.
The experience has proved that Grand Saperavi can be made in all parts of Kakheti. This is the case on the right bank of Alazani, from Tibaani to Akhmeta and on the left bank, from Kvareli to Artana. Outer Kakheti surely deserves special attention, and so does Khashmi. What would it all be without these? Imagine how different the Saperavi from all these places could be. Some come from humus-carbonate soils, therough Akhoebi and Tsarapi terroirs of Kardanakhi, or Tsinandali vineyards. Others grow on shale, river-bound, permeable soils, like in Kindzmarauli. Different Saperavi is born in Shilda and Napareuli, while Mukuzani and Akhasheni originated Saperavi are clearly different from the Akhmeta one. I can't list them all, let's just keep in mind that Kakheti has hidden spots for great Saperavi scattered all over its rich lands, virtually everywhere where there is no swamp and frost (also mental swamp and frost).
Now why don't we move on to the specific wines? We walk around, proudly carrying the status as the Cradle of Wine, with the number 8000 pompously written in our books, but still, in terms of modern viticulture and winemaking, we are in fact a very young wine culture. Why? It is because even the most traditional Qvevri winery came back to life just a few years ago in our country. In fact, Georgia has rediscovered its past. It was just 5-6 years ago that people started believing in traditional methods. You might remember your acquaintances, neighbors or relatives, who stopped using their Qvevri, leaving them buried in the ground for good. Today, these people a part of the long-standing tradition and value creation process, as if nothing ever happened. As we see, these 8000 years bring together 2 year olds and 10 year olds. We have all started out somewhere, entered this world, and started believing in something.
That is why we cannot go far in talking about the history of our great wines. Let's just pass the period when Georgia was a newly independent state in the early 90's of the past century, and go further into the communist time. All we will find is the whirlpool of Soviet wine-making, with virtually no such thing as specific wines, their harvest dates, life paths or winemakers. Digging further into the deeper communist era, we come across the myths of ugly Stalin wine, and that will be all about the fate and history of great wines. Until 1921, especially before the outbreak of World War I, the situation in Georgia was quite different in this regard, - different in a good way, of course. Someone took care of ending the good thing, and it was so saddening that even Solomon Cholokashvili and his followers could do nothing to prevent it.
I suggest we move on to our short list of Saperavi that I tasted in the past years and regard them as grand wines, both in terms of grape origin and wine care.
I don't remember the special Saperavi from the new generation of 90's wine companies. It could be that I missed them and there is something hidden somewhere, who knows?! I do remember a few Saperavi of ​​1995, 1996, 1997 and 1999 from different companies, but I can't say I was astounded by them. These wines were more about the desire for a novelty at that time.
The second half of the 90's saw some crucial changes in the Georgian wine business. GWS, Teliani Valley, Telavi Wine Cellar and Tbilvino strived to create modern wines, Georgian lovers of these wines were coming up and soon, at the dawn of the new century, these companies, along with a few new peers started thinking about making premium wines.This period marks the beginning of the history of organic (bio) winemaking in Georgia, which would eventually emerge as a powerful movement in just a few years.
Here, at this point, our narration resembles that of Gabriel Garcia Marquez's - "Years will pass and the Georgian wine on the wall waiting to be shot ...", well, sadly, something like that really happened in 2006. It was from this very year that the awakening began. Prior to this, there were only a few so-called premium Saperavi around, released in the experimental mode. Starting from 2006, the 2002 and 2004 Saperavi emerged, made by Vinotera and Orovela, along with Tbilvino and Telavis Marani Satrapezo, who brought out their Saperavi of 2002 and 2004 harvest. (The 2004 Orovela Saperavi was highly evaluated by Jancis Robinson). Around that time, the company Kakhuri 2004 reserve, Vinotera 2004 Saperavi and others were released.
Then, in 2006, as I said above, Russia's embargo on the Georgian wine came as quite a shock to the country, just like a surprise found under the dish cover. It sparked a real hysteria in the Georgian wine sector on the one hand, and triggered significant changes on the other. I know, it may sound clichéd, but I have to reiterate that it was that forced alignment to new markets, or targeted aspiration that has urged winemakers to create new products. The natural, traditional wines and organic viticulture began thriving, and the companies that had good 'wine materials' saved from the past few years, started working on making wine in a new style. There were also those who started working on completely different wines, without using any 'stock' and 'leftovers'.
Thinking of bio and biodynamic wines, the Saperavi of Nikolashvili, Jackeli, Soliko Tsaishvili and Nika Bakhia (2006-2008) are first that pop up in my mind. Around the same time, some large companies and small wine cellars celebrate the best harvests of their Saperavi grapes. The Kindzmarauli Corporation bottles Kvareli, the wine of protected designation of origin (PDO)(2005, 2006, 2007), and so does the Kindzmarauli Cellar. Eniseli Wines boasts of good Saperavi and Mukuzani, 2007. Georgian Wine Family is the Georgian company union that is presenting its wines at ProWein Trade Fair in Düsseldorf. The Georgian Wine Family brings together Maisuradze Wines, Vinotera (Gogi Dakishvili, Giorgi Piradashvili), Shumi and others. Telavi Wine Cellar continues its series of Satrapezo wines and prepares 2007 harvest for reserve wine. Tbilvino does not miss a year, its Saperavi and Mukuzani (special reserves) are bottled on an annual basis. The "traditional" Saperavi by Badagoni, Vazi +, Besini, Wineman, Mildiani and newly emerged Chelti Saperavi deserve special attention. The 2007 and 2008 harvest wines of the latter are well remembered by many lovers and professionals, followed soon by Gunashauri of 2009 harvest.
The Khareba Saperavi Premium, 2008, 2009, 2010 comes as the next level, followed by the triumphant first Saperavi of "Pheasant's Tears" and organic Saperavi of Jackeli Wines. The Jackeli family used oaks in 2007, 2008, and 2009 (and even before that) to age their Saperavi. You could really feel the traces it left inthis powerful and aromatic wine. In 2010 they tried to make the Saperavi without oak and achieved a wonderful result. For me, the 2010 Saperavi remains very special to this day, even after 8 years. Kakha Berishvili's Saperavi from Artana village of 2010-2012 were excellent. The oak-aged Saperavi by Lukasi of 2011, 2012, 2013 undoubtedly merit a special mention.
Luckily, our beloved variety has been on the rise over the last decade. I am sure that by 2020–2022, dozens of high-class Saperavi will become famous and best loved, the aged 5-8 years old wines that were bottled several years ago and are still on the market. Most importantly, the increasing number of Saperavis made in Qvevri, - the wines patiently made by owners of small cellars and naturalists. Satsnakheli and Papari Valley make powerful, lively and high-alcohol Saperavi. Shalauri wine cellar, Teleda, Nikala wine cellar, Sagvareulo Marani (ancestral wine cellar) make beautiful Saperavi, and Iberieli's Saperavi called Ioane is remarkable, too. The Kartuli Gvinoebi (Georgian Wines) company boasts of their Saperavi, along with Marani Milorauli, Orgo, Beka Gotsadze and Babaneuri wine cellars. Petriaant Marani makes strong Saperavi of Khodasheni origin. Doremi, Okros Gvino (Golden Wine) company's Budeshuri Saperavi merit particular attention. Liquid Sun's Budeshuri Saperavi should also betalked about, along with the same kind of wine made by Georgian Vine Foundation. Stori, Naotari, Sesiashvili, Buneburi and Leksos Marani are surely among the best. I can't help but remember the soft and elaborate Saperavi 2014 of Ghvardzelashvili's Cellar, as well as the straightforward and strident Qvevri wine of 2015. Loladze Wine Cellar, Old Telavi Wine Cellar, Togonidze Wine, Rostomaant Marani, Chateau Khashmi, two Saperavi of Chelti 2015 (classic and Qvevri, thoughboth are alike), two equally excellent Saperavi of Khvtisia Wine (2016, 2017, 2018), Calamus Saperavi of 2017 and 2018.
This list can go on and on, and I'm convinced that more wine of the future will become known soon after the publication of this article. It is all fine, as long as we don't forget that great Saperavi is the result of patience. Such Saperavi continues to exist for grander dimension of time as opposed to our petty, superficial, fussy reality.
© vinoge.com