- Posted on Sat, 03/07/2015 - 18:44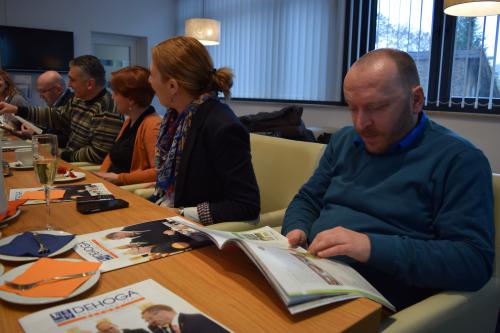 Malkhaz Kharbedia
During the second half of November, a study tour of over ten participants has been held under the program of Private Sector Development in the South Caucasus implemented by the German Society for International Cooperation, LTD. The training tour incorporated different visits to a number of wine producing regions of Germany as well as various business and enogastronomic meetings.
The study tour was focused on two main areas – wine and tourism. As part of the program, we met different leaders and representatives of various German institutions including state, non-government and private organizations and had really productive meetings. In addition to this, we visited about ten wine cellars and tasted dozens of wines that were made following various winemaking methods and techniques. Every evening we would have unforgettable celebrations of food and wine pairing that were hosted and organized by Martin Darting, a wine expert and enthusiast, and enjoy fun dinners that offered extraordinary pairing of wine and German gastronomy.
My diary is a written record of these days, events, the issues that have been discussed, and of course, of food and wine experience. In a nutshell, it deals with everything that has brought together knowledge and hedonism, education and the pursuit of pleasure.
On November 26, we visited one more important center of oenotourism in Bad Kreuznach, Rheineland. A regional office of German Hotel and Catering Industry Association (DEHOGA) is located in this small city (which is about the size of Gori city), the organization, which is an industry association operating in the field of lodging and catering all across the Federal Republic of Germany and represents the interests of the hotels and restaurants in the country.
On the regional level, the voluntary member associations of the DEHOGA have their own organizational infrastructure reaching down to the local level and are responsible for the representation of the interests of the hotels and restaurants in Germany. Almost every organization operating in the field of lodging and catering is the member of the DEHOGA, which positively impacts the development of the field. Another important fact is that the formal hotel classification is defined by the DEHOGA in Germany. It describes offers and performances by hotels and restaurants using a five-star system.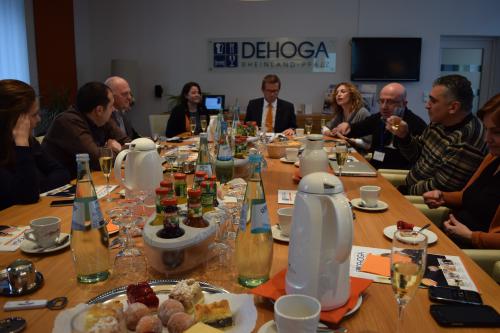 Gereon Haumann, the Head of the DEHOGA association in the Federal State of Rheinland-Pfalz and Sonja Mons, a representative of the DEHOGA education academy, talked about the objectives and goals of the association. During the discussion it became clear that the existence of a similar association or collaboration was the only way to help wine tourism improve and develop in Georgia. Generally speaking, the field of lodging and catering is part of a disconnected business sector and therefore, the aggregation of interests and the formation of the sector as a whole is important, which will allow the individuals working in the field to come up with a shared vision and solve the problems regarding the lack of qualified workforce, employment, education and other issues.
Here are a few interesting numbers: 1. The tourism business in Germany accounts for 2.9 million jobs, where the sector of lodging and catering employs about 1.8 million individuals. 2. There are 16 thousand enterprises in the Federal State of Rheinland-Pfalz, 11-12 thousand of which are permanent and 4.5 hundred of them represent the member associations of the DEHOGA. 3. The tourism business of the Federal State of Rheinland-Pfalz generates the revenue of €7.6 billion.
Noticeably, as we found out, the most important topics, on which the sector focuses, include business inheritance and future generation, the resource that is going to determine the future of the field. It is quite common in Germany to come across a veteran vinegrower-winemaker or an owner of a family-owned and operated hotel looking for a beneficiary, who will follow the many years' tradition of doing business and make it steadier, more profitable and interesting. The situation in Georgia is obviously quite contrasting. First thing that needs to be done here is to create the tradition of wine tourism and to establish and develop the institutions, which will ensure the consolidation of the existing potential of the sector as well as define the values neccesary for the proper functioning of the field.
Taking into consideration the very issues discussed above (business inheritance, future generation, etc.), the DEHOGA proposed a new initiative of inviting 80 young individuals from Spain for the purpose of getting professional education in the field and with the prospect of employment after finishing the program. The students from Croatia were also involved in the process and it is not unlikely that similar student exchange program will be facilitated in Georgia as well.
Gereon Haumann also introduced us to the motto of his colleagues, who were employed in the tourism business of Rheinland. As you may know, there are no mountain resorts or a sea in this region, so the motto goes like this: "Here, you won't hear the waves of the see or be able to skii on the steep slopes. Instead, we own the quality and are proud of our hospitality. These are our [substitution for] waves or snowy mountains." I think that Georgians should consider taking the same approach, especially those who are living in the regions of Kakheti, Kartli and Imereti.
We strolled around the city after the meeting. The most delicious duck prosciutto I have ever tried was awaiting us for lunch at the Mühlentor restaurant – it was smoked, pink and paper-thin with a white rim of fat on it served along with a moderately spicy sauce and crispy field salad. I was so blown away by this dish that it made a pork steak with lemon and potatos, which was served next, hardly impressive. Interestingly, this has been the first time I tried beer during those three days of my stay in Germany, which may sound strange but it is quite normal for someone who visits Pfalz, Mozel and other wine producing regions.
I would like to say a few words about German beer. While in Germany, I usually tried to taste locally produced products in every city or region I visited, such as Kölsch in Cologne or Berliner in Berlin, for example. This, of course, applies to beer as well. Some of them were just plain examples that would not satisfy my taste, they were all interesting though in their own way. There were some outstanding examples as well, especially the ones in the unfiltered wheat beer category. For example, I tasted Gaffels Sonnen-Hopfen while visiting Cologne in October, which was a very delicious, light unfiltered beer that reminded me of Belgian Hoegaarden, delivering the aromas of citrus and hops. In Bad Kreuznach, I asked for a locally produced beer as well and I was offered Kirner, an unfiltered wheat beer that paired nicely with the local dishes.
Interestingly, an enogastronomic culture introduced on a regional level was quite obvious in almost every region I visited. One may easily come across different spots that feature only local wines and beers: Koblenz offers those examples produced in Koblenz, Pfalz region – local products of Pfalz, Mosel – those produced in Mosel, etc. Unfortunately, there was a different picture in Prague. I was quite surprised that there were mostly global, well-known brands (that does not really offer much of a value) available in the central parts of the city. The only local beer I came across there was Pilsner Urquell or sometimes Kozel and Krušovice, if I was lucky.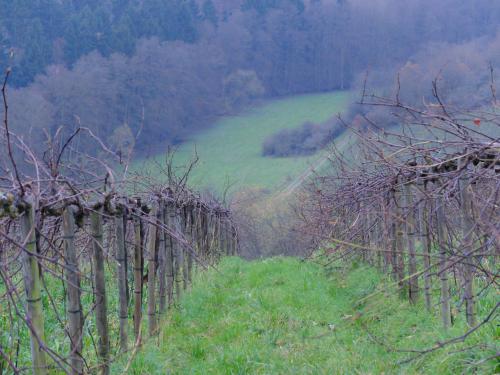 Our next stop was the Nahe region, where we visitied the Fuchs-Jacobus biodynamic vineyards situated on a beautiful steep hill and where we were exposed to an extraordinary combination of forest and vineyards. Here, the vineyards literally met a forest land. Such places, where vineyards and forests converge, are so common in Germany that it has almost become a slogan for Germans.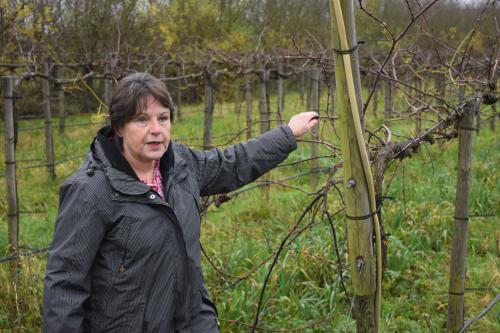 Fuchs-Jacobus is a member organization of Demeter International, which is the largest certification organization for biodynamic wines. The cultivation style of the vineyards suggests the distinguished character of the viticulture. This kind of steep viticulture is common in Imereti, Lechkhumi or Guria regions as well, however, unlike Fuchs-Jacobus vineyards where the vine plants are trained without interference, in Georgia, the vine columns are connected with a trellis or a wire creating a low pergola.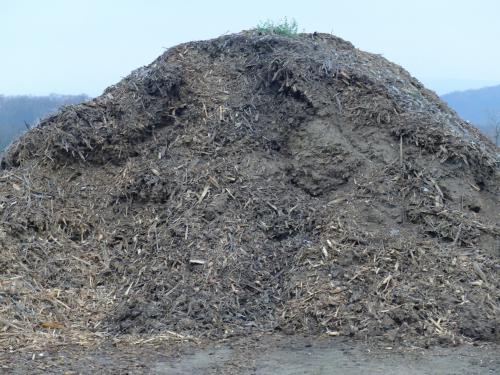 There was a huge hill of compost near the vineyards that consisted of a massive organic material starting from branches and leaves – to manure. The compost is used as a mulch in the vineyards every now and then. There was a straw mulch in the vineyard itself. The cultivation of vines turned out to be quite different: Grass and weeds are mowed periodically in one column and left in the place so that the cut weeds rot back into the ground. Then they plow the next column of vines plants and repeat this pattern all across the vineyards. Fuchs-Jacobus adopted the biodynamic viticulture 25 years ago and as we were told by the host, the vineyards changed their color (contributing to overall vineyard health) several months after using the compost.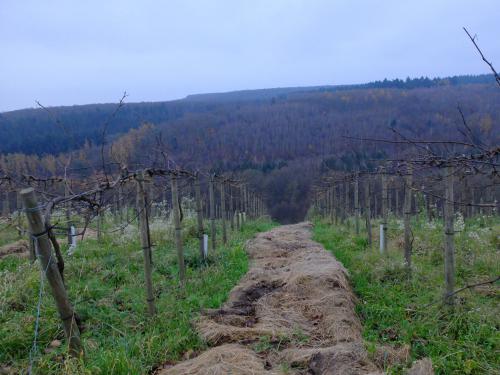 In addition to classic grapes, the vineyards consist of many uncommon varietals such as Regent, Solaris, Johanniter and Cabernet Blanc. I must say that I tasted Cabernet Blanc quite a few times in Germany and all of them showed relatively unripe notes of the varietal.
Every vineyard owned by Fuchs-Jacobus has its own name – "Aechholt," "Schäfchen," "Hetzel," "Goldgrund," etc. Even though there are many traditional names in Georgia as well such as "Lamianebi," Dzedzvianebi," "Tsarafebi," "Akhoebi," and many others, unfortunaltely, none of these names are found on either front or back labels of Georgian wines.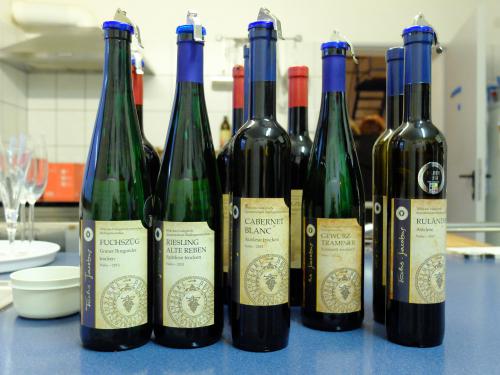 Finally, we tasted some of the wines there. It became quite clear to us that the
main focus of biodynamics is the importance of keeping in tune with the basic forces of nature and of letting wine express itself, speak out more and have its own character, while so many producers, nowadays, follow a trend and try to create fruit notes in their wines. Another important fact is that 90 percent of Fuchs-Jacobus wines are sold locally, in which I did my own contribution and purchased 3 bottles of wines there.
Fuchszug Grauer Burgunder Trocken, 2013
Grauer Burgunder, as you may know, is another name for Pinot Grigio (Pinot Gris in French), which delivers substantially different results here. It was relatively rigorous, expressive wine showing the notes of tangerine peel, dried herbs and a bit of grapefruit polished off by a mineral finish. €8.20
Riesling Alte Reben Spätlese trocken, 2013
Riesling made from old vines just as the name suggests – "Alte Reben" meaning "old vine." The typical Riesling aromas of mint and ripe peach were quite pronounced in this wine along with slightly expressed rose tones. €13.20
Gewürztraminer Kabinett feinherb, 2012
Gewürztraminer is a very aromatic varietal, yet, other Gewürztraminer wines could be even more fragrant. Again, the winemakers here consider the character of the wine to be far more important. This wine did not express a range of strong floral aromas at all. It was a late-harvest wine, where one could identify a bit of residual sugar. (Just a reminder that feinherb is a little sweeter than a semi-dry wine). The main aromas expressed here were apricot, kiwi, and also hazelnut. . €9.50
Cabernet blanc Trocken, 2013
We tasted Cabernet Blanc as well, which, by the way, has a strong resistance to fungal grape diseases. The primary aromas are very pronounced. Imagine drinking a white wine and the special fragrances of Cabernet take over – green paprika, black pepper, and some vegetable tones. It was slightly green and unripe wine. €9.90
Frühburgunder Trocken, 2013
As it is generally regarded, Frühburgunder (French: Pinot Noir précoce) is the parent of the Pinot family. The wine is youthful, refreshing and quite simple, where notes of guelder and barberries are to the fore, partnered by a hint of cherries and raspberries and polished off by the tones of bay leaves and other herbs. €13.90
AECHHOLT Regent trocken, 2013
It was a bright purple wine with lots of vibrancy on display, however, on the nose, one could easily identify the tones that are typical for hybrid varietals. This was crammed with the notes of barberries and liquorice delivering high acidity and wild, zippy character. It reminded me of Aladasturi wine a little bit. Regent has good fungal disease resistance. €8.50
Lastly, we tasted Ruländer Auslese. The name – Ruländer is synonym for Pinot Gris. The wine turned out to be quite simple expressing sweet and caramel tones. It could be paired with any dessert nicely. €13.90
Indeed, I was impressed by Weißer Burgunder Beerenauslese from 2003 vintage the most. It was a mature, well-aged wine beautifully perfumed with honey and orange cider aromas. €26.00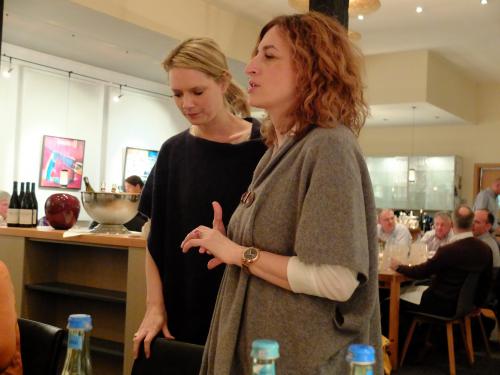 A dinner in the village of Gimmeldingen, near Neustadt, was going to be the culmination of the day, all well thought out by Martin Darting. Good times of celebration was awaiting us in Nett's, which was a newly opened restaurant operated by a couple Susanne and Daniel Nett. Susanne is not only Martin's student, but also the former German Wine Queen. This title is a long established tradition. The most successful wine queen is elected every year from different regions. First, a village or a wine region proposes its own candidate, thus, the title is competed on a regional level and finally, from these regional wine queens, the German Wine Queen is chosen. Imagine the same thing in Georgia, the candidates of Mukuzani, Mukhrani, Saniore or Sviri being selected as regional wine queens while representing the wine of their own region, first, and foremost, and then one of them becoming the face of Georgian wine for a year. They will be given the opportunity to travel all across Georgia and in foreign countries as well, attend exhibitions and promote Georgian wine.
Susanne Nett has probably travelled the same road. She comes from a winemaker's family and her husband is a IHK sommelier. She has lived in Pfalz since 2003 and has been promoting local wines there ever since. The Netts have started their business by owning a small winery and now they have one of the most prominent guesthouses and hotels in the region. They have become successful soon as the region is full of tourists almost throughout the year. There are various festivals, events and competitions held there. Add to this the character and taste of the people of Pfalz…The food and wine pairing is given a great deal of consideration in the Nett's Restaurant. They are very diligent and make sure that the wine is not only easy to pair with a wide range of dishes, but also that the dishes are not too sharp to pair with a wine.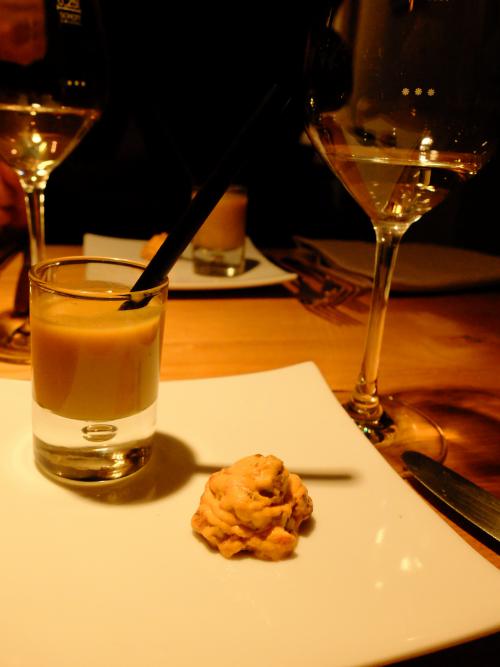 We started our dinner by chestnut soup and Riesling wine from Pfalz – Weingut A. Christmann, 2013. This was a biodynamic wine with fresh aromas of green pear, citrus and white peach. I was instantly fascinated by the soup. It came with a vodka glass and a straw and was served with the sun-dried tomatoe-and-olive dip. The soup itself had the aromas of chestnuts and mushrooms. I immediately dreamed of being able to have the same soup in Georgia as well. I know there are places that have it, but unfortunately, I have not tried those made in our country yet. Next we were served with my favorite field salad with red berry sauce and soft goat cheese. It was paired with a rose wine – Weingut Oliver Zeter: S Cuvée rosé QbA, 2013, which was a Cabernet and Pinot Noir blend and complemented rather sweet salad saturated with redd berry sauce nicely.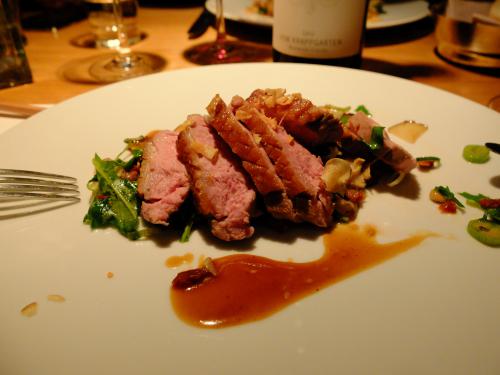 The main dish was a real gastro-masterpiece, where meat and its garnish created an ideal harmony. It won't be needless to say that it was a roasted, moist duck breast, served with crispy sweet potatoes and seasoned with leeks, scallions, honey, thyme, Italian pine nuts, sesame seeds and rucola, which completed the superb combination of roasted duck breast and sweet potatoes perfectly. The wine was a great match too – Bordeaux style red wine from Pfalz – VOM KRAPPGARTEN, Rotweincuvee, trocken, 2012, Weingut Völcker – a blend of Cabernet, Merlot and Cabernet Franc, where spice from the oak was well-integrated and layered with notes of ham and cured meat.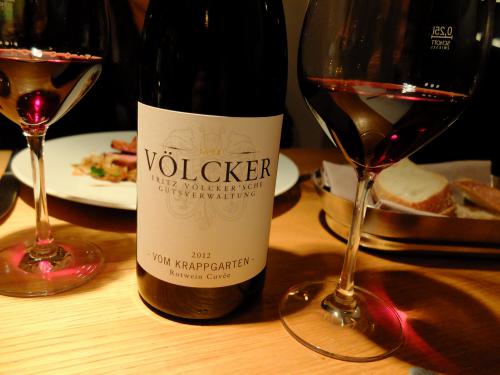 We tasted another wine with our main dish – Saint Laurent, Weingut A. Christmann, 2011 – which delivered animal tones to the fore in addition to leather and sun-dried berries. This variety is less common and quite controversial as some ampelographers relate it to Pinot Noir, some of them – to Pinot Meunier and some – to Gamay. It is worth noting that the famous Austrian variety of Zweigelt was a crossing of St. Laurent and Blaufränkisch.
At the end of the meal we were served with a dessert – berry crème brulee paired with a sweet biodynamic wine, Rieslaner Auslese (Reichsrat von Buhl, Forster Stift, 2012).
Translated by Tea Kokhreidze
© Georgian Wine Club/vinoge.com
Tagged: