- Posted on Wed, 06/10/2015 - 11:40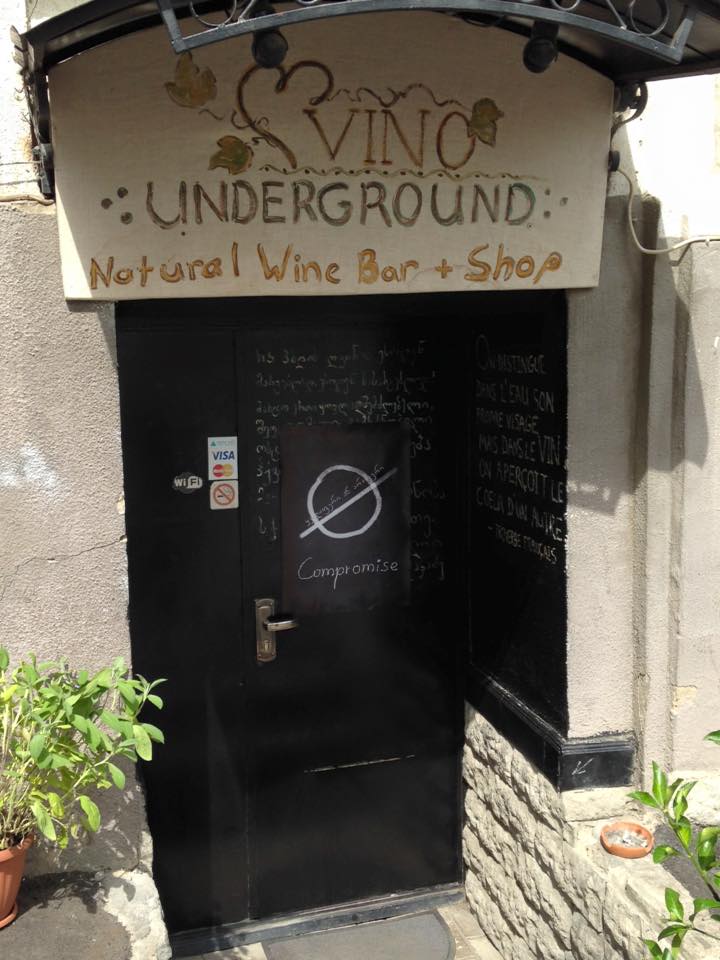 Photo: Enek Peterson
Keto Ninidze
When the most fussy and business oriented society was busy establishing successful contacts at "Expo Georgia" the Underground of natural wines was pulling together its protestant strength and delved into a process of enjoying wine consumption in the most Dionysian traditions.
Similar to other mortal journalists I had to attend both events at the same time. That made me develop a feeling of bad conscience similar to the cases when I have to visit in parallel two pediatricians of my baby: one, who is a follower of traditional medical practices and another, who prefers to apply homeopathic methods. The same embarrassment was to blame for an extensive period of time I spent searching through my clothes. I have fallen victim to self-censorship regarding dress- and anti-dress codes. However I can't say that the latter was more liberal compared to the first one. I am just trying to say that I preferred to show up in torn jeans at the exhibition hall and not walk around in high heels in the Underground.
Linear relationships shall be damned!
Report from international festival of natural wines that took place on June 6 in ღVino Underground.
Name of the festival sounds: "Zero Compromise – "Everything or Nothing!" It brings together about 50 wine producers and 60 wines; among them 40 wines from Georgia, the rest - from different natural wine cellars from around the world: Spain, Portugal, Italy, France, Australia, South Africa and Greece.
ღVino Underground offers the visitors production of already experienced participants of the world festivals of natural wines Iago Bitarishvili (Iago's Wine), Solomon Tsaishvili (Our Wine), Pheasant's Tears, Ramaz Nikoladze (The Nikoladzes' Wine Cellar) and others who thanks to support of the present guests are already well known to consumers from different countries. The debutants: Merab Mirtskhulava, Zura Mgvdliashvili (Nikala's Wine Cellar), Mariam Iosebidze and others are also here hoping for their products to become next "targets" of the visitors. Famous natural winemakers Joan Ramon Escoda (Spain), Nikolas Reau (France, Loire region), Tom Lubbe (South Africa) are also attending the festival.
ღVino Underground has many interesting visitors. Among them the founder of a leading company of natural wine imports Les Caves de Pyrenees and the owner of the global store chain of the same name Eric Narioo. He is since long involved in import of Georgian natural wines to London. Representative of the same chain of stores and importer of natural wines to Italy Christian Bucci is here as well. Of special importance is the visit of the main sommelier of the restaurant NOMA Mads Kleppe from Denmark. He is in Georgia for the second time and already offers in his restaurant wines from Iago's, Nikoladzes' and Nika Bakhia's cellars. During a conversation with us Mads mentioned that at the time being his goal is to monitor development of familiar old wines and follow the life of new titles he learned about during the festival. One has to mention that NOMA was named the restaurant #1 in the world during the years 2010, 2011, 2012, 2013 and 2015.
Famous guests of the festival include Sylvie Augereau, founder and organizer of one of the most important exhibitions of natural wines La Dive Bouteille (France, Loire region). Mrs. Augereau shares a long history of friendship with natural wine producers from Georgia and offers them an opportunity to meet their colleagues and consumers on a yearly basis. Among the visitors one can also meet sommeliers from the two and three star Michelin restaurants from London Michael Dechamps and Riccardo Marcon, an American writer of Italian origin Carla Capalbo who dedicates her work to discussion of wine and gastronomy and came to visit Georgia for a couple of weeks in order to write a book about local wine and cuisine (to be published in 2016).
The guests taste the wines that are already familiar or still unknown to them, discuss new aromas and transformation of old tastes, make notes and take shots of interesting labels.
During the last years number of natural winemakers is growing on a global scale. Wine lovers get attracted to everything natural, untouched and made without human influence. However this "family" of aficionados, which is united around the shared values and ideas, remains quite small. Everyone here knows each other and despite language barriers is able to establish simple and spontaneous relationships. It has to be mentioned, that the festival like the visits of natural wineries abroad is supported by the National Wine Agency as this kind of festivals offer huge opportunities to small scale and family wine producers who try to introduce their wines to new customers and attract representatives of the upscale hotels, restaurants and wine shops.
Now the festival is over. Participants and guests are hosted by the restaurant Azarpesha, which is already well known and memorable for its traditional Georgian dishes and their interesting interpretations, its new visions. In the evening Underground welcomes an After Party and the lovers of the truth (veritas) who return to the catacombs.
© Wine Club of Georgia, Wine Information Center.
Tagged: