- Posted on Tue, 06/09/2015 - 16:10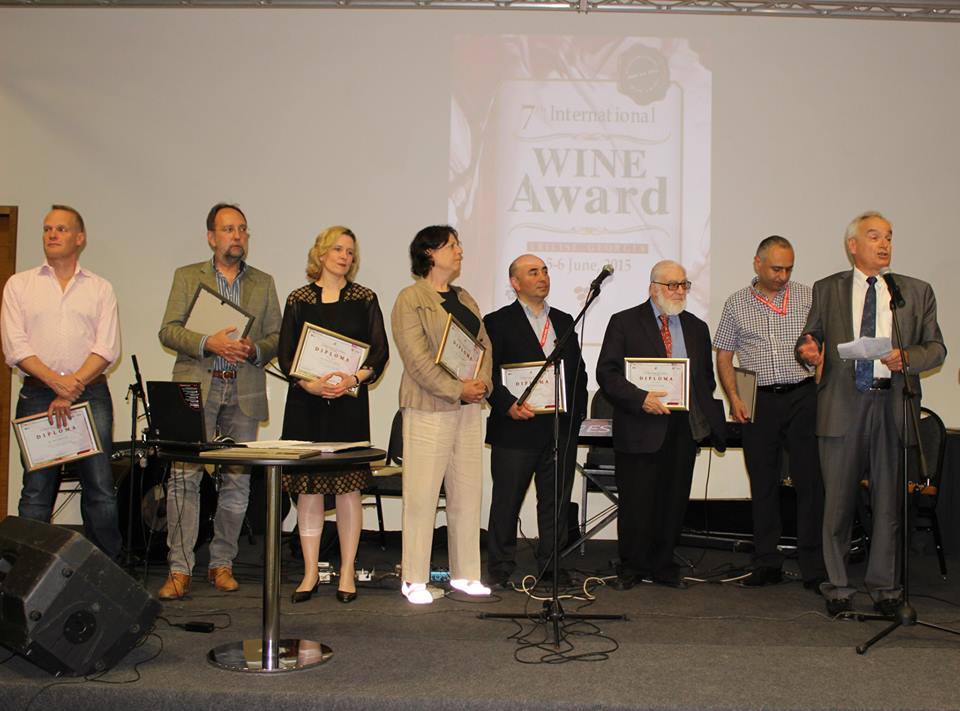 Keto Ninidze
Tbilisi exhibition center Expo Georgia hosted the 8th International Wine and Spirits Fair. This year event brought together up to 100 companies from seven countries: Georgia, Ukraine, Moldova, Germany, Portugal, and Italy. In parallel to the exhibition of wine and other alcoholic beverages organizers presented supplementary equipment, accessories, packaging materials, glass, corks and other paraphernalia that are needed for wine production.
Opening of the fair took place on June 5 when it was attended by the Minister of Agriculture of Georgia Otar Danelia, Deputy Minister Levan Davitashvili, Head of the National Wine Agency Giorgi Samanishvili, Chairman of the City Council Giorgi Alibegashvili and other officials. In his speech the Minister emphasized importance of the exhibition for popularization of Georgian wine on the global level.
Fair attracted such large-scale wine producers as Kakhetian Traditional Winemaking, Askaneli Brothers, Winery Khareba, Tbilvino and the others who offered the visitors their products that were produced with the use of European and traditional Georgian methods. They also included the winners of different international competitions. Next to the large-scale producers participants of the fair united family and small-scale wineries as well: Satsnakheli, Manaveli, Story, Besik Pirtskhelani's Wine Cellar, Tchuri, Naotrebi, organic wine producers Pheasant's Tears, Gaioz Sopromadze's Wine Cellar, Vepkhvadze's Wine Cellar, Babaneuri Wine Cellar, Nika Wine (Nika Bakhia's Wine Cellar) and others. Producers of Qvevri wine presented their products too. Majority of debutants met their customers at Winexpo Georgia 2015 for the first time (Giuaani, Satsnakheli, Story, Manaveli).
Phoka Nunnery traditionally welcomed the guests with a variety of cheeses, which offered really interesting and broad opportunities when combined with wines. Fair was attended by numerous international visitors; among them importers and buyers from the United States of America, Kazakhstan, Ukraine, Russia, Germany, Great Britain etc. It has to be mentioned that usually this kind of exhibitions set the goal to develop the wine business, create advantageous base for establishment of business contacts and deepen prospective professional relations between the representatives of the field. In its frames Winexpo Georgia 2015 also hosted international wine competition - 7th International Wine Award, where for the first time Georgian wines competed next to the internationally produced ones. Prestige of the contest was enhanced by the fact that this year it took place under official patronage of the International Organization of Vine and Wine (OIV). Accordingly the demands towards participants of the contest and assessment criteria were adapted to the OIV standards. Jury united international wine experts: oenologists, sommeliers, wine critics and writers. During the competition jury assessed more than 100 wines, 35 of which were awarded silver and gold medals in different nominations. Prize award ceremony was officially launched by the Deputy Minister of Agriculture of Georgia Nodar Kereselidze, Head of the National Wine Agency Giorgi Samanishvili and the guest of honor of the Winexpo Georgia 2015 Director General of OIV Jean-Marie Aurand. The latter gave an extensive talk about visions of the International Organization of Vine and Wine concerning Georgian wines and opportunities of cooperation with the state authorities of Georgia.
The following companies were honored with the 7th International Wine Award in the nominations of white dry, red dry, white dry and red dry Qvevri wines, red semi-sweet wine: Winery Khareba, Wine Man, Kakhetian Traditional Winemaking, Tbilvino, Gravis, Vine+, Qimerioni. From small-scale wineries awards went to Manaveli, Satsnakheli, Temi. From the family wineries the only prize was awarded to Beka Gotsiridze's Family Wine Cellar. Special award of the jury was given to Shalauri Wine Cellar for its wine "Mtsvane".
Head of the Jury Tim Atkin assessed the 7th International Wine Award in a talk with the Wine Information Centre: "I believe, it is the Qvevri wine that establishes unique character of a Georgian product. However, it has to be mentioned that this type of wine is quite difficult for the customers to perceive. That makes me think that Georgia can't base its success on the Qvevri wines only as they attract a very limited group of consumers. Georgia has to use local sorts of wine for production of European style beverage. For me this competition was a good opportunity to taste diverse Georgian wines, which I have enjoyed earlier in Great Britain... I am really trying to get familiar with different types and better understand the Qvevri wines. The whole process gives me a lot of pleasure." The same attitude towards the Qvevri wines was demonstrated by one of the first Masters of Wine John Salvi. According to him wine experts still have to get familiar with specific character of Qvevri wines and learn about a very interesting and valuable method of its production. One can say that assessments from Atkin and Salvi offer good representation of the competition results. The winners of Qvevri nomination mostly represented large and medium scale producers.
Winexpo Georgia is one of the best opportunities for the wine producers to demonstrate their production to Georgian and foreign consumers, employees of the trade organizations, agents of the hotels, restaurants, shops, supermarket chains and malls, wine professionals and the representatives of media outlets. It all serves the global goal to make Georgian wine a popular brand. Similar events are given a special meaning during the periods of crisis that affects traditional markets of Georgian wines and directs strategy of export towards development of new markets and their diversification.
© Georgian Wine Club, Wine Information Center