- Posted on Sat, 09/04/2010 - 02:55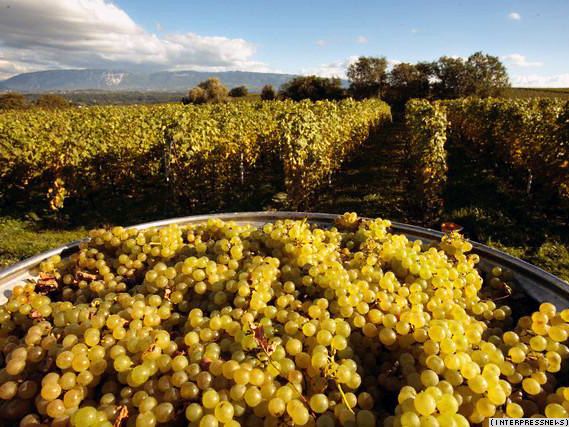 By Elizabeth Downer
Pittsburgh Post-Gazette
I've got Georgia on my mind. No, not Hoagy Carmichael's muse in the song by that name. Nor the "Peach State," nor the Atlanta Falcons. It is Georgia, the independent country that formerly was part of the Soviet Union, that's captivated me. A country that has been cultivating vines and making wine for more than 7,000 years!
Carbon-dated petrified vitis vinefera grape pits have been found in neolithic sites in the Caucasus region. There is archeological evidence of irrigation canals, wine cellars, grape presses and clay jugs used for fermentation and storage dating back to the sixth century B.C. It's generally agreed to be the oldest wine-producing region in the world.
I was introduced to these wines when the Georgian ambassador to the United States visited Pittsburgh recently. At the reception for Ambassador Batu Kutelia, I met Mamuka Tsereteli, formerly a diplomat at the Georgian Embassy and currently a professor of International Studies at two Washington universities. Mr. Tsereteli imports wines from his native country.
I was especially surprised to learn that the wines we tasted are available at premium state stores in Pennsylvania and I was curious to know how that happened. The answer is simple. There is a sizable diaspora of Georgians in the Philadelphia region with a mighty thirst for products from their home. It is thanks to them that the whole state can taste these unique grape varieties. The wines also are available at many East Coast Whole Foods stores, in liquor stores in New York, New Jersey, Washington, D.C., Maryland and Northern Virginia, as well as on restaurant wine lists including Ruth's Chris Steak House in Washington.
For centuries, viticulture has been of great economic importance to Georgia. Today, there are more than 175,000 acres planted with grapes. Of the more than 500 varieties found in the country, only 37 are used for commercial wines. Saperavi and rkatsiteli are the two most widely planted. The fact that foreign consumers are not familiar with the country's traditional varieties complicates the export market.
During the Soviet period, top-quality Georgian wines were considered the finest produced within the union and commanded the highest prices. The Russians accounted for 80 percent of the export market but in 2006, Russia banned all imports of these wines, claiming that they contained high quantities of heavy metals and pesticides. Many feel that the reason more likely is political. Although the embargo was a painful economic blow to the Georgian wine industry, wineries have used it as a stimulus to modernize equipment, improve overall quality and seek other export markets. Today, their wines are sold in 23 countries.
Georgia is approximately the size of North Carolina with five viticultural zones. The largest is Kakheti in the southeastern part of the country, which grows 70 percent of the wine grapes. The country's total production is 60 million bottles.
The wines I tasted were all from Teliani Valley Winery, which uses totally modern techniques with temperature-controlled fermentation and some aging in small oak barrels. In 2004 the winery received help from the European Bank for Reconstruction and Development to convert to contemporary international standards -- their soul dates back 70 centuries. Another Georgian winery, Pheasant's Tears, is under the direction of an American from Richmond, Va. He is making wine according to ancient Georgian technique, fermenting only in clay amphora buried in the earth for aging.
Tsolikouri, 2007, Racha-Lechkhumi, Georgia
PLCB No. 22819, $10.99
Dry white made from native tsolikouri grapes. Light amber color with aromas of grapefruit, apples and pears. Lively acidity means it pairs well with spicy food. (Georgian food is spicy and frequently contains walnuts.)
Teli, 2007, Kakheti, Georgia
PLCB No. 22818, $11.99
Dry white made from native grape mtsvane. It was fermented in oak, adding complexity, creamy texture and intensity. Serve with seafood and white meats.
Mukuzani 2006, Kakheti, Georgia
PLCB No. 22816, $13.99
100 percent saperavi grapes from the Mukuzani vineyard along the Alazani River. Ripe berries, cassis and plum aromas with hints of black pepper and a touch of oak (aged 12 months in oak). It will pair with meats, casseroles, pastas and hard cheese. This is the first Georgian wine to be rated by the Wine Spectator. It was awarded 88 points.
Saparavi Unfiltered, 2007, Kakheti, Georgia
PLCB No. 22817, $17.99
Slightly higher in alcohol than the previous wine, it is also made from saperavi grapes and has the same characteristic aromas of black cherries and cassis and ends with impressions of cedar and vanilla. There is chewiness in the body and a definite rusticity. It was aged in oak for six months. Serve with steaks, lamb or pork.
Kindzmarauli 2007, Kakheti, Georgia
PLCB No. 14122, $15.49
Another saperavi grape, this one is semi-sweet with 38 grams of residual sugar. Kindzmarauli is the name of the vineyard. Aromas of plums and wild berries with a touch of rose petals and violets. A perfect dessert wine with fruit, cakes or cheese and walnuts.
While getting off the beaten wine path, you can add three new grape varieties to your lexicon: tsolikouri, mtsvane and saperavi. All make for great dinner party conversation.
After studying a bit of Georgia's history and reading about the rugged mountains, the Black Sea resorts, a capital city that is 1,500 years old, and seeing pictures of the medieval churches scattered around the country, I think I shall make it my next vacation destination. To learn more, you can visit georgianwinehouse.com.
© PG Publishing Co