- Posted on Fri, 02/17/2012 - 22:56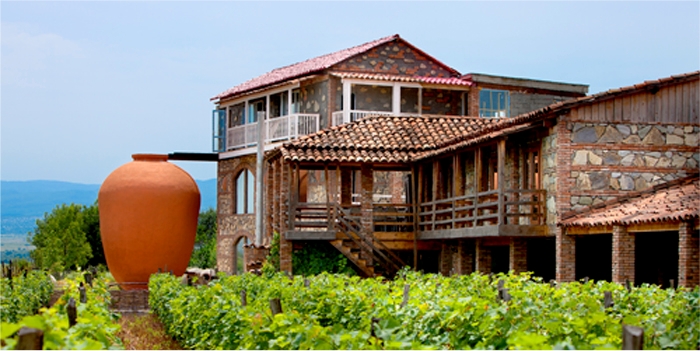 What makes an entrepreneur? BBC Russian's Nina Akhmeteli and Tom Santorelli spoke to a Georgian winemaker who, along with his twin brother, turned an old wine cellar into a destination for tourists.
Twins Gela and Gia Gamtkitsulashvili came into the world together and they are still inseparable, even in business.
They run a complex comprising wine cellars and a hotel, called the Twins Old Cellar, located in the Kakheti region in the eastern part of Georgia. They make their wine in clay vessels called kvevri in accordance with the traditional Georgian method.
Today, a monumental kvevri stands outside the hotel building, a beacon drawing customers to the small village of Napareuli.
This village, like the rest of rural Georgia, has struggled with poverty over the 20 years since the collapse of the Soviet Union.
"There should be 40 to 50 cellars like ours and even bigger here. This is what I want to see in my village and places around here," says Gela Gamtkitsulashvili. "But the problem is our mentality, I think. Many people's minds are still in the Soviet time."
Georgia is famous for its wine among the former Soviet countries. But the industry suffered after the doors to its main export market - Russia - closed in 2006 due to an embargo from the country.
Winemakers believe Georgia, with its rich history of viniculture, can make up for lost revenue by using wine to attract tourists to the area.
Family business
For the twins, renovating the 200-year-old cellar was not just about money; it was part of their family heritage.
Gela looks at some of the black-and-white photos above fireplace, pointing out the last remaining photo of his grandfather, Piruza Gamtkitsulashvili.
"I think he would be pleased to see all this, despite sacrificing his life for it."
Renovating the cellar seemed to be the best way the two brothers could pay tribute to their ancestor.
"What we have been told is that he refused to join the collective farm. In 1939, the punishment for this was seizing the property and imprisonment," Gela says.
The family still does not know what happened to him, but in the 1960s, the Gamtkitsulashvilis managed to get back some 0.15 hectares of vineyard and the old cellar, which was in a rather more dilapidated state than when their grandfather used it.
Rebuilding from ruins
Gela and his twin had worked as construction engineers during Soviet times. After the collapse the brothers looked into starting their own businesses.
"We tried different things from agriculture to distribution, but we had neither proper knowledge of, nor the frame of reference for, private business," says Gela.
The new life for the cellar started 12 years ago, after the twins returned from a government-backed tour of Austrian and German private businesses, where they had seen farms that were far from what they were used to in their village.
"When we shared the idea of developing this business with friends, many laughed at us," says Gela.
All they had at that time was an old ruined cellar with six remaining kvevri and nearly five more hectares of the vineyard which came into their hands after the collapse of the Soviet Union.
Today they have 10 times more space and have to buy grapes from other areas in the region. They now sell wine from 107 of the kvevris.
Qvevri wine
For the Gamtskitsulashvili twins, the clay vessels are a source of income but also of great pride. They are everywhere: even some of the hotel rooms are decorated with examples of the vessels, split in two to reveal the unique way they make their wine.
According to Gela, making wine in the big clay kvevris infuses it with a special aroma and rich taste. "This way we have learnt from our ancestors and it differs from the European way," says Gela.
"The grape husks remain for four months and go down to the bottom, and during this process it cleans the wine. This is a natural filtration process."
Last year, he says, they sold around 100,000 litres of wine, and this year they hope to sell twice as much. The wine is sold mainly in Georgia, and so far Japan is their only export market.
Government help
Gela hopes their hotel will expand as Georgia's tourism industry develops.
The main problem, Gela says, is a lack of professional staff available to work in the hotel. While some criticise the government for neglecting the agricultural sector and not doing enough to help the poor, Gela believes the problem is the mentality of the rural population, not the government.
He says they did not meet any bureaucratic hurdles and the government helped them to get long-term credit of around 8,000 euros ($10,500; £6,500) with a low interest rate for some much needed winemaking equipment. "Because of it we were able to develop our business and build a new cellar," he says.
He believes many of his co-villagers may become farmers as they have kvevri of their own. "Almost everyone here can do what we have done. They just need to believe in success, change their attitude and have ambitions."
© BBC
Tagged: