- Posted on Fri, 05/22/2015 - 13:38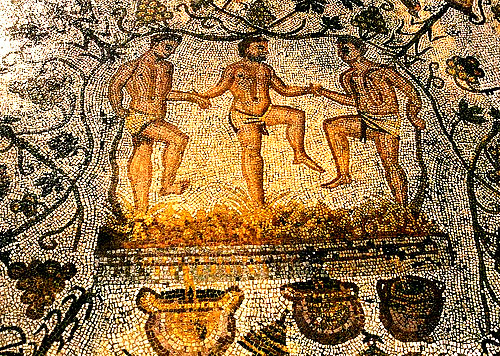 Since 1977, the International Museum Day is celebrated on May 18 (IMD) and covers one-day, two days (Saturday and Sunday), or one-week programs of diverse thematic activities. Founder and organizer of the Museums week is ICOM (International Council of Museums) - an international organization that from its inception, since 1946, promotes and protects the material and intangible cultural and natural heritage.
Last year 35 000 museums of 140 countries from every continent of the world participated in the IMD. Georgia is actively involved in the IMD program and shares the topical theme and slogan of International Museum Day -"Museums for a sustainable society". The National Museum of Georgia and its each unit offer Georgian citizens and foreign visitors an interesting interactive program, which will be presented in a week (May 17-24) in various museums. We will tell our readers the information about the exhibitions where they can follow up the 8000 years old history of viticulture and winemaking in Georgia.
The vine and wine culture exhibits have a great place in different funds and collections of The National Museum, which may be particularly interesting for both viticulture and winemaking sector researchers, tourism organizations and, especially, people working in the wine tourism industry, as well as anyone interested in the issues of the history of viticulture and winemaking.
Within the week National Museum offers several exhibitions to the people interested in viticulture and winemaking such as- "Archaeological treasure" (Simon Janashia Museum of Georgia) and "Georgian Archaeology from 8th millennium B.C. till 4th century A.D" (Simon Janashia Museum of Georgia)," Medieval Archaeology "(Signagi Museum) and "Javakheti Museum Exposition" (Museum of Samtskhe- Javakheti).
Unique examples of work by early Georgian goldsmiths that are found in the rich kurgans (burial mounds) of prominent members of society in Kartli, Kakheti, Vani and Trialeti are represented within the exhibition "Archaeological Treasure". Ritual and everyday utensils (cups, bowls, wine bowls, and pitchers) are particularly interesting among the exhibits that are date back from the 8th millenium BC to III century AD. Particularly interesting at the exhibition is the belt discovered in Vani N24 tomb, which dates back to the end of IV century BC and displays a man laying down in a bed holding a bowl in hand, musicians and cupbearer.
At the exhibition "Georgian Archaeology from 8th millennium B.C. till 4th century A.D", Simon Janashia Museum of Georgia presents a different materials (clay, bronze, and glass), volume and type of ancient wine vessels. You can see the sheep and a bull-shaped wine bowls, jugs, pitchers, cups, bottles, crushers and machari vessels, shoe-shaped vessels, amphoras, ancient pitcher parts, pitcher shape vessels with grapes images, vine pruners and the cart from BC - exhibits from neolith to the Late Antique epoch.
Especially interesting is a 1500 liter Qvevri that is exposed on the second floor, in the non-exposition space of Simon Janashia Museum featuring a deer hunting scenes, animals and birds. It is dated back to the 5th century BC and was discovered in 1967, Mtskheta, settlement Samadlo.
Similar exibits of later period (IV-XVIII centuries) are exposed in medieval exposure of Signagi Museum. The exhibition artifacts are found in Khoranta, Nekresi, Gavazi, Aremi and Cheremi. Signagi museum houses the unique inscription of pre-Christian period dates back in II-III centuries -"I planted Churi", a fundamental study of this inscription belongs to archeologist Levan Chilashvili. Inscription attracts attention of scientists in many aspects – it proves that the difference between names Churi and Qvevri is not spatial (West-Eastern Georgia) but time connected. The name Churi seems to be older than Qvevri. Read more about these issues, in old publication of "Marani".
Thematic framework of Museums Week this year - "Museums for a sustainable society" – once more reminds us the necessity of the cultural, eco and enotourism development that has rich potential. Environment and cultural heritage protection, the eradication of poverty will be integrated in such projects that in total, will contribute to the economic development under conditions of cultural heritage and natural resources protection.
© Georgian Wine Club, Wine Informational Center