- Posted on Tue, 03/31/2015 - 18:28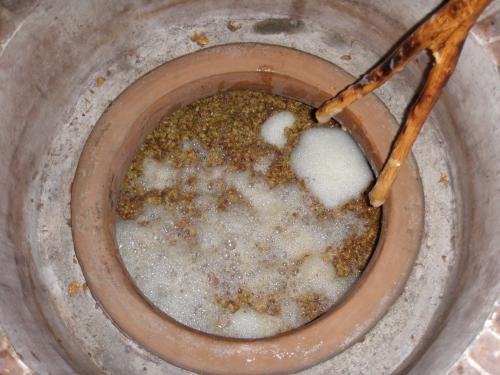 A first day of a workshop dedicated to questions of qvevri wine value chain development ran effectually in a laboratory of wine quality developing fund.
Meetings held in scopes of a program of private sector development in South Caucasus - are organized by the German Society for International Cooperation (GIZ) and all Georgian manufacturers, who use a technology of qvevri winemaking are taking part into these meetings. Should be particularly noted that practicing masters of qvevri winemaking from Imereti region are also participating in these workshops. A main goal of the private sector development program and qvevri cluster is to develop qvevri wine quality through this cooperation in order to gain better positions in international market. Following topics will be discussed at workshops: to define the right material for qvevri making, methods of qvevri making and embedding in earth, qvevri cleaning and conservation, wine producing and fermentation and so on.
As qvevri cluster coordinator Iago Bitarishvili noted, as a result of these workshops and through cooperation of local professionals and international experts will be worked out a standard of qvevri wine, where will be defined aspects of qvevri making and methodological-technical details of wine producing. This will be a guideline, professional standard, but at present it will not be discussed as a legislative norm.
While a talk with the "Wine informational Centre", a wine manufacturer Zurab Topuridze ("Iberieli") pointed out that today's workshop is a first attempt of defining essence of qvevri wine, exchanging of different viewpoints about this theme and structuring main problems. According to him, it is very important for wine manufacturers to acquaint with strategic views and practical approaches of international experts.
The program of a private sector development in South Caucasus into winery-winemaking puts together several clusters – supporting of the wine national agency in creating of vineyard cadastres, expert consulting in a formational process of wine law, also promoting education in winery and winemaking fields. The qvevri cluster activity started this February and will last for two years.
© Georgian Wine Club, Wine Information Center
Tagged: