- Posted on Thu, 02/05/2015 - 16:50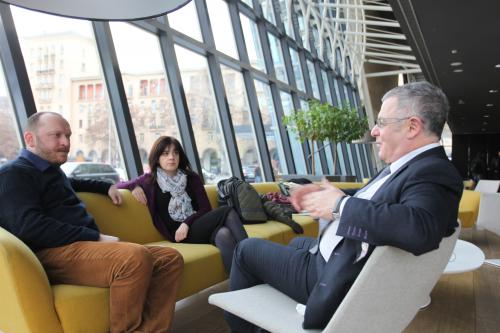 Robert Joseph – British wine connoisseur and writer, visited Tbilisi for three days, actively participating in development of 2015 marketing strategy of the Georgian wine.
Based on wide range of researches, Robert Joseph is recognized as one of the influential authorities in wine world. He is one of the founders of the magazine Wine International and International competition – International Wine Challenge, also an editor of the magazine - Meininger's Wine Business. Besides, Robert Joseph is the author of more than 28 books, twice winning the Glenfiddich award for wine writings.
Development of marketing strategy aims close cooperation of representatives of the government and nongovernmental sectors with the wine connoisseurs of wine markets around the globe. Strategy includes as modification and popularization of product image, as well as special events directing towards the diversification of export market.
Robert Joseph pays his third visit to Georgia; he arranges business meetings with the Ministry of Agriculture of Georgia, National Wine Agency and Association Georgian Wine on market characteristics of Britain, China and Hong Kong. Besides the specifics of separate markets, connoisseur participates in development and promotion of general image concept of the Georgian wine, together with Master of Wine Lisa Granik (USA). By sincere endeavors of Robert Joseph and Lisa Granik, Georgia was presented at Bordeaux Wine Exhibition for the first time, including Georgian wine workshops.
On February 4, Georgian Wine Club interviewed Robert Joseph; interview will be available for wine lovers very soon.
© Georgian Wine Club, National Wine Agency
Tagged: