- Posted on Mon, 07/06/2015 - 16:33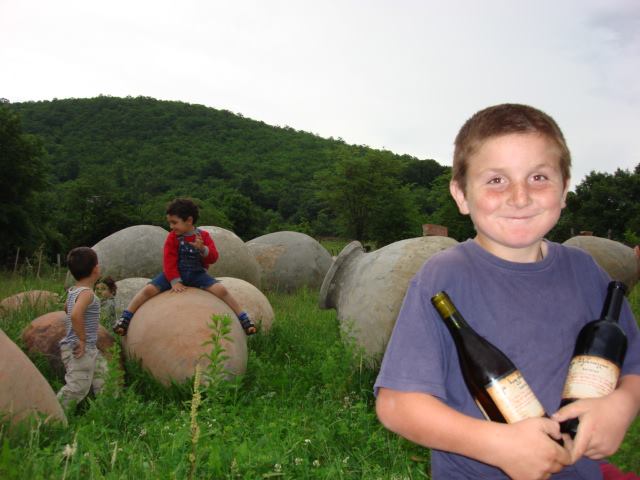 photos from Temi archive
Keto Ninidze
Temi had been planning charity event two months ago, however, after Tbilisi flood the exhibition was given a different meaning. The event was held on June 26 at Tbilisi History Museum (Qarvasla). Temi wine, wood and metal handicrafts were displayed there and the amount of money from the sale will be transferred to the disaster victims.
I have talked to Zura, the young and enthusiastic member of Temi. He worked as a barman at nightclub in Tbilisi and his first meeting with Temi was accidental. After that conversation, I decided to go to Gremi at harvest time and see the best micro model of community united around the vine and wine with my own eyes, where the range of responsibilities and capabilities is unlimited.
This example will be particularly interesting for the residents of regions, for whom, at this point, the overwhelming complexity is the specificity of co-operative work- the proper distribution of labor and resources.
Temi is a charitable association, which was established in 1989. Here a variety of people with social, economic, physical and mental capabilities live together - indigent, elderly, with special needs, single mothers and others, about 80-90 people, for whom the door is closed in many areas of society. Next to them are successful and perspective people who dedicated themselves and their career to the establishment of this society.
Temi owns 7 hectares of vineyards in Kindzmarauli micro zone that has organic/bio certificate conferred by the official organization (Kavkaztrest). Temi members (about 30-35 people) participate in vineyard and cellar activities under the instruction of professionals-leaf plucking, sprouts cut, hoeing, harvesting, wine removing, mixing, bottling and labeling. They make Rkatsiteli, Saperavi and Kindzmarauli in their own wine cellar, in wax treated qvevris. They also offer enotours.
I am very interested in, on the one hand, the example of social production - how people are organized around the vineyard and wine, how their work is distributed according to their capabilities and how is vine and wine become the best space for self-realization. The fact is undoubtedly a unique sample in the history of viticulture and winemaking. However, we should say that, a model is more interesting - how the community, so-called "Beneficiary" is responsible for the others' benefit. So, here a classic opposition - rich: poor - is losing its significance and each member gets different types of benefits from this co-existence.
Such space perhaps, gets idealistic view in the post-Soviet country, where labor, is still, identified with torture and oppression. The idea of ownership, especially collective ownership has big risks, and the benefit, basically, is identified with the power. Merab Kokochashvili transferred this utopia with the help of movie language in "Nutsa's School", in the movie where the life of community is described.
I am promising an interesting report from Gremi this autumn. Do not watch the news, we will tell you good stories.
© Georgian Wine Club, Wine Information Center.