- Posted on Sat, 03/07/2015 - 01:36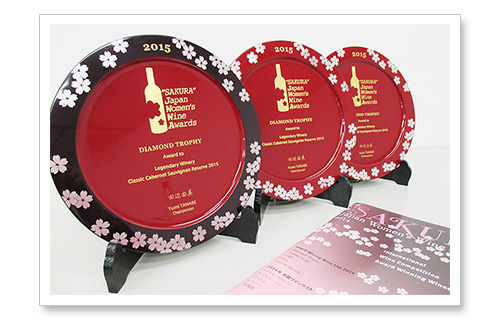 After receiving the double gold medal at Sakura competition in 1 – 4 February, Chkhaveri 2012 of the Company "Lukasi" is now awarded with the Diamond Trophy. Sakura's wine competition is held in several stages in the scopes of large-scale events and its jure consists of wine expert females.
The competition that took place in Tokyo in 1-4 February put together totally 1223 winners, 165 out of them were awarded with the double gold, 557 received – the gold and 481 – the silver medals. According to a competition regulation, winners of the first stage continue their participation in Japan's the most large-scale exhibition of food and beverages - Foodex Japan 2015, where Sakura's Diamond Trophy-holders are figured out.
In the scopes of Foodex Japan, "Lukasi's" Chkhaveri was among the winner wines (more than 1000 brands) at the first stage and it entered afterwards the list of thirty Diamond-Trophy holders and is among wines of France, Argentina, Italy, Portugal, Spain, the USA, Hungary and Chile.
© Wine Club, National Wine Agency
Tagged: