- Posted on Mon, 02/24/2020 - 02:08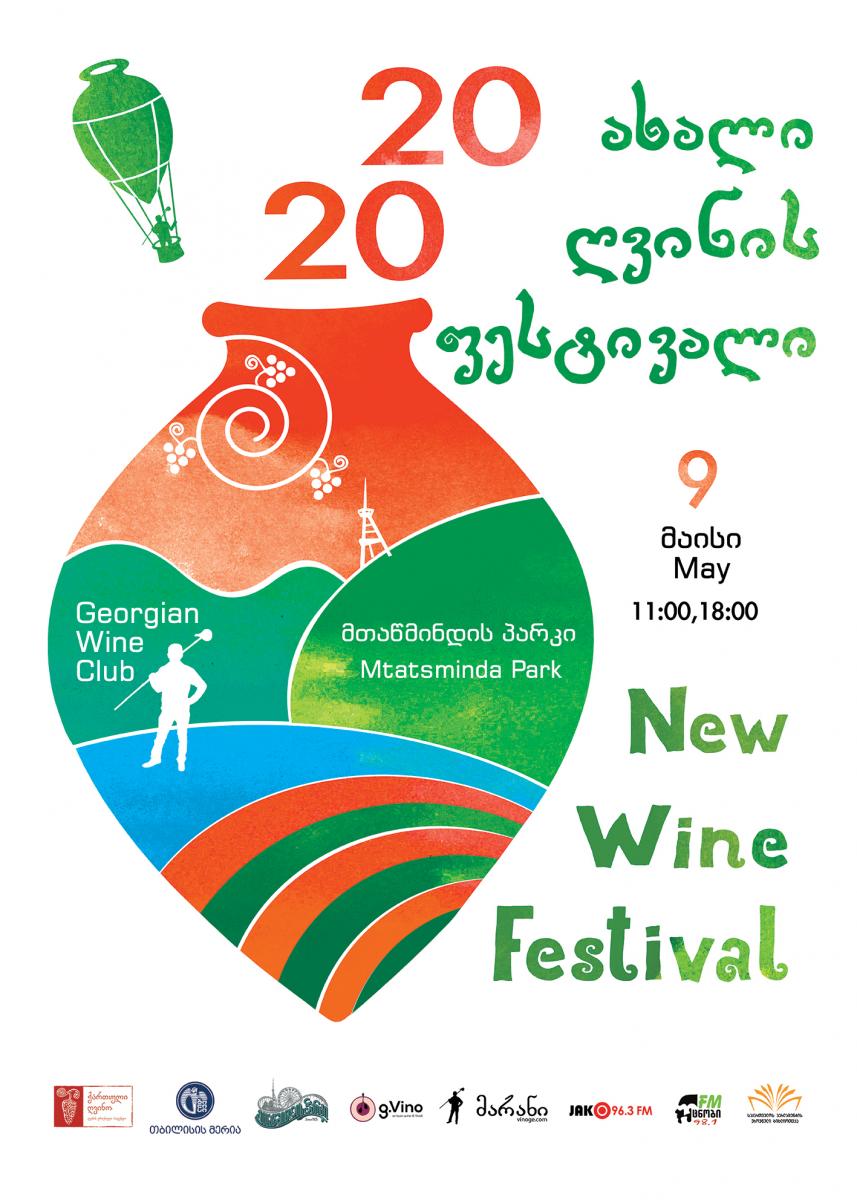 The New Wine Festival will open its doors to guests on May 9 in Mtatsminda Park. The 2020 Festival is traditionally supported by: National Wine Agency and Tbilisi City Hall. Information support is provided by the website Marani (vinoge.com), Wine Information Center, radio Utsnobi, Jaco FM. The other respected partners of the event are Mtatsminda Park, G.Vino City Wine Hotel and the National Parliamentary Library of Georgia.
As always, attendance is free.
Tasting of hundreds of newly harvested wines, meeting the winemakers and unforgettable impressions of discovering new tastes are the promises of the New Wine Festival 2020.
The main idea of ​​the New Wine Festival is to promote traditional Georgian Qvevri wines, achieve higher wine education in Georgia and ensure a greater consumer culture. The second Saturday of May, the Festival day, has been established as a real public holiday for the eleventh year in a row.
Ever since 2010, the festival has been growing every year, witnessing and celebrating the birth of new family wine cellars and wine companies, who are eager to introduce their harvests and the products of their work. In 2019, the Festival brought together large, medium and small wine companies, associations and state organizations - more than 200 entities.
Wine makers, Georgian and foreign wine professionals and wine writers, wine bars, restaurants and enthusiasts look forward to their big day. Traditionally, the world's renowned wine masters, sommeliers, importers and wine writers have Festival date (the second Saturday of May) saved in their calendars. They cannot wait to experience a new encounter with the Georgian wine.
All fans of the Georgian wine are welcome to this year's New Wine Festival in Mtatsminda Park again. On May 9, 11:00 - 18:00, large wine companies, medium and small winemakers of different regions of Georgia, as well as family wine cellars, will be happy to offer their best wines of the last harvest (2019).
The benefit of the New Wine Festival is the abundance of wines, the joy of discovering new tastes and the opportunity to learn more about the favorite wines while meeting the winemakers in person.
The New Wine Festival 2020 will start with the traditional Qvevri opening ceremony, accompanied by the Georgian song Mravaljamieri. As a rule, the Qvevri saves the best wine made in the family wine cellar, carefully selected by the Wine Club.
The Festival door is open for all guests to enjoy good music, fun program, and a lottery giving the opportunity to win gift barrels full of best wines.
Information on participation requirements for family wine cellars will be published on February 25, and on February 26 for wine companies.
© Georgian Wine Club, 2020
Tagged: