- Posted on Sun, 04/27/2014 - 01:27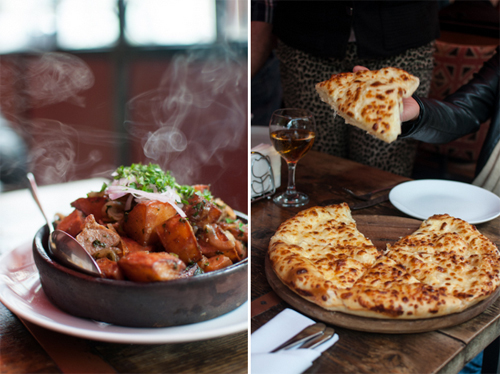 Photograph by Sally Prosser, Sourse: www.mycustardpie.com
On my first day in Georgia, when I arrive at Kala for lunch, a rustic little restaurant tucked away in old Tbilisi, I'm really hungry. This is the last time I will feel that way for over a week.
At that first lunch we ordered all sorts of dishes from the fabric covered menu, far too much, getting excited about the different tastes, combinations of ingredients, the unique flavours. Little did we know that Georgians don't eat – they feast – at every meal.
Eating is taken very seriously and a supra or feast will stretch on for hours and hours. A tamada is appointed and is the toast master. He will give heartfelt thanks for the food on the table, the company the occasion. Mindfulness for Georgians is a way of life. The toasts are not flippant but involve deep feeling and thought. It's not about getting drunk (although Georgian's seem to have a great capacity for drinking) it's about taking a thought or a philosophical notion and expounding on it. The supra and its ideals is not something that's arranged for tourists, it's part of Georgian culture – our guide Geo would not be able to let us sit down for an evening meal without a few words to help us savour the moment.
Georgian's mythology tells that a stranger to your table might not be all they seem so guests are viewed as potential Gods and treated as such. I was a guest of The Georgian Wine Agency for over a week and no God could have received better treatment (or more food). In a whirlwind of food, wine, polyphonic singing, scenery contemplating, history and Georgian lessons when I started writing this up new questions about the dishes and ingredients kept arising. A great excuse to return to find out more…but here's what we ate and what you might encounter on a Georgian table.
Khachapuri
There are at least forty different variations on this filled dough often dictated by region. Usually bread with cheese (sulguni cheese) baked onto it or inside it, there are also bean and egg versions in many shapes too and some are fried. Some are a bit like fluffy pizza, some are buttery and flakier, I had one from a street-side kiosk made with hard-boiled egg and cheese … it was a cold day and I grabbed it with both hands, demolished every cheesy, fluffy mouthful quickly and it soon warmed me up. Khachapuri was served at every single meal and often after several courses so you were filling up but couldn't resist a slice…or two.
Khinkali
The national dish of Georgia is filled dumplings. To eat them you hold the dumpling by the sides or the top-knot and bite carefully, sucking the savoury liquid out of the hole you have made. You can then eat the whole thing (the top knot is often discarded). Strangely we are only served them on two occasions; a comforting smokey potato filled version with fried onions at an incredible foraged feast and the more typical meat and gravy kind at Tabla.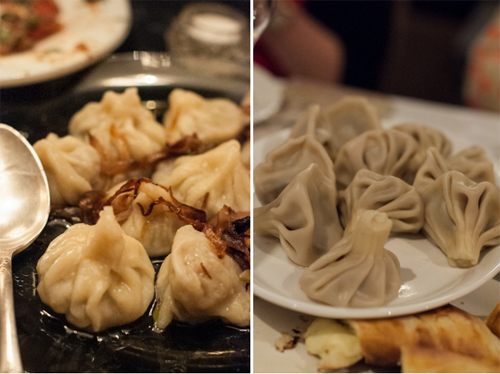 Photograph by Sally Prosser, Sourse: www.mycustardpie.com
To continue reading the full Article, visit the link.
©mycustardpie.com