- Posted on Thu, 08/16/2012 - 00:29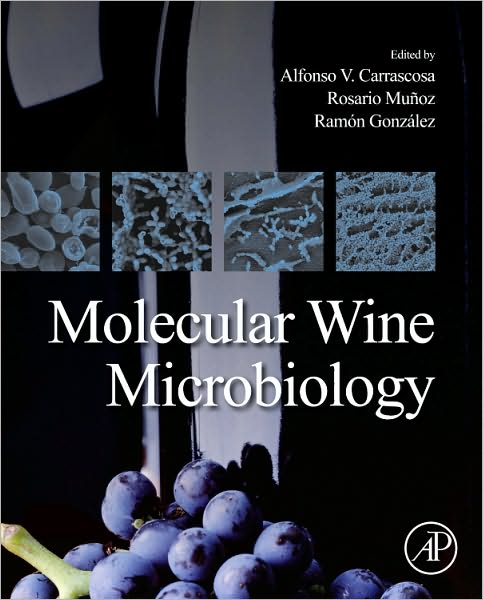 Alfonso V. Carrascosa Santiago, "Molecular Wine Microbiology"
English | 2011 | ISBN: 0123750210 | PDF | 372 pages | 7.2 MB
Microbiology has long been recognized as a key tool in studying wine production, however only more recently has that study been conducted at a molecular level, increasing the understanding of how microbiology impacts not only the flavor quality of the wine, but also the safety. Understanding at a molecular level how a starter culture can impact the volatile phenols, biogenic amines and ochratoxin A of a wine are just some of the core points that must be considered in order to achieve maximium consumer acceptability while addressing safety concerns during processing and storage.
While other books offer insights into the production aspects of enology, this book is written by expert microbiologists, who explore the positive and negative impacts of gene mechanisms in the production of wine, from a microbiological point of view.
Updates to the content will be made to ensure it is the most current information available, including coverage of the use of yeast mannoproteins to avoid tartaric and proteic haze in wine. This science has developed during the last years, and yeasts strains for increased released of mannoproteins have been constructed in the lab. Also, the first recombinant yeast strains (having GRAS status) have been commercialized for wine-making and the English edition will include these strains.
Molecular Wine Microbiology features rigorous scientific content written in a level comprehensible for wine professionals as well as advanced students. It includes information on production and spoilage issues, the microbial groups relevant for wine production and also for ensuring microbial wine safety.
* Reduce identification time from days and weeks to minutes and hours
* Replaces the older science methods of slide staining, etc. with more accurate and current techniques of DNA analysis (PCR), protein extraction, and the in depth study of biochemical pathways.
* Provides important knowledge about the impact of microbiological factors at the molecular level for reduction of wine spoilage and increased wine quality and safety
Tagged: