- Posted on Sat, 02/04/2012 - 22:50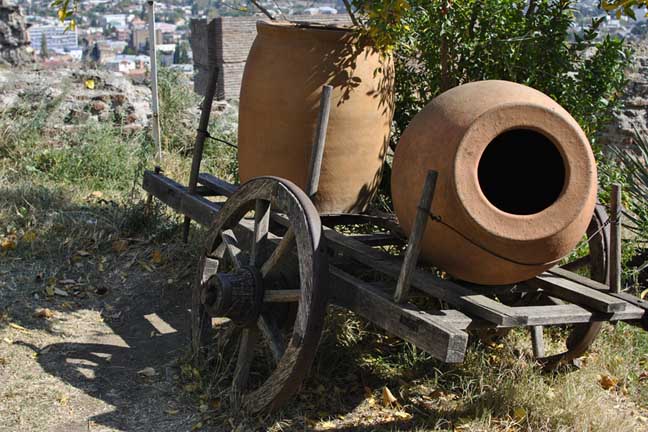 by Conor Mills
Surrounded by Russia, Turkey, Azerbaijan and Armenia, Georgia is a melting pot of cultures, cuisines and religions. It's east meets west meets Middle East but somehow it feels unmistakably European. Far from the bleak, austere, high-rise landscape that I was naïvely anticipating from an ex-Soviet state, Georgia is a country with a temperate climate, a rich mix of architectural styles, beautiful and varied countryside, strong traditions and is full of easy-going, passionate people.
A short time after arriving in Tbilisi, the beautiful Georgian capital, I got my first taste of local life. Wandering through the city I met some locals who were quick to tell me about their country's history and culture. Giorgi, a Tbilisi resident his whole life, explained to me at length about the Georgian mentality and how his people demonstrated a stronger resilience to the red army's rule than any other occupied nation during the Soviet era. It's fair to say that this bullish strength of character and national proudness epitomises the Georgian spirit and was undoubtedly one of the major driving forces behind Georgia reclaiming its independence in 1991. It is also a defining personality trait that has enabled the country to hold on to so many ancient traditions and a unique identity throughout its turbulent history.
Nowhere is this clearer than in the traditional food and drink, especially the wine. Winemaking has been an integral part of Georgia's history for the past 8,000-years and according to archaeologists the region is believed to be the birthplace of vine cultivation and wine production. Even the free-flowing, curvy script of the Georgian alphabet is said to be based on the omnipresent vines.
But what I found most exciting about Georgian wine is the ancient method of production still being used by a handful of highly skilled and passionate wine-makers who are keeping the tradition alive. The method, which dates back as far as 6000 BC, is enjoying a welcome resurgence in recent years, ironically helped by the Russian trade ban, imposed on all Georgian wine in 2006. The Russian market, which used to represent eighty per cent of all Georgian trade, disappeared virtually overnight, but instead of dwelling on this, a handful of resourceful Georgians improved their technique and are now exporting their wine to the rest of the world as a premium product.
The traditional style of wine is produced in huge hand-crafted, earthenware vessels called qvevris, the squashed grape must is poured into the vessel and stirred at regular intervals over a period lasting up to six months. Isabelle Legeron, France's first female Master of Wine, and one of the most vocal promoters of Georgian wines explained to me that the time the grape must spend in the qvevri depends on how much colour, flavour and tannin the wine-maker wants to extract from the skins, pips and stems. But more importantly it is not an exact science; it is about feel, intuition and experience.
When the must is eventually removed, the juice left in the vessel is covered, sealed and left buried in the ground for up to two years, where it completes its fermentation and fully matures. There is no contact with oak at any stage of the process and only a very small amount of sulphites are added if necessary. Typically long extraction of the tannins ensures that the wine remains stable. The results are truly astounding; the wines are completely unique, intense, beautifully aromatic, lively and heavily tannic.
The same method is also used for white varietals, producing a wine that is cloudy in appearance, has a golden hue and is full of rich, all-encompassing aromas. Personally, I find the appearance and style of these Georgian orange wines refreshing compared to the perfectly clean and clear commercial whites we have become so accustomed too. Each mouthful reveals something different, a new characteristic, the flavours seem to be constantly evolving even in the glass.
In Kakheti, the Georgian equivalent of Burgundy, I met up with some of the new crop of winemakers, proudly looking to the past for inspiration. Soliko Tsaishvili is a quiet, unassuming, middle-aged man with a gentle face and a deep, gurgling voice. He is also a self-taught wine-maker who gave up a career practicing medicine and now produces traditional qvevri-style wines. Part of a team of four each with their own similar stories, the group produce wine under the name 'Our Wine' and are making some of the finest examples of qvevri wine in Georgia.
Farming a small concentrated plot of land in the small village of Tsaraphi, like so many of the other boutique winemakers, the team plant strictly indigenous grapes and are constantly striving to improve their technique. Currently 'Our Wine' produces two styles of white including an incredible interpretation of the Rkatsiteli grape, the most important white grape variety in Georgia. They also make one red from the Saperavi grape, arguably the most famous Georgian varietal. "Each year is completely different", says Soliko, "we are constantly learning, altering and hopefully improving our wines. This year growing conditions were excellent and I think we have produced the best wines so far, especially the orange wine, but we can still improve." Soliko and his team are currently in talks with Biodynamic wines, one of the major UK distributors of natural wines who are importing a small number of bottles this year, mainly for specific restaurants to gauge if there is a market for their bold wines.
A few miles down the road in the picturesque, hilltop village of Sighnaghi, Pheasant's Tears has already established itself as one of the countries leading exporters of natural qvevri wine. The company only started in 2006, but already the small outfit has earned international acclaim, with their wine currently available in nine countries, including the UK. Michelin starred restaurant Hibiscus is a big fan too, while trendy London wine bar, Terroirs, also speaks highly about the wines. An unlikely collaboration between John Wurdeman, an American painter who moved to Georgia in 1995 and a local winemaker called Gela Patalishvili, the pair came together through a mutual love of Georgia, its traditions and qvevri wine.
With a portfolio of vineyards in some of the country's most acclaimed wine-growing land, Pheasant's Tears currently produces seven styles of wine; three amber, one white, two red and one black. The black wine which is made from Saperavi, it is actually a red wine but the colour is so dark and intense, Georgians refer to it as black. Full of bold flavours and spices, hints of blackcurrant and an abundance of tannins, it is the Georgian equivalent of a Bordeaux Premier Cru. Also proving hugely popular both locally and internationally is the Mtsvane amber wine, full of personality, it tastes like a concoction of powerful spices, vanilla and nuts and has a finish to rival any of the old worlds finest offerings.
Recently the team has expanded the location of its main office to include a tasting hall and an organic restaurant where we were lucky enough to enjoy our last meal. Sampling some of the most exceptional interpretations of traditional Georgian food I ate during my stay, the accompanying wines were equally memorable. As I was finishing the meal I realised that the wine itself was a reflection of the people who make it; deep, original and steeped in tradition. To me the novelty factor of Georgian wines is no longer the strongest selling point; it's the undeniable quality.
A selected range of Georgian wines are currently available from the following suppliers: Gaumarjos and Geowines
The team behind last year's RAW (Real Artisan Wine) has also confirmed that the event will be returning to London this May 20-21. It's a great introduction to natural wines and you will also be able to try a wide range of Georgian qvevri wines, meet the producers and try some traditional Georgian food.
© Foodepedia.co.uk
Tagged: