- Posted on Fri, 08/29/2014 - 00:43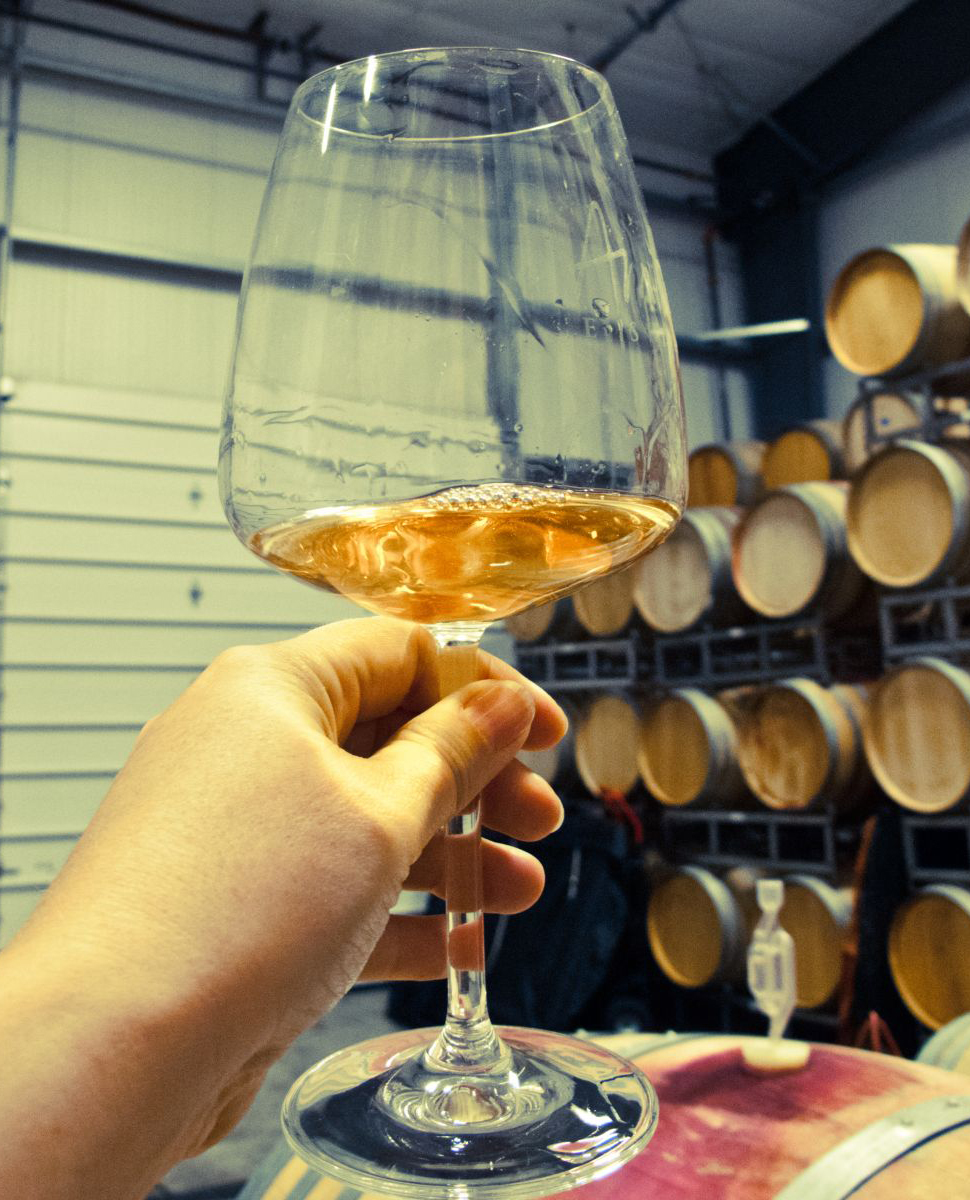 By TOM MARQUARDT and PATRICK DARR
One of us leads a neighborhood group in a monthly wine tasting and it's always fun to find new and different wines to try on a cozy group of eager oenophiles. Here, he can watch what wines have broad appeal and which get the silent treatment. At the end of the night, the preference is evident in how much is left in the bottles.
The last adventure included more challenging wines than normal -- a fizzy white vinho verde from Portugal that was admittedly shallow and an orange wine from the Republic of Georgia. We were most curious to see the crowd reaction to the Georgian Vinoterra made with rkasateli grapes.
It wasn't good. Tom ended up taking a second bottle home.
Orange wine -- named for its color -- is a result of maceration, or skin contact, that is more common to red wine. Usually, winemakers remove the skins after the crush to keep the color pure. The gold color usually comes from barrel contact and aging.
In the Republic of Georgia, however, it is all about tradition. These orange wines have been made in qvervis — ancient clay vessels — buried in the sand for 5,000 years. To the winemakers, extended maceration of white grapes is not just a novelty.
We have tasted a lot of Georgian wines and find them fascinating for their unique style. But they are too off-the-wall for most consumers. There is no reference point for anyone who confines himself or herself to chardonnay and merlot.
Many observers believe orange wines are a trend and we agree. Abe Schoener of The Scholium Project has been making orange wine for some time now. His cult following embraces these wines, but others find them over the top.
It is hard to describe the flavors of orange wines, but we find the wines to be savory -- a taste recently labeled umani -- but also funky and cerebral. You think when you taste them. But some people just think they are bad wines -- like those that have been left opened in the refrigerator too long, or as one person commented, like they have been aged too long.
We found them much more enjoyable at room temperature when the acidity mingles better with the fruit.
Wine picks
Arrowood Saralee's Vineyard Viognier 2012 ($30). Oftentimes, viognier is all about aromatics — and only aromatics. But this gussied-up viognier from the cool Russian River Valley has great flavor with hints of apple, lime, orange and peach.
Stag's Leap Napa Valley Merlot 2011 ($33). Those of you who like your merlot rich and thick will be pleased with this gem from Napa Valley. Blended with a bit of cabernet sauvignon, malbec and petite sirah, it has luscious red fruit flavors with hints of spice and pepper.
Etude Carneros Estate Chardonnay 2012 ($35). In a flight of six chardonnays, we found this one more distinctive than the rest. Perhaps it was the mineral notes or quince we tasted, but it stood out — a difficult achievement for chardonnay. Apples and tropical fruit dominate the bold palate.
Inama Soave Classico "Vigneto du Lot" 2011 ($30). Count us among consumers who often forget about the Soave Classico region in Italy. Inama concentrates on this style of wine made entirely from the garganega grape. The basic Inama soave ($15) is a good value, but the Vigneto du Lot offers more dimension with its flowery aromas and delicate flavors. These are great summer sippers or complements to shellfish.
Chateau Paul Mas Clos de Muras Coteaux du Languedoc 2011 ($23). We been sampling a lot of wines from France's Languedoc region — a big region with a lot of mediocre wine. This one stood out and sent us back to the store to buy more. It is a dense and serious blend of syrah, grenache and mourvedre. It has a chewy texture, but pairs nicely with grilled meats. There are blackberry flavors and a hint of chocolate and cassis.
Tom Marquardt is the retired editor and publisher of Capital Gazette Communications. Patrick Darr works in the local wine retail business. Some of the reviewed wines were provided as samples by the producers. To reach the authors, or get help in finding a wine, go to their website http://www.moreabout wine.com.
© Carroll County Times
Tagged: